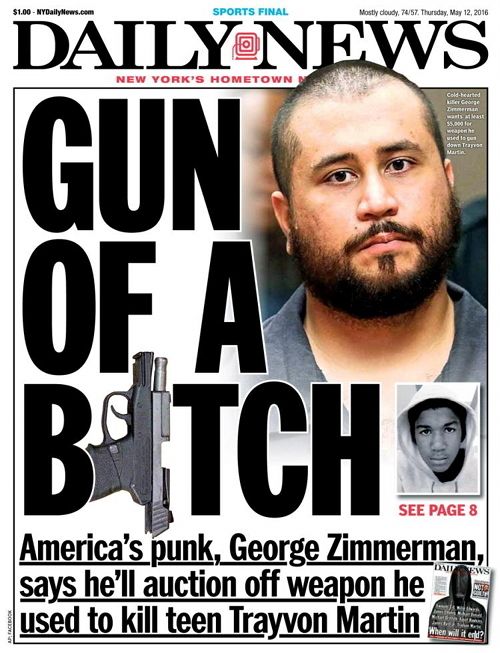 As if George Zimmerman could get anymore disgusting.  Find out why folks are dragging him again today inside...
We already knew this man had no soul, but he does everything in his power to make sure we never forget it.
George Zimmerman, the man who murdered shot and killed unarmed teen Trayvon Martin and miraculously got away with it, is now putting the weapon he used to kill the young boy up for auction.
The 9-mm pistol went up online around 11am today with this disturbing announcement from George himself:
"I am honored and humbled to announce the sale of an American Firearm Icon.

The firearm for sale is the firearm that was used to defend my life and end the brutal attack from Trayvon Martin on 2/26/2012 ... Many have expressed interest in owning and displaying the firearm including The Smithsonian Museum in Washington D.C. This is a piece of American History."
By the way, the museum refutes his claim.  He's a proven liar so it's no surprise there. 
Oh, it gets worse.  The Daily News -- whose new cover today (above) is oh so appropriate -- reports he wants to use the money (he wants about $5000) to fight Black Lives Matter and Hillary Clinton:
The Kel-Tec PF-9 is displayed on online auction site Gunbroker.com, with a picture of a court officer holding up the gun at his murder trial.

Zimmerman tagged the item with the Latin phrase, "Si Vis Pace Para Bellum," which means "If you want peace, prepare for war."

He also said a portion of the proceeds will go to help fight Black Lives Matter "violence against law enforcement officers" and to end "Hillary Clinton's anti-firearm rhetoric."
George said if it doesn't sell, he will put it in a safe for his future grandkids, this according to ABC News.
We know one way we can only wish this gun could be used....poetic justice at its finest.
UPDATE: According to the Orlando Sentinel:
"After an overwhelming amount of attention, GunBroker.com pulled the post just minutes before the auction was set to start at 11 a.m. on Thursday."