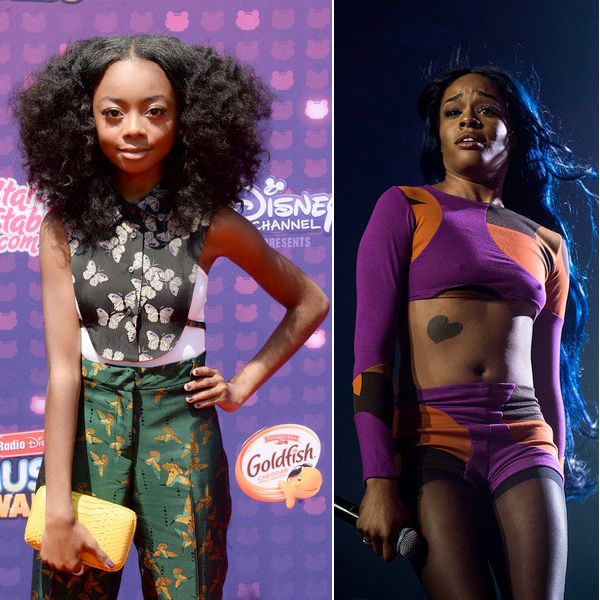 It must have been a full moon last night because there were several feuds that popped off on Twitter and Instagram. Come inside to see how 14-year-old Disney star Skai Jackson put Azealia Banks in her, well somebody's, place plus round 2 of the Chris Brown vs. Kevin McCall beef….
All hell broke loose on Twitter last night! Feuds were poppin' up left and right on social media while fans followed along and added their opinions.
In one social media feud, 14-year-old Disney starlet Skai Jackson read Azealia Banks (who's known to keep drama stirred up on social media) for FILTH, but in the classiest of ways.
Here's how it started….
Azealia started going off on former One Direction member Zayn Malik because she felt he copied some of her work for his new video "Like I Would." In her Twitter tirade, Banks hurled racial slurs and totally disrespected him for the world to see.
Oddly, she deleted the tweets (which is out of the norm for her) and we may have found out the reason why. We'll get to that in a second.
Peep her original rant below: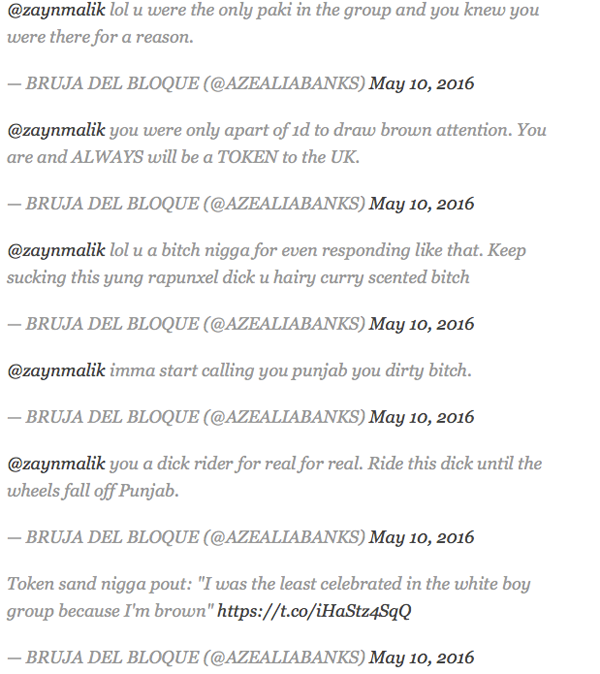 Sighs...
Apparently Skai got wind of the Harlem native's disrespectful rant and decided to CHECK her. Skai started off by telling the "212" rapper she needed to "simmer down." Then, Azealia clapped back at the 14-year-old, saying her mom was pimping her out to Disney and that she needed to get her ass and tits done so she can "become a proper Instagram THOT."
Bruh.
Read her tweets (if you can stand it) below: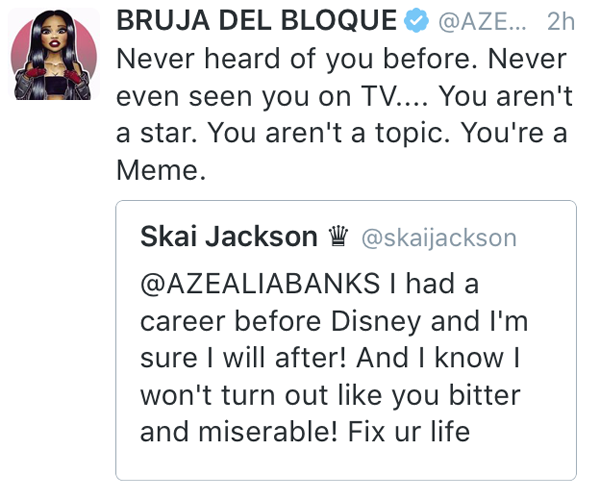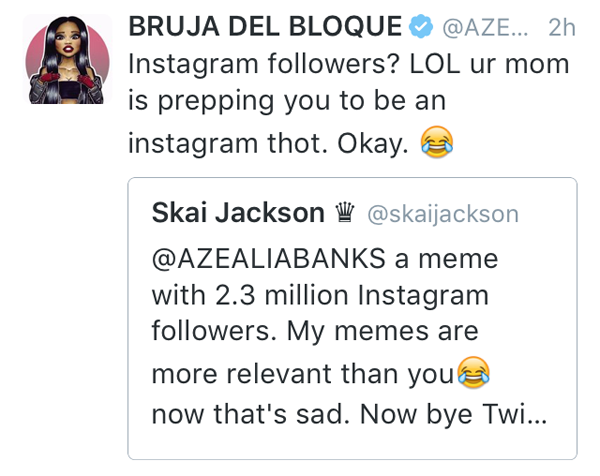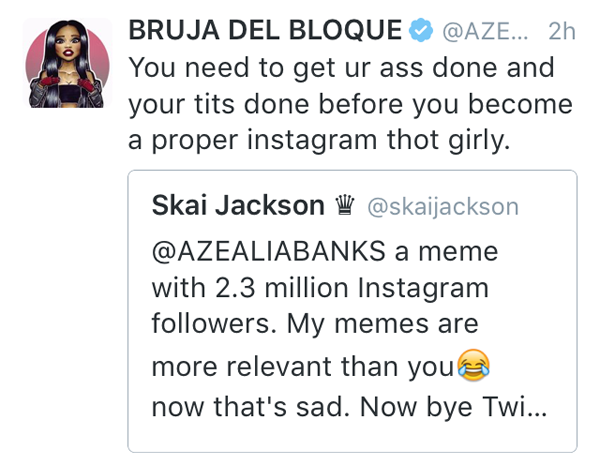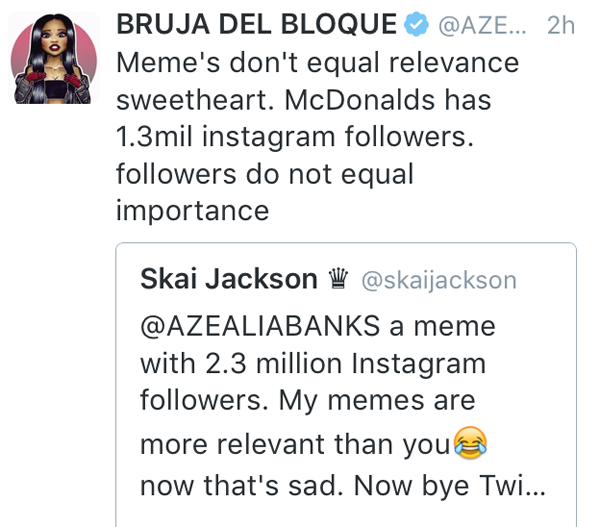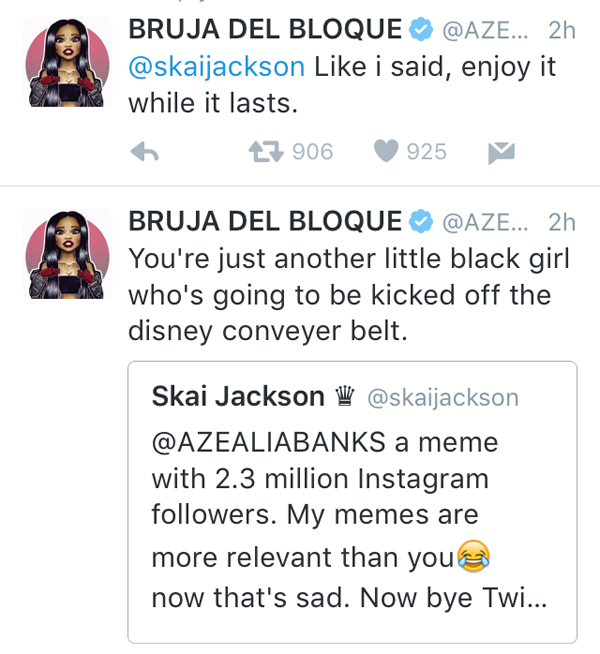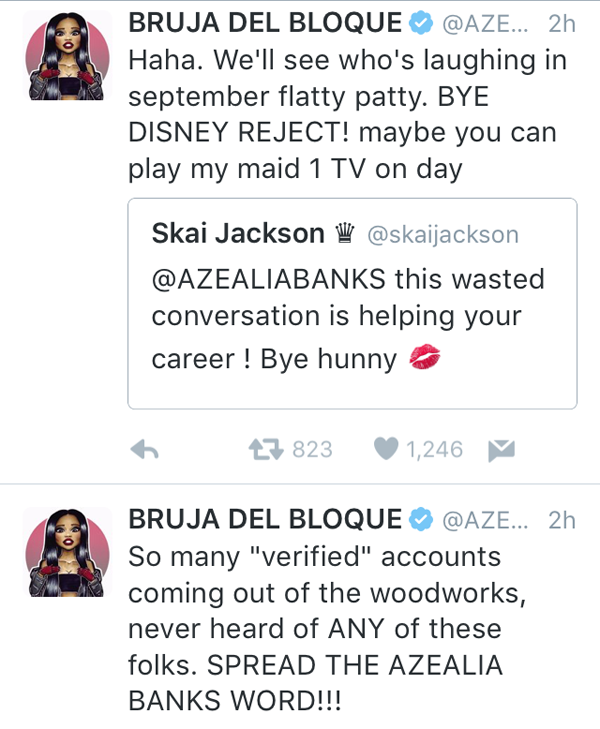 Wow.
Although she's just 14, it's clear you will not come for Skai without her checking you first.  It appears she's gunning for a degree in Read 101 because she said all this: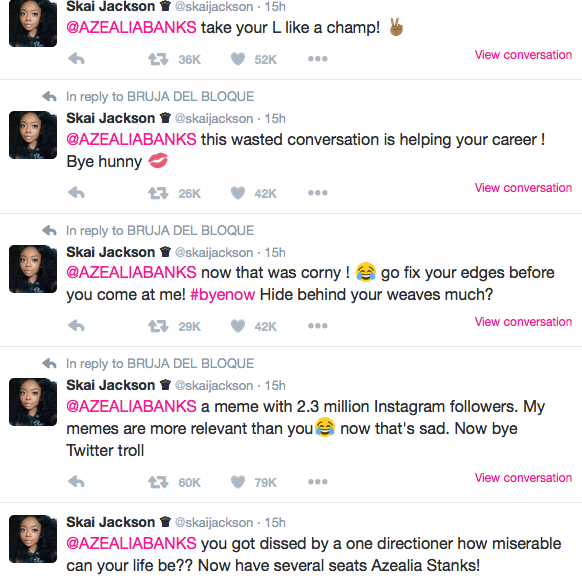 Bloop!
Oh, and then Skai's mom jumped in the mix and she warned Azealia that she's not too young for her to put them paws on her:
Bloop.
As for why the Broke With Expensive Taste rapper deleted her tweets? Well, it may have something to do with an upcoming British festival she was supposed to headline. According to the Guardian, the Rinse Born & Bred Festival has DROPPED her from her headlining slot in July after they saw her racist rant against Zayn Malik.
In a statement, they said,"We have decided to cancel Azealia Banks' headline appearance at Rinse Born & Bred. Rinse Born & Bred is a celebration of rave culture and has been created for everyone. We celebrate inclusivity and equality."
Well there's that. Chick better rethink the social media antics, it's clearly starting to affect her coinage.
Meanwhile, she's due back in court today in New York for allegedly attacking a female nightclub security guard.
UPDATE: Azealia posted this explanation today:
Thoughts on everything (loads of typos) pic.twitter.com/kmGhgkrKyz

— BRUJA DEL BLOQUE (@AZEALIABANKS) May 11, 2016
In another online beef: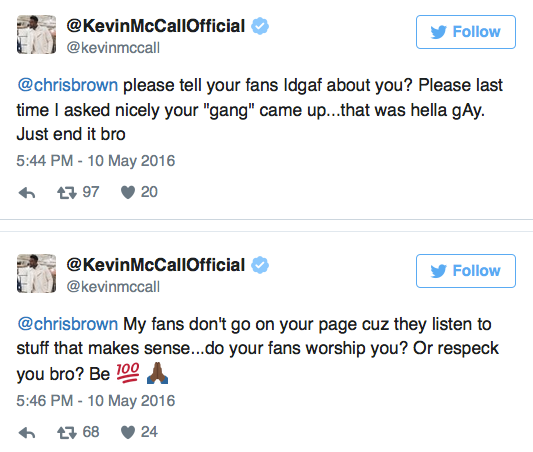 The drama continues between former friends and collaborators Chris Brown and Kevin McCall.
Lately, Kevin, who has written/produced several hits for Chris, has been going extra savage on social media starting ish with his baby mama Eva Marcille, her cousin and her new boyfriend. Now, he's going in on Breezy...yet again.
Apparently, Kevin is still mad he's still tied to Breezy under his record label, so he's going after him every chance he gets.
Peep the tweets above and below.
Well, we all know Breezy isn't one to hold his tongue, so he clapped back at Kevin saying: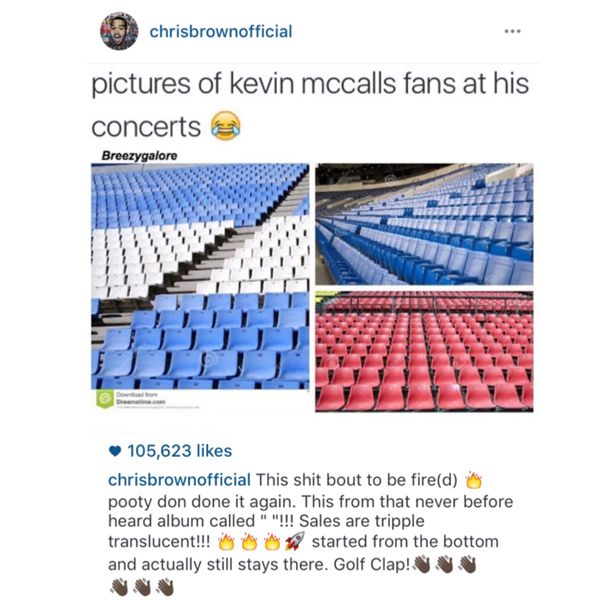 It didn't stop there. Kevin was on a mission: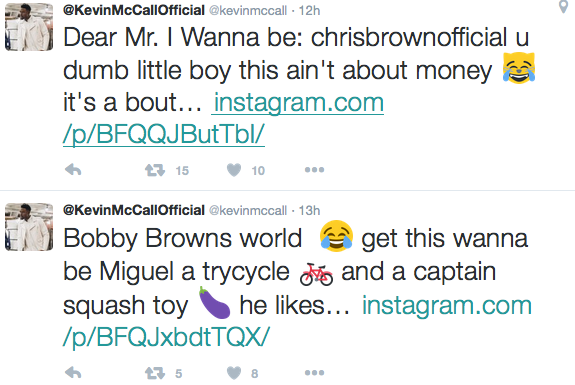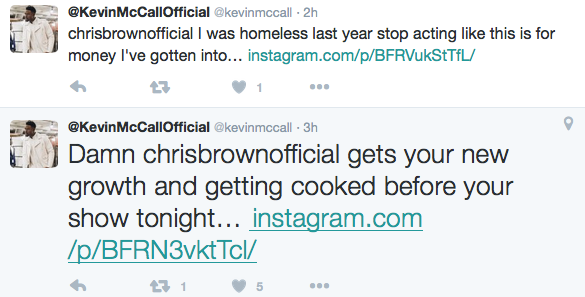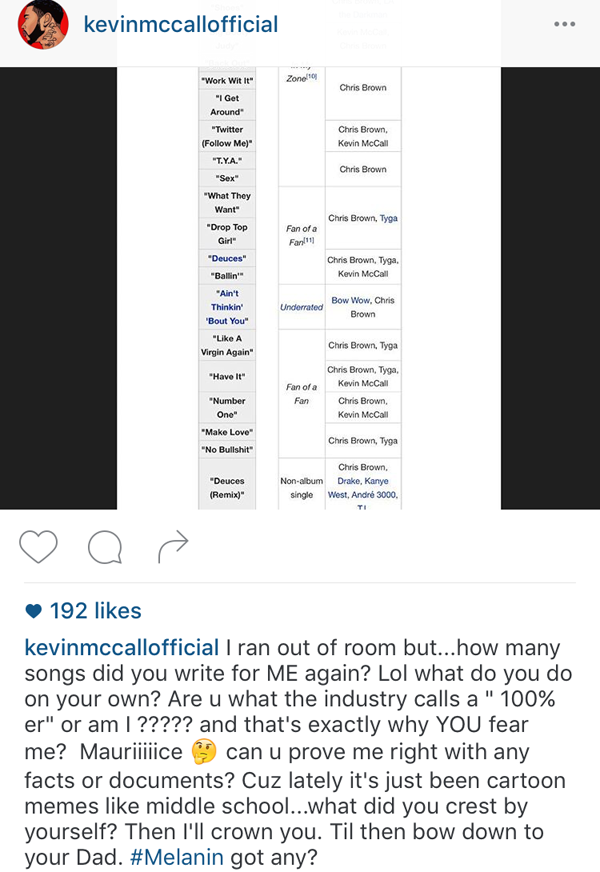 Sighs...make it all stop!
Photos: Getty/Instagram/Twitter