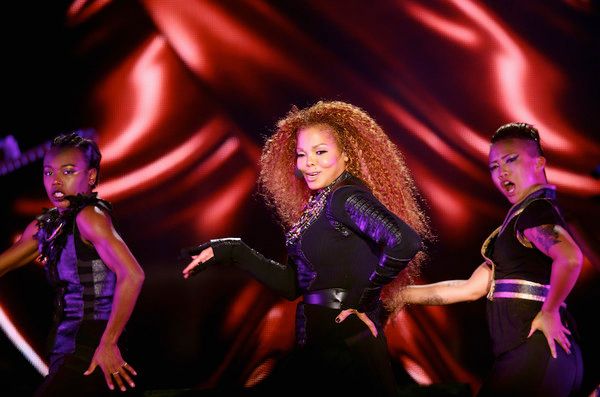 On the heels of the announcement that 49-year-old singer Janet Jackson is expecting a baby with her husband Wissam Al Mana, Janet's ex-husband James DeBarge is making claims they allegedly had a secret child together. Do we believe it? Decide for yourself inside…
Less than a week after news broke that 49-year-old singer Janet Jackson, who celebrates a birthday next week, is pregnant with her husband's Wissam Al Mana's baby the rumor mill has now gone into overdrive.
Rumors have circulated for years that Janet had a secret love child that no one knew about. Now, her ex-husband James DeBarge is supposedly putting those rumors to rest...IF what he's saying is true. We're not exactly sure if we're buying it. 
In a new interview with RadarOnline, James opens up about a woman who reached out to him a few years ago claiming she is the alleged daughter Janet had back when she was a teenager with James. Janet and James tied the knot back in 1984 only to have their marriage annulled a year later.
"Someone had contacted me. She spoke to me by email," says James. "The first time was two years ago. I have not been able to directly see her face-to-face."
James claims Janet isn't expecting her first child because she supposedly gave birth to a bay girl that she kept a secret and allegedly gave her up for adoption. He says he believes the woman could be his child because she told him things that only he and Janet knew. He spills:
"She did but without saying [it]. She was angry because another child was trying to come forward and say that she was our child. So she did out of anger."

"She described as much as she could tell me because she was very fearful at the time," he continued. "She was very angry about people running with this story about this [other child] being my baby. She got very angry. She's like, 'Papa I want to help you out.' She had so much of personality and she was so accurate with everything she was saying, it was only things that I and Janet know. No one else but god, me and Janet."
Hmm…if she was given up for adoption as an infant, what exact details would this woman know that only he and Janet knew? Anyway, he claims the woman's adoptive mother confirmed she was Janet's daughter right before she passed away.
James also claims he had a hunch that Janet secretly had a baby, but he wasn't sure, so he supposedly went out to search for this alleged child. He tells the site:
"I hadn't known [that Janet had a baby]… not for sure. I went on a search. Someone went through some serious changes to make it impossible for me to find. This had to be some serious inside work being done with the paperwork. Someone was working with them."
As for how the hunch of Janet being pregnant came about, James' mom Etterlene DeBarge told Star magazine back in 1994 that she KNEW Janet was pregnant because she went away for a period of time, came back and then said she wanted to end her marriage with James.
In the article, she allegedly said, "I saw Janet before she left, and from what I could see, she was definitely pregnant," Etterlene DeBarge told the magazine. "She wasn't fooling anyone."
The timing of this alleged interview is has us raising our eyebrows and giving the uber side eye. There have been times when certain sites have even made up interviews for hits and we're not sure if this is one of those times.
Take it with a grain of salt until those receipts are leaked...
Photos: Getty/Wire