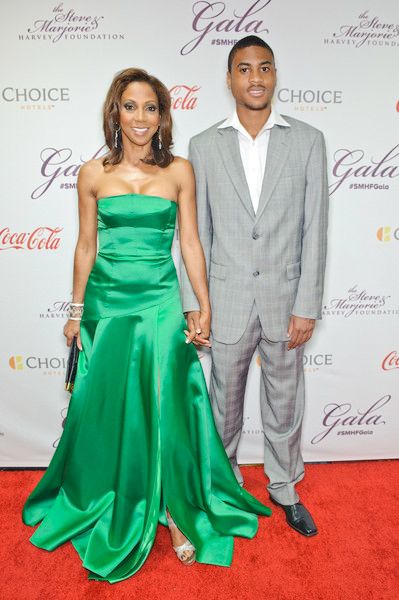 Holly Robinson Peete's son R.J. Peete penned the sweetest letter to the teen with autism who was bullied by 50 Cent on social media recently. Grab your tissues because it's a tearjerker. Plus, deets on Fif donating to an autism charity inside….
Holly Robinson Peete's has been very vocal about her son R.J. Peete having autism and very active about raising awareness about the disorder. It was a pleasant surprise to read an open letter by R.J. encouraging another young man who's dealing with autism.
Let's go back to where it all started…
A few days ago, 50 Cent posted a video on social media of a teen working his janitorial job inside the Cincinnati/Northern Kentucky International Airport where he accused him of being "high." Turns out, the teen, whose name is Andrew Farrell, wasn't high at all. He has autism. And herr Fif is bullying the poor kid for millions to see. Check it:
R.J. caught wind of the video and decided to send a few words of encouragement to Andrew. And it has us all in our feelings. In an open letter, we wrote:
Last night at a concert, I had a really tough time processing something I could not do, and I was overwhelmed by the crowd around me. I kinda lost it... I panicked, cried, yelled and banged my fists. I was not in control. Everyone was staring at me. I felt isolated. I embarrassed myself and my family. It was a really rough night. We "pushed through it," like my mom always says, but it was bad moment.

So, I couldn't sleep last night, and I saw a video that 50 Cent posted making fun of you because you were different. He has, like, 8 million followers. Everyone saw it.

I thought, "What if during my meltdown last night, I was caught on video and it got posted by someone — or a famous rapper? Then everyone would have seen me at my worst." I get a tight chest when I just think about it.

I wonder if 50 Cent knows how hard it is to have autism and be a teenager. How my brain doesn't always work with me. How I can feel uncomfortable in my body. How frustrating it is to be misunderstood. Called "stupid," "retarded." How hard it is to get people to give us jobs. To stand up for yourself. How last night was so hard on me and my brother and sister. I feel so bad about it today. My mom said, "It's over, son, let's move on." But for you, millions of people saw him making fun of you when you were just trying to work, not bothering anyone. It might be harder for you to just move on.

So, I just wanted to tell you to stay positive, Andrew, and make sure you remember that we may be different, but we are still the same — and even if we are not as cool as a famous rapper, we are still dope in our own way. Like Kendrick Lamar says, "We gon' be alright!"
Aww!! That was SO SWEET of R.J.! You can read his full letter to Andrew here.
Meanwhile…
50 is now trying to make good on his royal screw up. The G-Unit rapper, who filed for bankruptcy last year, has donated $100,000 to Austism Speaks at the request of Andrew's family.
In a statement to TMZ Fif said, "I want to turn this misunderstanding into an understanding. There are people that are ignored, mistreated and neglected with disabilities that need our support."
Hmph.
EXTRAS:
1. French Montana is an official Bad Boy! He recently signed a record deal with Bad Boy Entertainment/Epic Records.
Photo: Getty