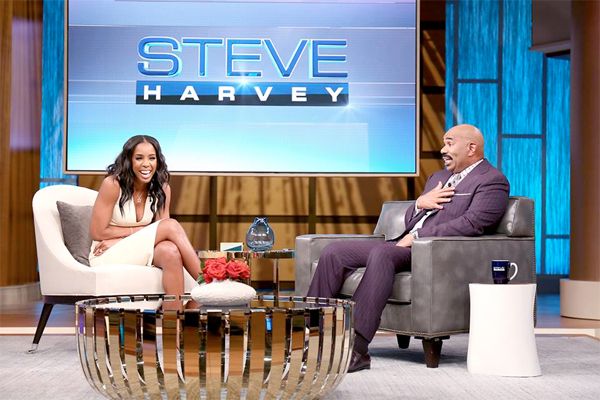 Kelly Rowland is warming our hearts with these funny stories about her son Titan's manish ways on the "Steve Harvey Show" today. Get your laugh on and find out how her former band mates Beyonce and Michelle Williams help her handle motherhood inside….
Kelly Rowland has been busy! The R&B songstress has been hitting up charity events with Claritin, stepping out on the scene to support her friends' new projects and she has been making press rounds for her new singing competition show "Chasing Destiny." And the promo trail continued today for an appearance on the "Steve Harvey Show."
With Mother's Day right around the corner, the 35-year-old mom stopped by the daytime talk show to chat with Steve about being a mom to her adorable 17-month-old Titan Witherspoon. She said her baby boy is living up to his name, which she revealed her husband Tim came up with, by tearing up their house! Ha! She said he does these dramatic sound effects whenever he's doing something mischievous. Too cute.
The former Destiny's Child member also dished on how her besties/sisters Beyonce and Michelle Williams have helped her along her motherhood journey. Bey gives the motherly tips and tricks while Michelle serves up powerful prayers. "The greatest gift that the girls could have given me is their friendship. I'm so happy, we still got that," Kelly said.
Aww!
Check it:
Later, Kelly is asked if there will be a Destiny's Child reunion. Have your prayers been answered? You have to peep the clip below to find out:
Kelly's episode airs today. Check your local listings for the air time.
BONUS:
Here's a behind-the-scenes Q&A with Kellz where she reveals what she misses most about Houston, her fitness faves, cooking at home with her husband and more. Check it above.
Photos: Tegan Kinane/NBC