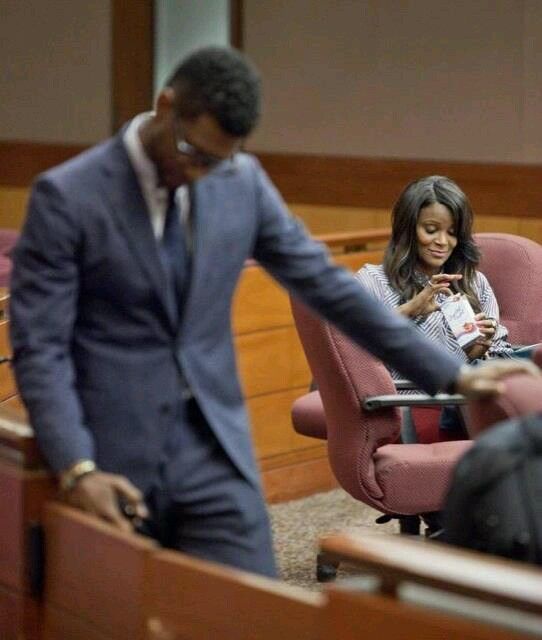 Tameka Raymond is PISSED!  And after you see her latest rant, you may not totally blame her.  As we all know she and ex-husband Usher have been in dramatic custody hearings all week over their two sons Usher V and Naviyd.  But things came to a head today as Tameka noticed Usher posted the above pic DURING the hearing--just to make her look bad. 
See what she spills about how Usher's been manipulating the media inside...
Tameka tweeted her feelings today--which were clearly bubbling over--about how Usher is attempting to gain sympathy with the public and media.  And doing so in a slick way.
She claims he sneakily snapped the above pic and is behind it getting out--and he made it seem like she was taking joy in making him break down on the stand yesterday.  She says this was actually during a break where she was minding her business drinking her Crystal Light...and their phones were supposed to be turned OFF.
Tameka says folks shouldn't fall for his antics and his hype, because he's just manipulating everyone and slanting things his way.  She told her twitter followers today:
I hope u know that was during a break & him sneaking a text on his cell. Different day from the 'sad' day. Its mischaracterized
the 'machine' is real...
He's playing a mass media game, hence TV appearances that lead to favorable coverage. It complete bulls**t. #Slant
She continued on about how he's manipulating the media:
he's trying garner sympathy. Hmm how did he get that pic the same day to post it???? That was posted during court!

I don't think they're seeing it, because most are blinded by his bright star. He's posting pap pics on his Facebook! Sincere?
And she went on to blame the media for how this custody battle has been spun in what she believes is his favor:
Media is an amazing machine.. so easily bought by politics, money & popularity. Truth is rarely sought.. they show one sided accounts 2 sway
I pray that the truth finally gets out. I didnt start this battle, I filed in response. Research, pls use ur brain & not the obvious show
Signing off for a minute.. the lies are annoying me & yall know I dont hold my tongue much. Im as transparent as they come & I despise lies
Meanwhile, earlier today, TMZ released video of Usher on the stand attempting to defend himself--in a half assed way--when he was accused by Tameka & her lawyer of sleeping with Tameka's bridesmaid Maya Fox Davis...while Usher & Tameka were stil married:
Thankfully, the custody hearing is in recess till July.