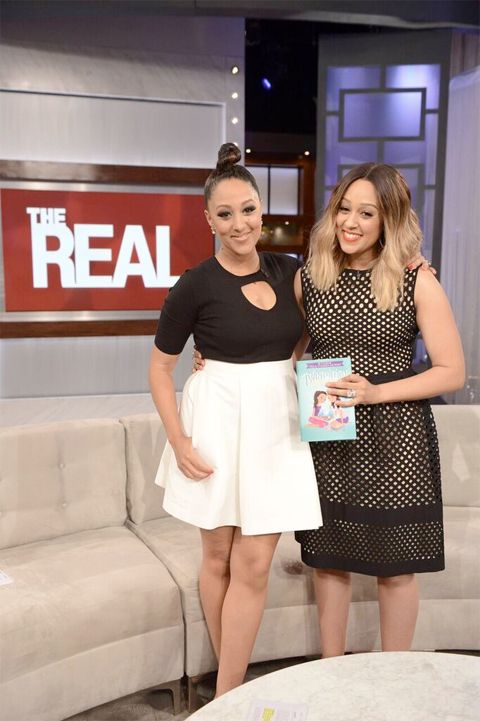 It's a "Sister, Sister" reunion! Tia Mowry Hardrict joins her sister Tamera Mowry Housley for a new episode of "The Real." Find out how Tia went after an Internet troll, plus, find out how Usher has his SnapChat LIT with some steamy clips inside….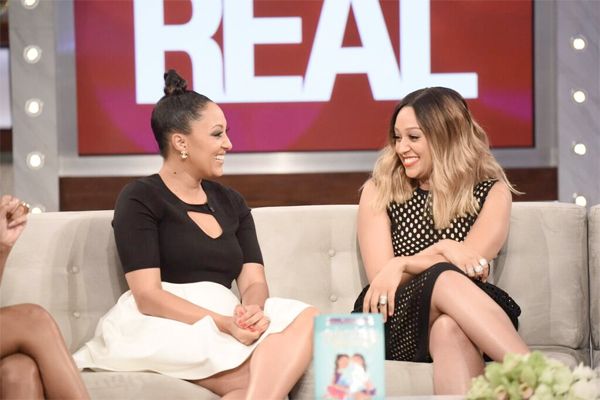 Ahh… the memories!
Cooking Channel host Tia Mowry Hardrict will be joining her twin sister Tamera Mowry Housley on her daytime talk show "The Real" for Friday's episode. Tia, rocking a Fendi dress and Nicholas Kirkwood heels, and Tamera has us reminiscing about our childhoods appearing alongside one another. The nostalgia is so strong.
After taking their seats on the couch, Tia opens up about how she was the target of body shaming where cyber bullies unleashed an arsenal of harmful comments pertaining to her weight.
"I don't know if any of you you guys know, but I was recently attacked for you know, my weight," Tia reveals. "And I am a size six, I'm proud of what I am."
Tamera chimes in, "I'm an eight, you're a six!"
Tia continues:
"Anyway, this woman said that you know, I was fat. And I'm like wow you know, the average size in America is a size 12/14, and so I guess you're calling you know, everybody, a lot of women fat, which I think is really ridiculous. And you know, I had ended up putting this screen shot on my… um Instagram of this women's comment and I had tagged her uh… [Laughs.]"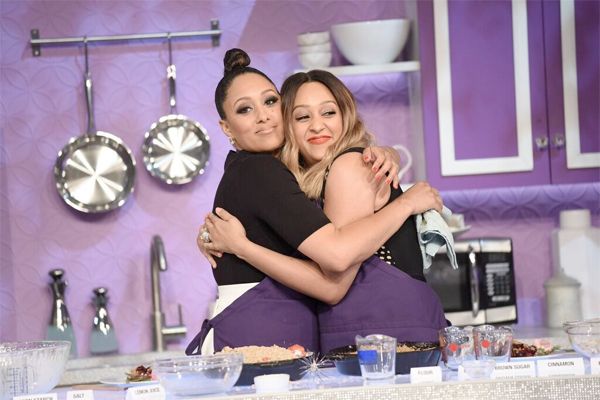 Tapping into her "twintuition," Tamera finishes her sentence saying, "Employer! Don't mess with Tia! Don't mess with Tia!"
Tia then continues:
"Well she was a supporter of the organization. But the problem was you know, this was a woman that worked for young African um you know, American women and I thought it was shocking that she would put down you know, someone and work for a company like that. I just felt like you know, people have to be responsible for their actions."
Bloop!
The fab mom says she put the woman on blast because she has to take responsibility for her words and actions just like she does.
"I have to be responsible for what I do and what I say on Instagram, but not only that, it's about social media bullying. And the main reason why I wanted to talk about that and the main reason why I put a spotlight on the topic is because um you know, there was a singer Kehlani and you know, Iggy, they had both come out saying that they wanted to commit suicide because of the um internet bullying. And I'm like guys, "Like, this is a huge problem." My son gets bullied. [Turns to Tamera.] You were bullied. [Turns to Adrienne.] You were bullied!"
Don't come for Tia!
Peep the clip below:
Check out Tia & Tamera's "Sister, Sister" reunion when the episode airs tomorrow. Check your local listings for the time.
Meanwhile on SnapChat....
Soooo…this is what we're doing on SnapChat Usher?
The R&B crooner just joined the instant messaging service and he already has it LIT AF! Like seriously. He's posting up all types of thirst trap clips for the masses.
In a NSFW picture, Usher is seen sitting down NAKED in his home steam room. He captioned the pic "Blowin off steam," covering his man parts with an emoji. OH?
And here a few more flicks from his steam room session:
If you needed a reason to join SnapChat, Usher's story may be one of them.
Photos: Erica Parise/Warner Bros. Television/Usher's Snap