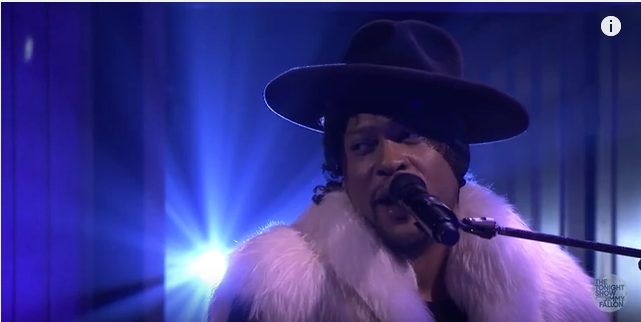 D'Angelo just gave one of the most riveting tributes yet for Prince.  Watch it inside...
Singer D'Angelo, who was a close friend of the late Prince and often recorded at Paisley Park himself, sang a beautiful tribute to the artist last  night on "Late Night with Jimmy Fallon."
Serving as the the music guest, D'Angelo covered Prince's classic "Sometimes It Snows in April" with help from Jimmy's former "SNL" co-star Maya Rudolph and Gretchen Lieberum's cover band, Princess.
The sometimes recluse singer was visibly moved to tears and could barely finish the performance.  Check it out in its entirety below:
BONUS:  Jazmine Sullivan tributed The Purple One as well singing "Adore" at her recent show.  And she gave us chills. Check it out below: