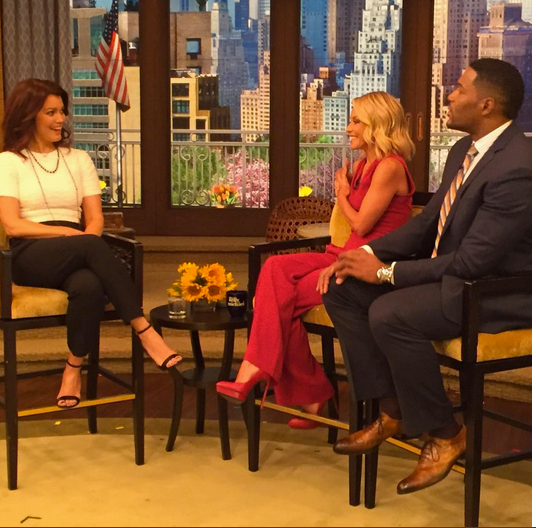 Kelly Ripa returned to "Live with Kelly & Michael" this morning as promised.  She and Michael Strahan set the record straight.  Get it inside...
Today, Kelly Ripa re-joined Michael Strahan on "Live," and they both made it clear they're glad she's back.  They explained there was a reason she was gone for the last week.
Michael said during yesterday's show she was out for a planned vacation to celebrate her 20th wedding anniversary.  While a day or two was for that, the rest of the week was because Kelly needed time to gather her thoughts about the botched announcement about Michael's departure.
Kelly sent an email to the entire "Live" staff thanking them for their patience while she works it out.
We said previously Kelly Ripa was likely not necessarily mad at Michael Strahan for leaving as we're sure, thanks to her being in this business forever, she knew the day was coming as he's been working part time at GMA for a reason -- to test to see if he could go full time.  Instead, she seemed (rightfully) pissed at ABC execs for keeping it a secret and tying Michael's hands into doing the same. And she confirmed this today.
When your name is on the marquee, you've been at the show for 15 years (and the network for 26 years) and you're the highest paid woman on the entire network with an alleged $15 million salary, you shouldn't be kept in the dark the same way interns are. Finding out huge news  at the same time as the rest of the world, news that drastically affects your show, is shady at best 
It also says a lot about how the network views loyalty, respect and communication.
Yesterday, ABC issued a personal apology to Kelly for not telling her ahead of time that Michael, who she's worked with for years on their now Emmy Award winning show, would be leaving.  This isn't a solo show, so any move made by a co-host affects her too.  She has a right to know about it in advance.  Apparently, they blindsided her the same way when Regis Philbin left.
CNN Money reports:
Top executives at Disney and ABC have personally apologized to Kelly Ripa for last week's bungled announcement about the departure of her co-host Michael Strahan.
The bosses apologized to Strahan too. The apology also extended to the Hollywood agents who represent the co-hosts.

....

The personal apology was conveyed by Ben Sherwood, the president of the Disney-ABC Television Group, and his leadership team, including ABC stations president Rebecca Campbell and ABC News president James Goldston.

The communication helped get Ripa back to her talk show table -- since faulty communication was the original problem.

 
At the beginning of this morning's show, Kelly gave a speech to explain what's transpired over the last week.  And we gotta say, she's spot on about professional respect, courtesy and communication in the workplace. 
She also gave a heartfelt congrats to Michael saying she and the whole staff being thrilled for him.  No one who works in TV is surprised by someone moving on when they've been testing for another show all along.  But there's a respectful way to make that departure announcement, and ABC flubbed this one.  So Kelly called them out.
Check it:
Meanwhile, last night Michael was all smiles as he left 92Y in NYC:
Congrats again on the big move to "Good Morning America" Michael!
Photos: Instagram/INF