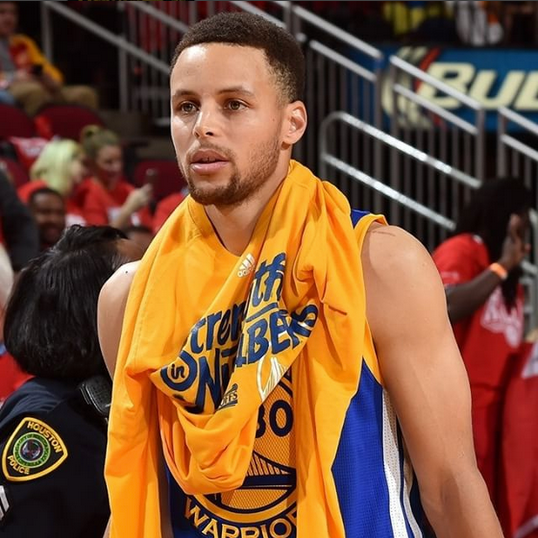 The results of Steph Curry's MRI are in, and Warriors fans won't be happy.  Deets inside...
He's been healthy all season, but this first round of the playoffs has been anything but nice to the reigning NBA MVP.
After Steph Curry got injured for the second time in the post season Sunday afternoon, he went in for an MRI on his knee after injuring it on the court in the second quarter.  Reportedly, he slipped on sweat on the floor.
Today, the Warriors issued an update saying it's indeed an MCL sprain, and they will have to re-evaluate his condition in two weeks.  The update on the site reads:
Warriors guard Stephen Curry underwent an MRI this morning that revealed a Grade 1 MCL sprain in his right knee. He will be re-evaluated in two weeks.

Curry suffered the injury on the last play of the first half of Game 4 last night at Houston and was diagnosed with a sprained right knee by the team's medical staff on site.
It's a tough hand to be dealt in the midst of the Playoffs, even if the Warriors finish off the Rockets Wednesday night without their star.
The ever optimistic champ seems to be keeping his spirits up tweeting:
Thanks 4 all the prayers & messages. Can feel all the positive energy. God is Great! All things considered I'm Gonna be alright! #DubNation

— Stephen Curry (@StephenCurry30) April 25, 2016
His wife Ayesha is chef'ing it up in the kitchen to nurse her man back to health.  She posted herself making her chicken parmesean, Steph's fave, and asked fans to send prayers up for her 'baby':
She's got a cookbook for a reason. 
Get well soon Steph!
Photo: Warriors' IG