Jennifer Hudson STAYS booked.  She's set to star in the next NBC live production.  We've got all the details inside, plus Andra Day flexing her vintage style for ESSENCE magazine....
Fresh off the news she will be wrapping up her stint as Shug Avery on the Broadway adaptation of The Color Purple, Jennifer Hudson isn't taking anybody's break.  Chick is already booked.
It was just announced today that she will star in NBC's upcoming production of "Hairspray Live!"  The Oscar winner will headline the cast as Motormouth Maybelle for the network's next Broadway musical holiday event following the huge success of "The Wiz Live!"
NBC Chair Robert Greenblatt said today in a statement:
"Harvey Fierstein created the role of Edna Turnblad on Broadway in an indelible Tony-winning performance that demanded to be memorialized on film, and we're happy he wanted to step into her shoes one last, unforgettable time. We're also so grateful that the incomparable Jennifer Hudson will play Motormouth Maybelle and we know her rendition of 'I Know Where I've Been' will literally stop the show."
Harvey will also write the teleplay, and here's the synopsis:
"Hairspray Live!" takes place in 1962 Baltimore. Teenager Tracy Turnblad's dream is to dance on "The Corny Collins Show," a local TV program. When, against all odds, Tracy wins a role on the show, she becomes a celebrity overnight and meets a colorful array of characters, including the resident dreamboat, Link; the ambitious mean girl, Amber; an African-American boy she meets in detention, Seaweed; and his mother, Motormouth Maybelle, the owner of a local record store. Tracy's mother is the indomitable Edna Turnblad, and she eventually encourages Tracy on her campaign to integrate the all-white "Corny Collins Show."
"Hairspray Live!" will air Wednesday, Dec. 7 at 8 p.m. ET/PT and will originate from Los Angeles.  Congrats Jennifer!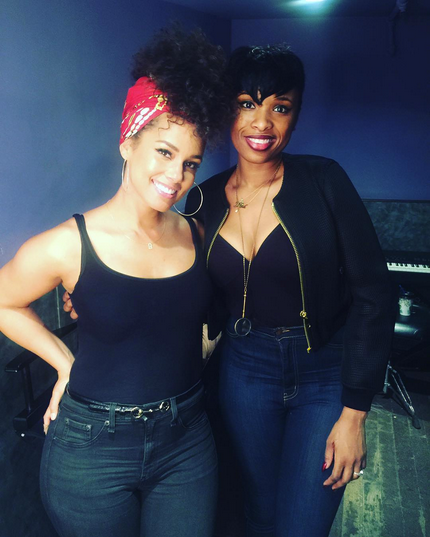 By the way, she reunited with her Secret Life of Bees co-star Alicia Keys over the weekend.  Cute!
Andra Day just landed her first Essence Magazine cover.  She's set to perform at this summer's Essence Music Festival, so it's only right that powerhouse vocalist gets her shine.
Her fabulous vintage flair has stood out ever since she hit the music scene.  The soulful west coast-native bombshell tells the mag in the June 2016 issue about her style inspo saying:
"I like to say I was established in the cities, dragged through the decades and picked up a couple of things [from every era]," she said.
The 31-year-old also has a sincere love for vintage artists like Nina Simone, Billie Holiday and Sarah Vaughan.  She said about her music exuding powerful messages:
"A lot of people think that Cheers to the Fall is about making a toast to the autumn season," she said. "But the title itself means 'Cheers to the possibility of criticism and cheers to the possibility of failure.' I'm basically saying that I'm going for it without allowing fear to keep me from being who I'm really supposed to be."
 
Andra's talking more about her signature style and music inspiration in the upcoming issue. It hits newsstands May 13th.
Photos: Getty/Instagram/ESSENCE