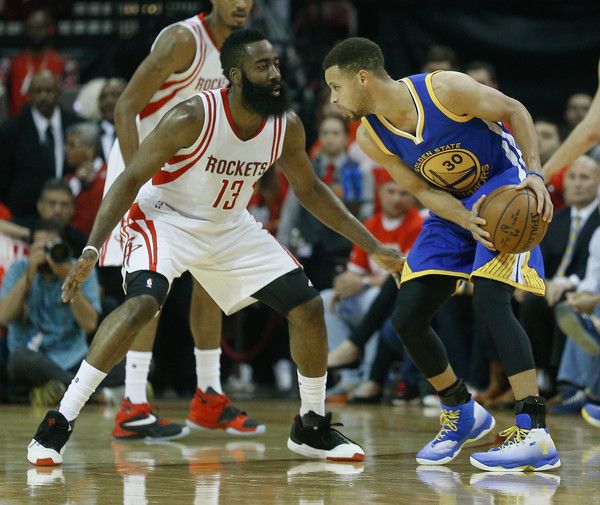 It was a busy weekend in sports, starting with Cam Newton being....Cam and ending with Steph Curry getting hurt for the second time in this Playoff series.  Get the videos inside...
Warriors fans' worst nightmare happened again!  MVP Steph Curry went down with his second injury of the Playoff season Sunday night.
Warriors Coach Steve Kerr revealed the point guard tweaked "the inside part" of his knee, and that he slipped on a wet spot on the floor. 
Sounds like the Houston Rockets clean up kids missed a spot. 
In Game 1, Steph hurt his right ankle in the second quarter and ended up sitting out most of the game.  He missed games 2 and 3 to recover, and during his first game back Sunday night, he went down again with the knee injury.
The Warriors still pulled out a win without him.  But it's unclear the extent of Steph's injury.  He's set for an MRI on Monday.  Here's video of what went down:
And the star limping out of the stadium:
Get better soon Steph!
In other sports news:
NFL MVP Cam Newton was just being Cam on Friday.  Y'all know Superman loves the kids, so it only made sense that while he was rolling past a middle school in North Carolina, he decided to hop out and join the students' recess!
The Panthers QB pulled up at the Community School of Davidson after seeing a kid with a jersey on playing outside.  He stopped the car and asked a seventh grade teacher if it was OK to play some ball with the kiddies.  After getting permission, he hopped over the fence and made the kids' day.  Awwww!
Peep the video above.
BONUS:
Riley Curry isn't the only cute kid taking over dad's post-gram press conferences. After his big game 4 win over the Hawks Sunday night, Boston Celtics star Isaiah Thomas' kids James and Jaden were the focal point of his interview. At least they were demanding that to be the case. Ha!
Check out the cuteness above!
EXTRAS:
1. Lakers head coach Byron Scott was just fired after two consecutive losing seasons. STORY