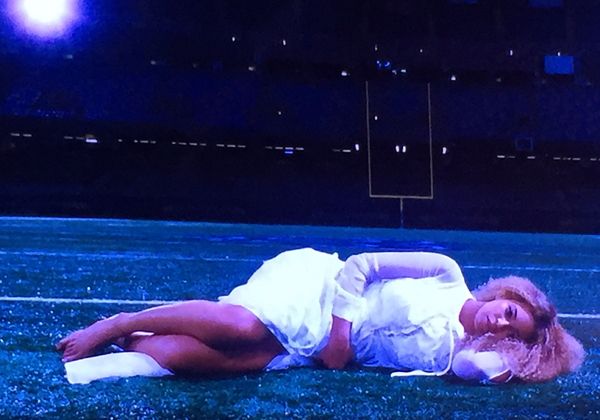 Beyoncé just provided us with her own flowchart for the stages of life and love, and gave us a video anthology to go with it.  It's her world, and we're all just sippin' in it.  We've rounded up the quotes and moments that made us gasp, shed a tear, or scream 'Yassss B!' inside...
She took us through hurt, pain, anger, forgiveness, redemption, nurturing, and happiness all in a matter of an hour. About 10 minutes in, one would think this Lemonade business was about to be a long and drawn out divorce announcement.  But it's instead about her parents and her parents' parents. And the cheating and addictions from those relationships affecting her own future relationships.  
Beyonce gave us a history lesson, love lesson, and lesson in familial emotional inheritance all in one hour.
The "Formation" singer is earning her stripes as a director (she's one of seven Directors on the visual album) and Executive producer as she tells the tales of breaking the cycle of emotional and mental pain of women, namely black women, at the hands of abusers.  Abusers in the form of slave owners, lying fathers and cheating husbands. She shows what happens when what's passed down to our daughters isn't the acceptance of said abuse, but the knowledge gained from it.  A woman can find redemption and allow herself to love someone else, even if she's never seen that love before.
Beyonce's stages of dealing with relationships: Intuition, Denial, Anger, Apathy, Emptiness, Accountability, Forgiveness, Hope, Redemption. 
Here's our favorite quotes and moments from Lemonade:
1. The reason we initially were ready to fight Mr. Cater on Beyoncé's behalf.
"You remind me of my father, A magician. Able to exist in two places at once. In the tradition of men in my blood, you come home at 3am and lie to me. What are you hiding...
The past and the future merge to meet us here.  What luck.  What a f*cking curse."
2.  When we realized it was actually Beyonce speaking for any woman.
"I don't know when love became elusive.  All I know is no one I know has seen it....My father's arm around my mother's neck. Fruit too ripe to eat. Plugged my menses with pages from the Holy Book but still coiled inside me was the need to know: Are you cheating on me?
2. "So what are you going to say at my funeral now that you've killed me? Here lies the body of the love of my life whose heart I broke without a gun to my head. Here lies the mother of my children both loving and dead. Rest in peace my true love who I took for granted. Most bomb p*ssy."
What every scorned woman wants to say to the man who foolishly cheated.
3.  "I tried to change. Closed my mouth more. Tried to be softer, prettier, less awake.  Plugged my menses with pages from the Holy Book but still coiled inside me was the need to know: Are you cheating on me?"
Something many women know all too well.
4.  When she included the 'black women in America" snippet from Malcolm X's 1962 speech he gave in Los Angeles.
Malcolm spoke the utmost truth about black women in America in this speech:  "The most disrespected person in America is the black woman.  The most unprotected person in America is the black woman.  The most neglected person in America is the black woman."
5.  "Ashes to ashes, dust to side chicks."
Let 'em know Bey!
6. "I f*ks with you, till I realize, I'm just too much for you.  Who the F*CK do you think I am....Give my fat ass a big kiss boy.  you think I am? Tonight I'm fucking up all your shit boy."
The moment Bey screamed on a track to let that cheating man, any cheating man, know he played himself.  F**k him up Bey!
7.  That entire Serena Williams cameo. 
They ain't sorry.  And they're putting their middle fingers up in that boy's face saying "Boy bye."  All while Serena twerks and body rolls for her life.  And Beyonce´was simply perched in that chair looking like a boss. They were showing the world what happens when a woman is fed up, and when she's in the process of getting her life in formation without that man.
8.  "You betta call Becky with the blonde hair."
The epitome of not giving a f**k about that dude who cheated on you.
9.  She don't gotta give it up cuz she professional.
A new generation of women who doesn't have to roll over and give up her soul to a man who doesn't handle it with care.
10.  Louisiana native Q Wallis starring in the mother-daughter scene filmed in New Orleans.
Loved it.
11.  The vintage home video footage between her and her father Mathew Knowles from when she was alittle girl placed back-to-back with new footage of Mathew with Blue Ivy.
Arguably one of the most powerful statements in the anthology.  It's the moment, right before she goes into her native Texas-inspired track, which makes it clear she is showing how the cycle has been broken.  Despite everything her father did, she wants her daughter to know he is loved by her grandfather.
12.  That mother and daughter talk. 
"Mother dearest, let me inherit the earth.  Teach me how to make him beg.  Let me make up for the years he made you wait.  Did he bend your reflection?  Did he make you forget your own name?  Did he convince you he was a god?  Did you get on your knees daily?  Did his eyes close like doors?  Are you a slave to the back of his head?  Am I talking about your husband, or you father?"
13.  "Why do you deny yourself heaven?  Why do you consider yourself undeserving?  Why are you afraid of live?  You think it's not possible for someone like you?  But you are the love of my life....There is a curse that will be broken."
When the fix becomes clear, and we realize just how many cycles of abuse and hurt are passed down instead of broken.
14.  When Beyonce flexed her piano playing skills and cried through sang that gorgeous ballad to her husband Jay Z.
"Show me your scars and I won't walk away...every promise don't work out that way."  Some saw this as a woman taking back her man after he broke promises or cheated.  Others saw it as taking accountability in walking away from your loved one when they make a human mistake, due to being too scared to face it head on, based on what you saw in your parent's relationship.  Risk and vulnerability.
Either way, we were in tears.
15. #BlackLivesMatter
Powerful cameos of some of the young unarmed black men who were recently killed at the hands of authorities, and their mothers who loved them.
16.  The powerful imagery of the southern, African, and creole ancestory. 
And powerful New Orleans imagery.  We see you Edna Karr Magnet School!
17.  More perfect cameos.
Amandla Stenberg, Zendaya, Chloe x Halle, Winnie, and more powerful, outspoken, and beautiful young black women.
18.  The meaning behind Lemonade revealed.
"Take 1 pint of water, add a half pound of sugar, the juice of 8 lemons, the zest of half a lemon, pour the water from one jug into the other several times.  Strain through a thin napkin.  Grandmother, the alchemist.  You spun gold out of this hard life.  Conjured beauty from the things left behind. Found healing where it did not leive.  Discovered the antidote in your own kitchen.   Broke the curse with your own two hands.  You passed the instructions down to your own daughter.  Then she passed it down to her daughter."
Her grandmother said that she was served lemons in her life -- a child of the south, a product of the slave era, misogyny, etc., and she made it into lemonade.
19.  That "Redemption" sequence  for "All Night Long" -- featuring everyday people (plus her, Jay and Blue and her mother who found love again with Richard Lawson) hopelessly in love.
Yeah, we were in tears again.
20.  "My grandma said nothing real can be threatened. True love Brought salvation back into me. With every tear came redemption. And my torture became my remedy."
Church.
You can watch the full "Lemonade" movie HERE.