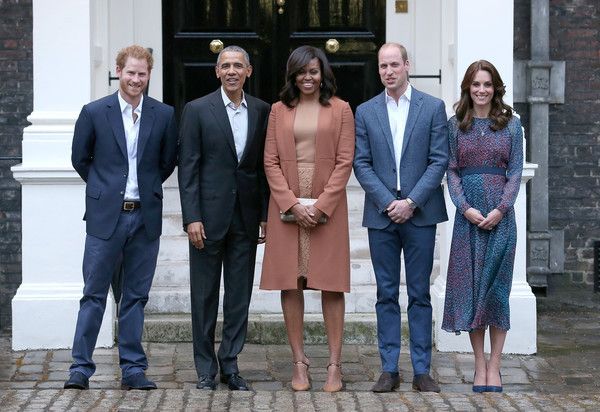 President Barack Obama and First Lady Michelle Obama made their way to Kensington Palace to wine and dine with the British Royals. POTUS and FLOTUS also got the chance to meet with adorable Prince George…in his pajamas! Peep their royal shots inside…
President Barack Obama and First Lady Michelle Obama have jetted to the UK for a brief visit. Yesterday, POTUS and FLOTUS trekked through the rain as they made their way inside Kensington Palace to dine with British royals Prince Harry, Prince William, Duke of Cambridge and Catherine, Duchess of Cambridge.
FLOTUS took a que from the queen's matchy-matchy style, rocking color-coordinated neutrals by Michael Kors. POTUS held an umbrella as they walked up to greet the British royals.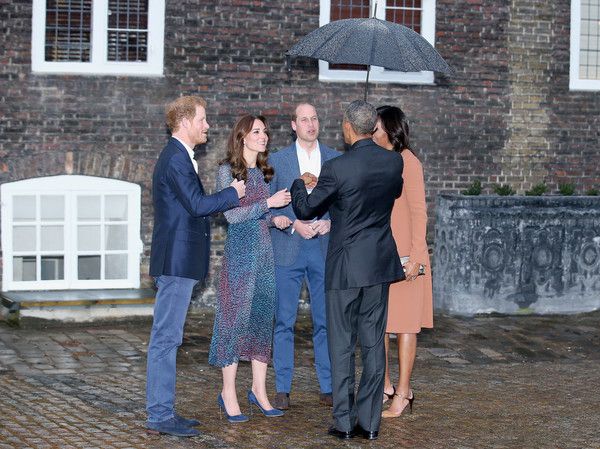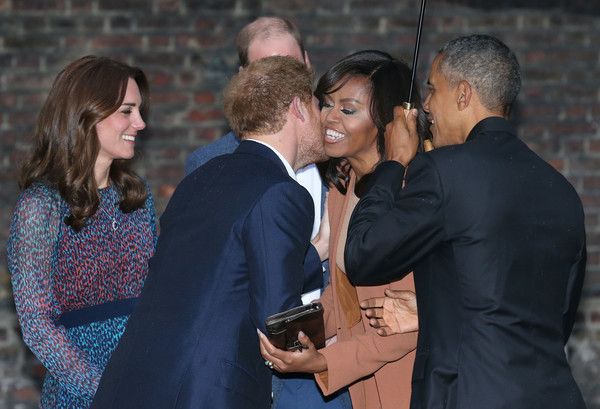 It was all love as Prince Harry planted a kiss on First Lady Michelle Obama's cheek to welcome them to Kensington Palace.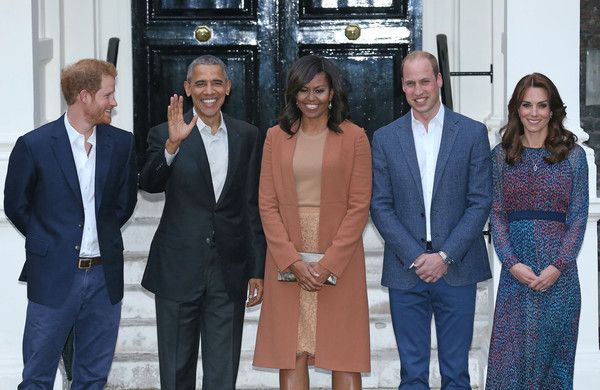 Inside....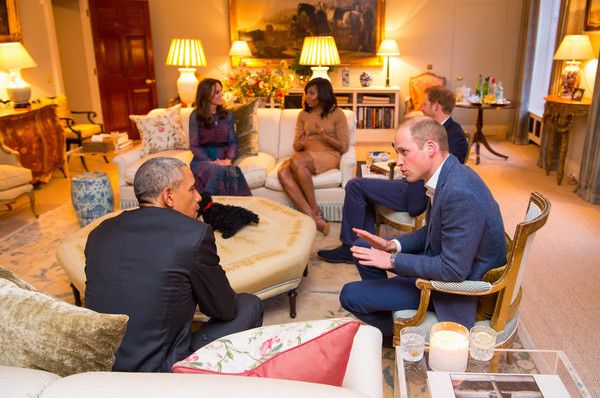 POTUS and FLOTUS chatted with the British royals before they had supper. 
And look who else was there....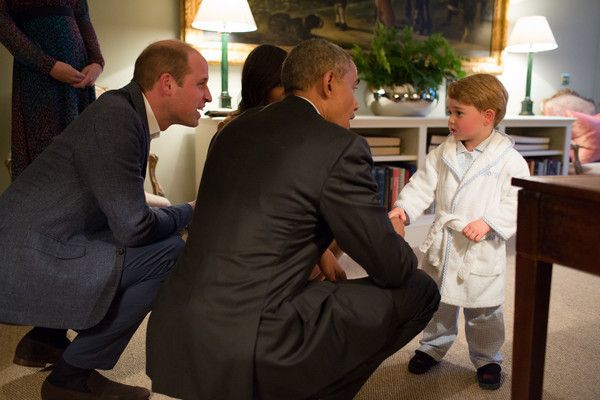 Cutie Prince George came out to greet POTUS and FLOTUS. He was the absolute cutest in his little white robe that had his name embroidered on it.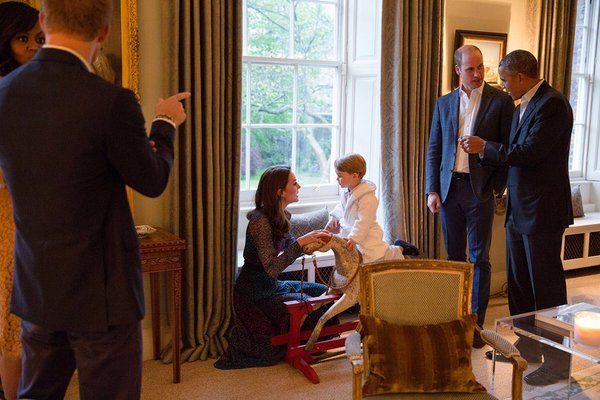 Prince George thanked the Obamas for his rocking horse that was gifted to him when he was born. Adorbs!
Earlier....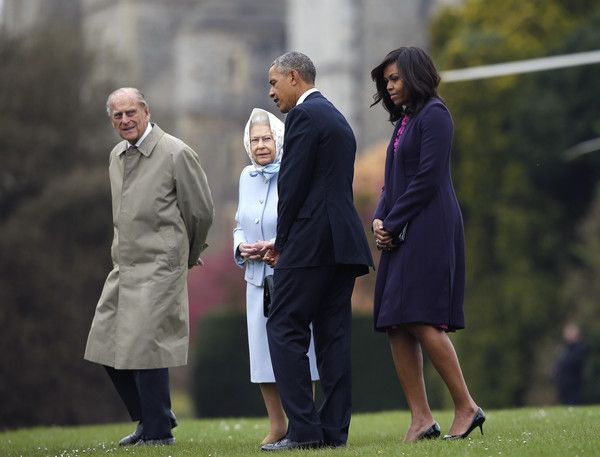 Our President and First Lady met up with Queen Elizabeth II at Windsor Castle for lunch.
Still bringing the fab, our stylist First Lady rocked a magenta and black floral printed dress by Oscar de la Renta with an eggplant Narciso Rodriguez overcoat.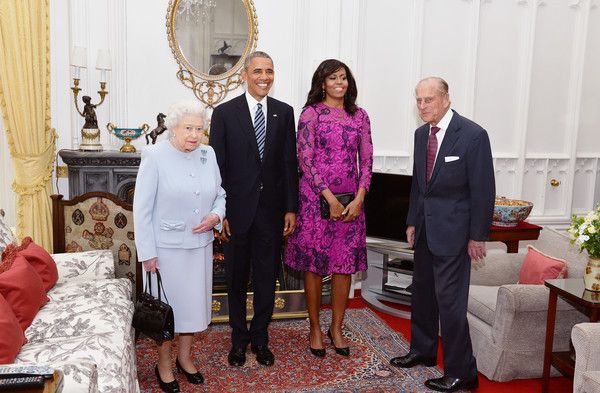 Queen Elizabeth II celebrated her 90th birthday on Thursday (April 21st). Happy Birthday Queen!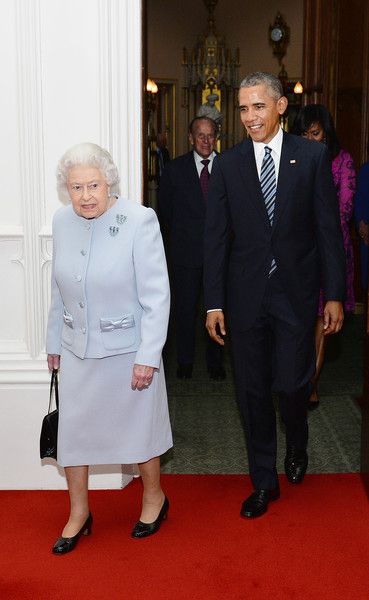 Fab times!
As he continued his rounds, President Obama participated in a press conference with Prime Minister David Cameron. Check it below:
In other news, FLOTUS will be guest starring on an upcoming episode of "NCIS." In the "Homefront" episode, Mrs. Obama welcomes NCIS Special Agent Leroy Jethro Gibbs and the wife of a Marine to the White House for a roundtable with military spouses.
FLOTUS' episode airs Tuesday, May 3rd at 8pm EST on CBS.
Photos: Getty/Kensington Palace's Twitter