Apparently, Idris Elba has another wife no one knew about. And now, she's speaking out about how the British hottie divorced her for fame! Do we believe it? Decide for yourself inside, plus get the deets on this love letter written by Tupac on sale for a cool $35,000….
Well this is…interesting to say the least.
A woman has come forward (with receipts) claiming she was once married to British actor Idris Elba and that he divorced her after his career started taking off.
The 43-year-old actor, who's voicing a character in the newly released Jungle Book, married lawyer Sonya Hamlin back in 2006. But their romance was short lived. She claims he divorced her after just six weeks of marriage for the sake of his career. According to Sonya, he was told being married wasn't the "right look," so he supposedly called it quits, leaving her heartbroken.
"The Breakfast Club" radio personality Angela Yee said her friends who knows the alleged wife says it's true also. Hmph.
In an interview with The Sun, Sonya details their relationship from the moment they met, how they got married and why they split.
"Everyone was like 'Dude, you're the hottest sex symbol'," said Sonya. "I know people were telling him he was going to ruin his career. He was being told it was an important part of his career to be a single sex symbol in Hollywood and that being married would damage that. Some people used to say, 'Why her?' It wasn't the right look, that's what they were telling him. It used to upset him. He was like, 'Why don't people just let me be happy?' "
Sonya goes on to say a mutual friend in her hometown Baltimore, Maryland introduced them three months after he divorced from his first wife with whom he has a daughter Isan (15). You'll recall, Idris starred in the hit HBO series "The Wire" and the series was filmed in B-More.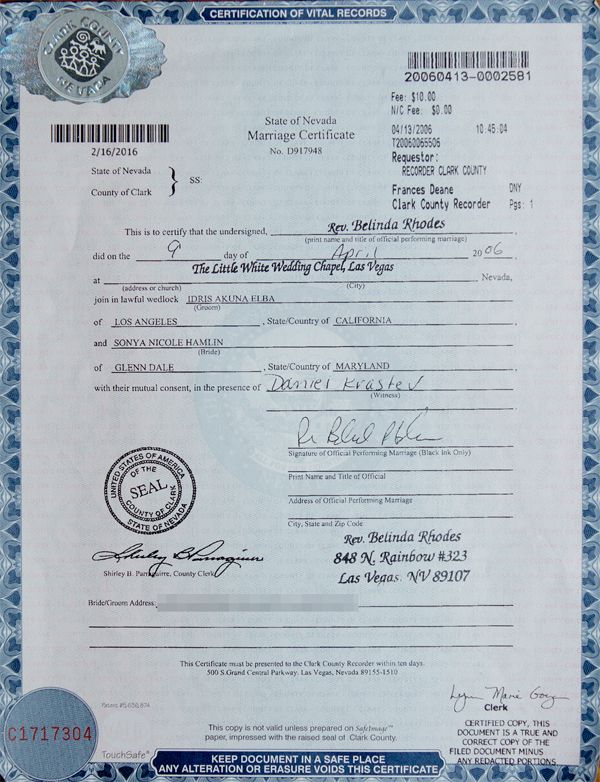 She recounts their whirlwind romance in the publication, which reads:
In April 2006, the couple traveled to Las Vegas to watch a boxing title showdown between American fighters Floyd Mayweather and Zab Judah with some friends.

During the trip they decided to marry on a whim and wed the day after the match at the Little White Wedding Chapel.
Sonya said:
"We were just chilling on sun loungers early in the day by the pool.I know I was drinking a mimosa and we were talking and were both in a great mood. We had talked about marriage before and how we would want to keep it plain and simple.

"We were madly in love by then and we were like, 'Let's just do it'. We were both excited. It was a mutual decision."

 
She said she and Idris returned to settle down in her Maryland home.
 

"He was on the cusp of moving from TV to movies, he was getting tons of offers to do movies. He was traveling all the time. I was on the cusp of a huge real estate boom, at that point I had ten employees."

But as well as the bad timing, Sonya blames friends of her husband who she believes told him to dump her because she would be bad for his image.

She is still angry about that, saying: "I couldn't understand how it would damage his career because I saw actors like Denzel Washington be successfully married.
She said Idris' friends got in his ear telling him he needed to end the relationship.  It was hard on the both of them.
"He was protective of me, but maybe he listened to people in his ear. He just felt bad about it. He used to say, 'You deserve for me to be around' and 'I know you have your practice that you worked really hard for and you can't get up and leave and come be with me three, four, fives months at a time while I'm filming in another country'. Of course I wanted to save the marriage. It wasn't easy for either of us. We wavered a couple of times. We were both just sad. He hugged me of course. It was very sad."
Sonya then revealed Idris asked her to arrange the divorce since she's a lawyer. She tried to file in Maryland, but strict divorce rules in the state would have meant they had to separate for a year first. They then got a lawyer in Las Vegas to have the marriage annulled by claiming she was drunk. She now admits that was a lie to get the marriage ended quickly.
Sonya said the breakup broke her heart:
"It did, it did. I didn't date anybody for years. I was just like, I don't want to have to go through anything like that again. At one point in time he was the love of my life — we were totally enamored. And anybody that knows us or saw us would tell you, 'They were madly in love'.
You can read her full interview at The Sun.
Hmm...she does have receipts, but do we believe it? Sound off in the comments.
In other news...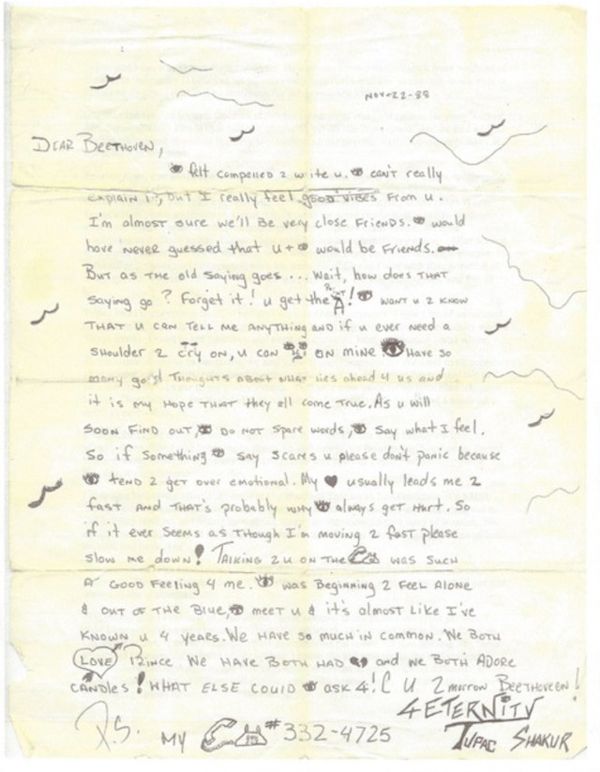 An old love letter (above) written by the late Tupac Shakur has surfaced. And now, it's being auctioned off for a cool $35,000!
According to the NY Daily News, the "California Love" rapper penned the note to a woman he nicknamed "Beethoven" because she had a penchant for playing the piano. He allegedly met her in drama class at Tamalpais High School in Mill Valley, Calif, where they studied Shakespeare.
In the love note, Pac got all poetic with his words to express how he felt about his high school crush. He replaced the "I" with the drawing of ah eye with long eyelashes and used hearts symbols rather than writing the word out. In one line he wrote, "As you will soon find out, I do not spare words, I say what I feel. So if something I say scares you, please don't panic because I tend to get over emotional."
If you're looking to cop the original love letter written by the rap icon, it'll run you about $35,000 (as of now). It's currently being auctioned off on the auction site Moments In Time.
Look at how he dropped the digitis with a picture though.  Smooth.
Any bidders?
Photos: Dan Callister via The Sun/Moments In Time