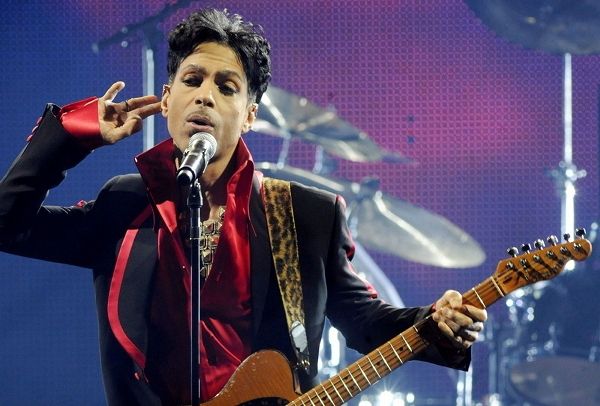 The doves are crying, and so is everyone else. News of Prince's death has stunned, shocked and overwhelmed everyone all around the world. Hollywood is exploding and reeling from the news. We've rounded up reactions from YBF celebs and more who loved him inside...
-Toni Braxton
-Cynthia Erivo and the cast of the Color Purple
My heart is broken. There are no words.
I love you!

— SheilaEdrummer (@SheilaEdrummer) April 21, 2016
-Sheila E.
Paralyzing loss
Thank you Prince for your music and friendship
Cant process a world without U pic.twitter.com/f12ugTBC2O

— Holly Robinson Peete (@hollyrpeete) April 21, 2016
-Holly Robinson Peete
Prince the doves really are crying now. Listening to your music. Remembering you. #RIPPrince

— Oprah Winfrey (@Oprah) April 21, 2016
-Oprah
-Beyonce
-Sherri Shepherd
-LeToya Luckett
-Miguel
-Prince's ex-wife Mayte Garcia -Erykah Badu -Will Smith
Prince and Michael were the only artists I actually followed around the world to see their stellar performances live.

— Earvin Magic Johnson (@MagicJohnson) April 21, 2016
-Magic Johnson
-Nas
Whose gonna carry the torch of these legends? We gotta take music more serious artists! We've lost to many greats! Gotta step our shit up!

— Jazmine Sullivan (@jsullivanmusic) April 21, 2016
-Prince
Shocked & heartbroken to hear news of death of dear friend, #Prince.Pray for his family&thank God for his legacy. pic.twitter.com/M5qCx9iXkj

— Rev Jesse Jackson Sr (@RevJJackson) April 21, 2016
-Rev. Jesse Jackson
When you find out. Respect and Gratitude sir. Rest in Power. pic.twitter.com/TANYnEU2Th

— jesseWilliams. (@iJesseWilliams) April 21, 2016
-Jesse Williams
My whole family is just devastated by this. My dad used to do prince covers back in the Day and I know every word to his songs…. This day

— Ayesha Curry (@ayeshacurry) April 21, 2016
-Ayesha Curry
#RIPPrince. When we lose 1 our TRUE entertainers & pioneers it makes u rethink your life & stop taking people & things for granted. #TRUTH

— Deion Sanders (@DeionSanders) April 21, 2016
-Deion Sanders
Brokedown & cried at work 2day when I heard about the WORLD's loss of #Prince, an unparalleled genius who's music impacted most of MY LIFE.

— Tracey Edmonds (@Traceyeedmonds) April 21, 2016
-Tracey Edmonds
-Nelly
-Ciara
"Today, the world lost a creative icon." —@POTUS on the passing of @Prince: https://t.co/MTb3nKxruRpic.twitter.com/gowq1MExM3

— The White House (@WhiteHouse) April 21, 2016
-President Obama
-Fantasia
-Lalah Hathaway
I LOVED him, the world LOVED him. Now he's at peace with his Father. Rest in power, @prince, my brother. pic.twitter.com/ZN6cc3WWuF

— Chaka Khan (@ChakaKhan) April 21, 2016
-Chaka Khan
Shocked and soooo sad!! #RIP PRINCE #music#legend#gonetoosoonpic.twitter.com/KlEBPPl40U

— Jennifer Lopez (@JLo) April 21, 2016
-JLo
Long Live The King.

— Questlove Gomez (@questlove) April 21, 2016
-Questlove
"A strong spirit transcends rules."
-#Prince
Thank U 4 inspiring,influencing & leading the way. There is no other. pic.twitter.com/xUWigDOGy7

— Jussie Smollett (@JussieSmollett) April 21, 2016
-Jussie Smollett
My heart is broken. Prince man. One of the greatest. This one hurts like MJ.

— Steve Harvey (@IAmSteveHarvey) April 21, 2016
-Steve Harvey
R. I. P to the King Prince thank u for inspiring me to be a Musician First and using this tool to heal people

— Wyclef Jean (@wyclef) April 21, 2016
-Wyclef
I loved this Man. Too soon. Can't comprehend it but it's unfortunately true. Heaven is yours. RIP #Prince#RIPPrincepic.twitter.com/EH8paEvn75

— MC HAMMER (@MCHammer) April 21, 2016
-MC Hammer
It is with a heavy heart that I write this text. Today the world lost a legend and I lost a best friend. Prince, Eye love U 4 Ever- Damaris

— Damaris Lewis (@DamarisLewis) April 21, 2016
-Prince's "muse" Damaris Lewis
I just wanna wake up from this nightmare. 57? No. Oh my Lord. NO!!!!!!!!!!!! Prince Rodgers Nelson was here and he showed OUT!!!!!!

— ⭐Jill Scott⭐ (@missjillscott) April 21, 2016
-Jill Scott
Thk you for leaving it all on the stage. You were the definition of a true artist. Thk God we were lucky enough to witness your gift #prince

— jurnee smollett (@jurneesmollett) April 21, 2016
-Jurnee Smollett
Frank Ocean wrote a tribute on his Tumblr:
I'm not even gonna say rest in peace because it's bigger than death. I never met the man (I was too nervous the one time I saw him) and I never saw him play live, regrettably. I only know the legends I've heard from folks and what I've heard and seen from his deep catalog of propellant, fearless, virtuosic work.
My assessment is that he learned early on how little value to assign to someone else's opinion of you…an infectious sentiment that seemed soaked into his clothes, his hair, his walk, his guitar and his primal scream. He wrote my favorite song of all time, "When You Were Mine." It's a simple song with a simple melody that makes you wish you thought of it first, even though you never would have — a flirtatious brand of genius that feels approachable.
He was a straight black man who played his first televised set in bikini bottoms and knee high heeled boots, epic. He made me feel more comfortable with how I identify sexually simply by his display of freedom from and irreverence for obviously archaic ideas like gender conformity etc. He moved me to be more daring and intuitive with my own work by his demonstration — his denial of the prevailing model … His fight for his intellectual property — "SLAVE" written across the forehead, name changed to a symbol…An all out rebellion against exploitation.
A vanguard and genius by every metric I know of who affected many in a way that will outrun oblivion for a long while. I'm proud to be a Prince fan(stan) for life.