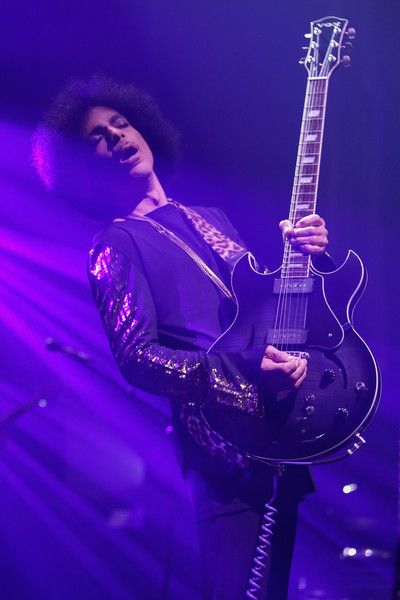 [UPDATED] The unthinkable has happened.  The icon known as Prince has died. Full story inside...
UPDATE (2:51p ET):
TMZ reports Prince had gone on SEVERAL pharamcy runs this week, which they believe indicates a secret health crisis.  The site states:
Prince hit up a local pharmacy hours before he died -- the 4th time he visited this week -- indicating his health was far worse than the simple flu.  

TMZ obtained this photo of Prince leaving a Walgreens near his home in Minnesota Wednesday night at around 7 PM.

Our sources tell us Prince had frequented the Walgreens for years -- but last night, people at the store were concerned because he looked much more frail and nervous than usual. 
...........
The news has gone from bad to absolutely heartbreaking.  Prince has been found dead inside his estate, this according to his publicist who has confirmed:
Prince, one of America's most influential and enigmatic rock musicians, has died, his publicist told NBC News. The Wednesday afternoon announcement came a few hours after authorities in Carver County, Minnesota, responded to Prince's Paisley Park estate in the town of Chanhassen.
Just minutes after reports surfaced that a death occurred at Prince's Paisley Park estate, further investigations led to the discovery that it is the legendary Prince.
Reports state the 57-year-old was found inside his recording studio at his estate.  Other updated reports say he was found in an elevator inside the home.  CPR was administered.
The "Purple Rain" singer has been battling the flu and serious health concerns for at least the past month.  On April 15th, he was rushed to the hospital after his plane made an emergency landing in western Illinois, a day after he performed in Atlanta.  He cancelled two concerts that were supposed to happen a week prior.
Three days later, he popped up at a $10 dance concert in Minnesota and told the crowd he was "doing just fine."
TMZ first shared pics a little while ago of the activity happening right before 10AM just outside his estate.
R.I.P. Prince, the man who makes the word icon feel like an understatement. His persona, his genius and his outspokenness (in his unique way) about issues that mattered, will be truly missed.
Photos: TMZ/Getty