Erykah Badu graces the cover of FADER magazine where she taps into her political side and responds to the social media backlash she has received recently. Come inside for the highlights….
YAS! Come on through Ms. Badu with #HairGoals envy!
For FADER magazine's 2nd Producer issue, the magazine tapped Erykah Badu for the cover. The singer-songwriter-producer is serving all types of natural hair goals on the cover as she models in bed dripping in stylish accessories.
Inside, the 45-year-old entertainer responds to the recent backlash she received when she shared her thoughts about an article that said girls should wear skirts that touch the knee to keep male teachers and students from being distracted.
Here's her unapologetic response to the negative feedback:
"I was reporting, I was not supporting. It's possible to understand the psyche behind behavior without condoning the behavior. I don't have anything to apologize for. I don't mean to take anything back...Expressing our pain and anger for something can make us very delicate. I'm very sensitive about it now—more than before. My whole objective is to create a dialogue. That's always my main goal...I really enjoy writing and being able to get words out of my mind in a clear way, and I get to do that when I go on Twitter. I can push send knowing that I've clearly communicated what I was trying to say. I just pretty much tweet spontaneously. I view myself as an artist and an intellect, a sociologist, a self-scientist—meaning that I test my own theories by having conversations with others. It's part of my job. It's who I am, it's what I do."
Does her response change your original opinion of her Twitter dialogue?
Below are a few highlights from her interview where she talks about the #BlackLivesMatter movement, Donald Trump running for president, and more:
On Donald Trump and the various walls, physical and attitudinal, that he threatens to build:
"Oh, I don't believe in any of that shit," she says.

"The walls?"

"Politics. I don't know how much we have a say…It's a show, it's a game. On the smaller scale, I think that your city reps and district reps are very serious about what they're doing, and then when they get up a little higher it becomes a show. Everybody gets kinda turned out."

"This is the craziest shit I've ever seen in my life," she says of Trump's success so far. "Is this real? But"—cryptically, with a shrug—"it will become a reality, if that's what the plan is."

On the talents of her kids, who speak many languages: "I just wanted to make sure," Badu says, "that whenever I take over the country, I have a secretary of state, defense, and a peace ambassador at hand."
On anticipating social unrest and the Black Lives Matter movement:
"I felt it coming on," she says..."I was really feeling a strong affinity toward writing about what was going on around me. And I actually wrote about what's happening right now in [2008's New Amerykah Part 1]. So I don't feel the need to write it now, because I got it out...We can organize like a motherfucker when police beat us up. But can we organize to stop black-on-black crime, or poor-on-poor crime? Because, you know, poor is the new black. You don't have to be black now."
On Dallas and the Blues:
Much of this sensibility, she says, she owes to the absurdity that backlights the blues, one of Dallas's great cultural inheritances. "That's my roots," she says. "We have a part of Dallas called Deep Ellum. Deep Ellum was a deep, rich blues part of town. It's a dying art," she says, but not at all wistfully. "It's fine. It's the way things are, and you evolve or you die."
You can read her full interview here. Erykah's issue hits newsstands May 10th.
Peep a few flicks from her spread, shot inside her home in Dallas: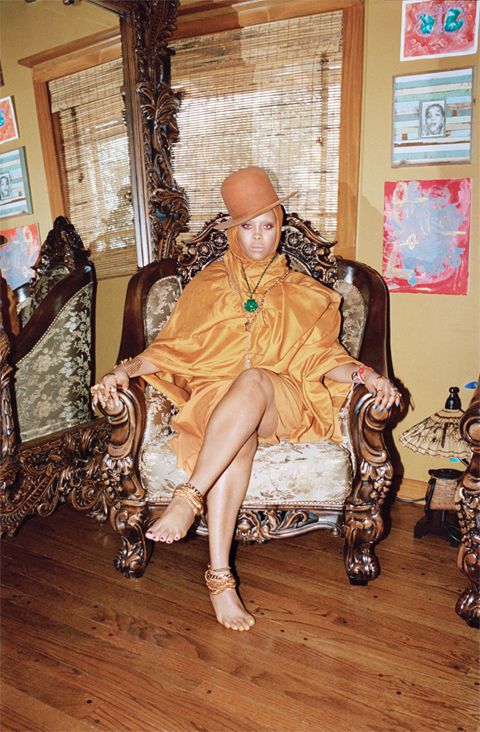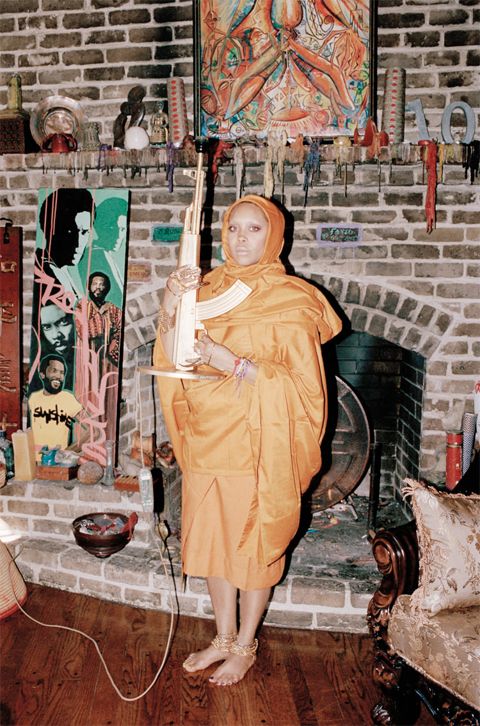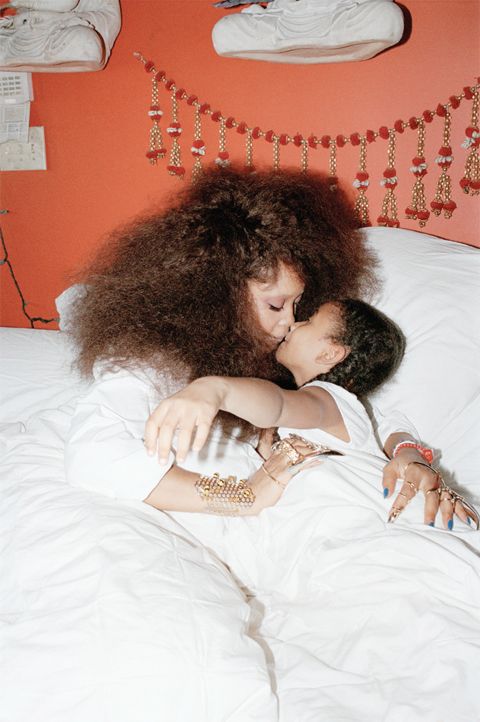 You can read her full interview here. Erykah's issue hits newsstands May 10th.
Photos: Jody Rogac via FADER