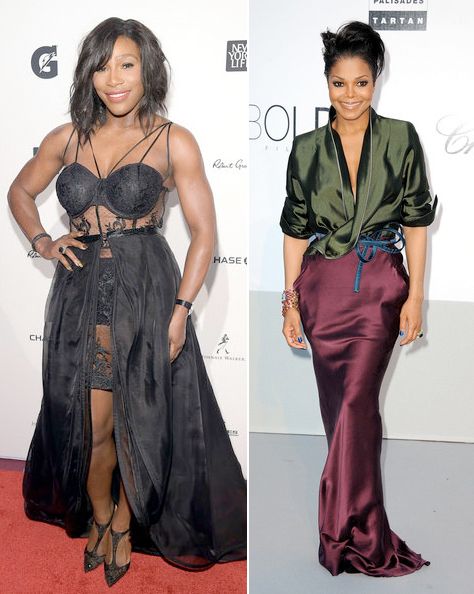 Serena Williams and Janet Jackson are cooking up some new projects that will premiere on LIFETIME. Get the deets, plus, peep Denzel Washington in first trailer for The Magnificent Seven inside…
Tennis superstar Serena Williams and Grammy Award winning singer Janet Jackson are teaming up with LIFETIME for a few new movies made FOR women and BY women.
LIFETIME has come up with a new united front for the 2016-2017 slate called The FEMPIRE, which will be dedicated to entertaining and engaging the next generation of feminists by creating content for women, by women, about women. We're totally here for it!
The 21-time Grand Slam champion will be executive producing a new movie with the working title, Sister Dance, inspired by her own relationship with her sister VenusWilliams. The movie will follow two sisters who become rivals once they pit themselves against each other and their respective dance teams in an epic dance battle, according to the press release. Back in the day, Serena and Venus had their own dance competitions that got pretty heated.
It will be fun to see some insight into how Serena and Venus interacted with one another when they were kids. They're so close now.
Also coming to the network…
R&B singer Janet Jackson is set to put on her executive producer hat for a new film with the working title Queenie. It tells the story of the 1920's New York City mobster named Queenie, who was the first and only woman gangster during the prohibition. The film will be set against the backdrop of The Cotton Club and Kenny Leon (A Raisin in the Sun) will direct.
Lastly, former R&B singer/reality star Michel'le will tell her life story in The Michel'le Story (working title). The show details the life of R&B singer Michel'le, who was discovered at a young age by Easy E and became a platinum artist on Ruthless Records. The R&B songstress, who was Dr. Dre's girlfriend for more than a decade and later married to Suge Knight, was there for N.W.A.'s wild ride, with all of its dramatic ups and down. This got our attention.
We'll be sure to give you the deets on the premiere dates once they become available.
Also on the movie front....
Hollywood legend Denzel Washington is going to the Wild, Wild West for The Magnificent Seven reboot. He'll be reuniting with Training Day director Antoine Fuqua where he and actor Chris Pratt (along with the rest of the cast) take out their targets as gun slinging bounty hunters.
Deadline gives a synopsis of the film:
With the town of Rose Creek under the deadly control of industrialist Bartholomew Bogue (Peter Sarsgaard), the desperate townspeople employ protection from seven outlaws, bounty hunters, gamblers and hired guns: Sam Chisolm (Washington), Josh Farraday (Pratt), Goodnight Robicheaux (Ethan Hawke), Jack Horne (Vincent D'Onofrio), Billy Rocks (Byung-Hun Lee), Vasquez (Manuel Garcia-Rulfo), and Red Harvest (Martin Sensmeier). As they prepare the town for the violent showdown they know is coming, the mercenaries find themselves fighting for more than money.
Peep the trailer above.
The Magnificent Seven hits theaters September 23, 2016.
Photos: Getty