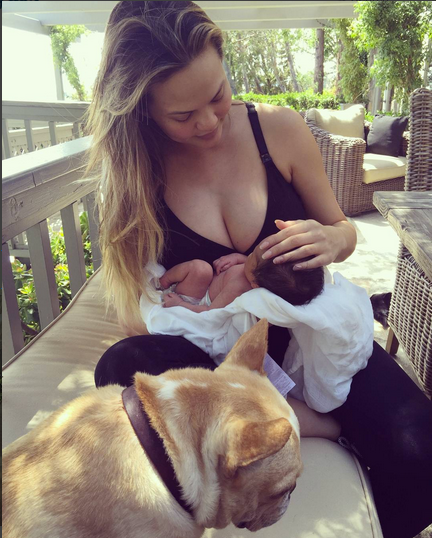 It's the first look at little Luna Stephens!  See her inside...
Chrissy Teigen just posted the first peek of her and John Legend's newborn daughter Luna Stephens, whom she already nicknamed "Lulu."
Recently a "source" close to the couple described the couple's first days with Luna telling E! News:
"John and Chrissy are in such a joyful place with their healthy baby girl Luna.  They are surrounded by family and close friends. Chrissy and John can't stop gushing over Luna. She is perfect!"
Chrissy's mom has also moved in with the couple.
As for who the little princess favors:
"Luna looks like a mini Chrissy and has some of John's features. Luna has cute round cheeks and looks like a baby model already.  They are not looking to get her into modeling anytime soon."
The parents seem to be holding up well these first few days:
"This is the best time in their lives. They are natural parents. They look at Luna as a blessing cause it was not an easy road having a baby. John sings to Luna all the time. This whole experience is stirring up some new music for John. Luna is an inspiration to them both."
And model Chrissy's focus is doing all those middle of the night wake-ups, not necessarily on getting her body to snap back immediately:
"Sleeping schedules have been off and hard on them, but they want to be with Luna every time she opens up her eyes, so they are working together. They are very hands-on parents. Chrissy naturally dropped weight already since she had the baby. She is breastfeeding. She will start working out soon once she feels up to it."
Congrats again to the new parents!
Photo: Instagram