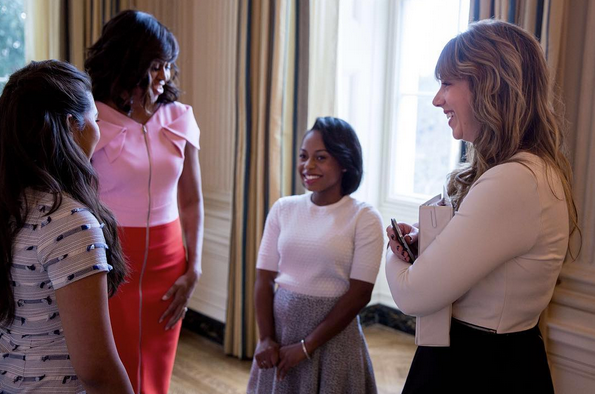 First Lady Michelle Obama covers the newest issue of SEVENTEEN magazine where she drops some words of wisdom to future college students. Catch FLOTUS' gems, plus, watch Michelle Williams slay the National Anthem before the NBA playoffs inside….
Our fabulous First Lady Michelle Obama graces the cover of SEVENTEEN magazine's May 2016 issue along with two lucky high schoolers. Students Gemma Busoni and Zaniya Lewis (above, in a behind-the-scenes shot) won an essay contest about how they're overcoming obstacles to secure a spot at their dream school. The prize? Be featured on SEVENTEEN magazine with FLOTUS! Another cool way to promote FLOTUS' Better Make Room campaign.
Inside, FLOTUS encourages high school students to ignore the "haters" when it comes to applying for their dream school. She reflects on how when she was in high school, teachers tried to tell her she was aiming too high when they discovered she wanted to apply to Princeton. She recalls,
"When it was time for me to apply to colleges there were some counselors who said, 'Maybe, with Princeton, you're reaching a little high,'" she recalls. "And I thought, 'You really don't think I can do it?' But here's what I did: I decided to ignore the doubters. I plunged ahead and I got in. I went on to Harvard Law School and every step of the way I used those doubting voices as motivation."
FLOTUS tells young college hopefuls that it's OK to not know what you want to be once you graduate because it's something she still struggles with today. She says,
"I always tell people, the question of what you want to be when you grow up is one that you will eternally be answering. I'm still asking myself that question! What am I going to do when I leave here? How do I want to impact the world? I've gotten used to the fact that I don't have to know. I'm always going to be discovering new parts of myself, and you'll find that you will be too."
And if you're stuck on a specific school because of the name, she says to look for a school that's a perfect fit for you, offering up advice she has given her own daughters, Maila (who will soon be starting college this fall) and Sasha.
"The one thing I've been telling my daughters is that I don't want them to choose a name," she says. "I don't want them to think, 'Oh I should go to these top schools.' We live in a country where there are thousands of amazing universities. So, the question is: What's going to work for you?"
GREAT advice. You can read the full interview from our First Lady here. 
Peep the cover and spread below: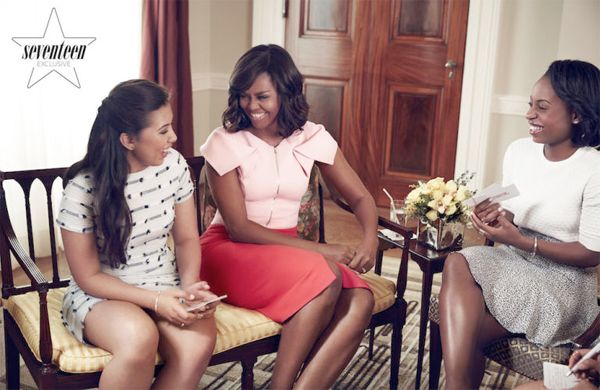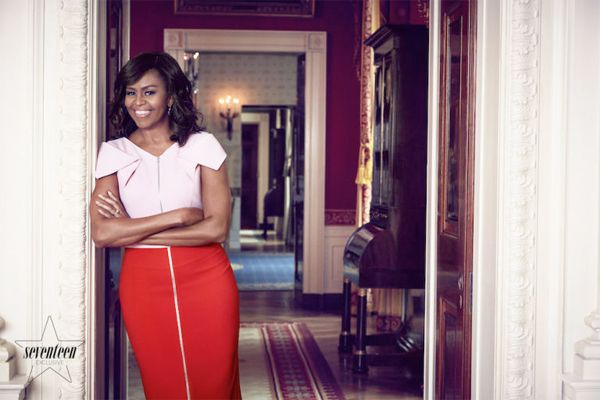 So gorge. FLOTUS' cover hits newsstands April 19th.
In sports news....
Former Destiny's Child member Michelle Williams kicked off the first game in one of the season's most anticipated NBA playoff match ups.
The bedroom décor designer and basketball fan (she's a previous minority owner in the WNBA) was tapped to perform the Star Spangled Banner before the Golden State Warriors went head-to-head against the Houston Rockets at the Staples Center Saturday evening.  And she hit every note.
Rocking a Warriors jersey and jeans (with her hair in cornrows), the R&B songstress delivered a powerful rendition of the National Anthem. Check it above.
By the way, the Warriors defeated the Rockets, 104-78. They'll square up for Game 2 tonight at the Oracle Arena in Oakland.
Photos: James White via SEVENTEEN/Michelle Obama's IG