A dancewear company is upset with Beyonce because they were not credited for their athletic pieces in Bey's ELLE spread. Also, there's a new video circulating where Bey takes a tumble while gliding around on roller skates. Get it all inside, plus deets on Lauryn Hill's new music festival inside….
A dancewear company is speaking out after not receiving proper credit for their pieces in Beyonce's new ELLE magazine cover and spread where she announced her Ivy Park athleisure collection.
According to PageSix, Brass from Bronx-based dancewear manufacturer KD New York claims they weren't given proper credit for items Bey wore in the ELLE magazine spread.
In one of the photoshoot flicks, Mrs, Carter rocks a pair of the company's leggings, but the online article only credits Bey's line in collaboration with TopShop, Ivy Park. Now, they're PISSED.
It's being reported the brand was first credited when the initial story was published online. David Lee, the owner of the dancewear brand, tells PageSix, "We were fully credited when they story went up."
But apparently, it was taken down. The brand claims someone from Bey's camp allegedly told ELLE to take the credit down. The rep continued, "But then I went back a couple of days later and it was removed,. Someone [close to Beyonce] called and said the credits were going to be removed without any explanation." Yikes!
A rep for ELLE explained to the site, "The format of the story was modified solely to benefit user experience and showcase the content." So, it does appear the story was altered, although no specifics were offered up by ELLE.
David said he just wants a little credit for being involved in something so huge. He said, "If you look at what's online right now, it's implying that everything there belongs to another company. We're a dance manufacturer in the Bronx. We're talking about Beyonce and TopShop sharing a little bit of credit."
We get it. They're a small company that wants the shine they were promised. No harm in that.
Speaking of Bey….
DROP EVERYTHING! Shop @WeAreIvyPark now! #IVYPARK#beyoncehttps://t.co/61i215V8alhttps://t.co/r6q2c72Gxc

— Nordstrom (@Nordstrom) April 14, 2016
In a new promotional video for Ivy Park, the "Flawless" had a bit of trouble getting into formation. The international superstar suffered a fall as she rolled around on a pair of roller skates.
After she fell on her butt, she laughed and said to her team, "You wanted that shot? You got that shot!" Ha! Peep the clip above.
In festival news....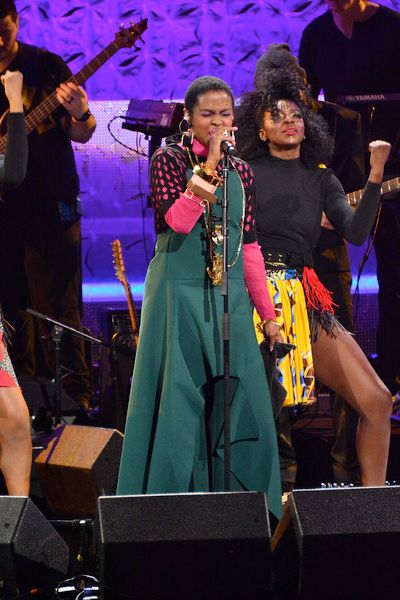 Lauryn Hill is kicking off a brand new festival in collaboration with TIDAL X.
Inaugural Diaspora Calling! Music Festival on 4/15 in Brooklyn. #TidalXDiasporaCallingpic.twitter.com/pde4vLRL7b

— Ms. Lauryn Hill (@MsLaurynHill) April 14, 2016
L. Boogie announced a three-day music and art festival called Diaspora Calling! Set to kick off today (April 15th) at Kings Theatre in Brooklyn. And it's sold out!
In a statement (via press release) Lauryn describes the festival saying:
"Diaspora Calling! is a collection of works intended to celebrate the rich tapestry of artists from the African Diaspora while also illumining persistent and irrepressible themes. Even if we work independently, we are a resounding collective voice, both reconciling and embracing our relationship to history, our origins, our future and to ourselves."
Last night, an art show with music by DJ Spinna and DJ Juls was held to launch the three-day festival. Lauryn curated the private celebration in collaboration with MoCADA, Nader Haitian Art, and the Haiti Cultural Exchange. Fans can check out the gallery (as it's open to the public) today and tomorrow between 12-4pm.
Tonight, L. Boogie is set to headline a concert with additional performances by Machel Montano, Stephen "Ragga" Marley, Stonebwoy, Wondaboy, and Mr. Eazi. Fans can catch the live performances as the festival will be livestreamed on TIDAL starting at 8:30 pm EST.
EXTRAS:
1. "The People vs. OJ Simpson" star Courtney B. Vance will be joining the cast of The Mummy for Universal Pictures. STORY
Photos: ELLE/Getty