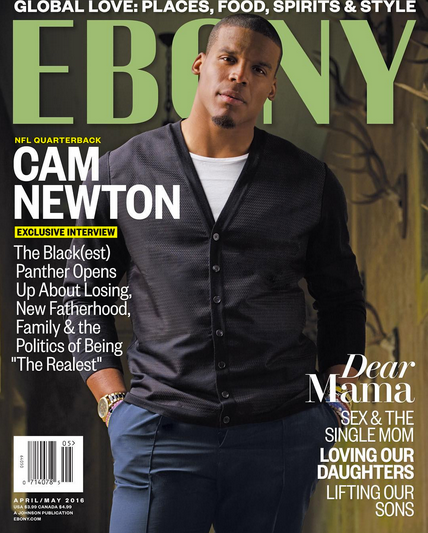 Yes, yes, yes.  We've been missing our fix of fine ass Cam Newton this off season, but thanks to EBONY magazine, we've got a sexy double cover to drool over again.  Find out why his love for his mama makes him that much sexier inside....
Being the blackest Panther in the NFL is a hard job, but somebody's got to do it.  QB Cameron Jerrell Newton is speaking on his roller coaster of a year in the April/May 2016 issue of EBONY magazine.  And Mr. MVP is looking mad sexy while doing so.  On both covers.
Posing in grown and sexy cardigan and slacks on his solo cover, then athletic gear on the cover with his mother Jackie Newton, Cam aka Superman knows how to give us the feels.
Right before the shoot, the Oikos spokesman and suit collection designer showed up at the Atlanta mansion set solo (and in is Auburn Tigers-inspired ride), then greeted his mom with excitement like any good mama's boy would.  EBONY writes:
"How y'all doing?" Newton says to no one in particular as he walks in. As soon as he sees his mother, Jackie Newton, being glammed up the makeup chair, he beelines to give her a hug.

"Look at you!" he teases.

They small talk; it's been a minute since they've seen each other. Together, they interact a lot like any other Black mom and adult son. In fact, when Newton notices that it is the hip-hop artist Future blasting, he asks the crew to turn to something "better for her." Like a good son, he wants to protect his devoutly Christian mom from the harsh language.
Awww Cam...
In the issue (hitting newsstands soon), he's discussing his horrific post-practice car accident right before the start of the season, the wide spread hate with racial-undertones, and why all of it makes him better, real(er), faster, and blacker.  Check out more over at EBONY.
BONUS: SuperBowl MVP Von Miller's got jokes: