Erykah Badu has opened up a discussion via Twitter where she says female high school students should wear long skirts to keep from distracting male teachers. Oh? Decide if you agree inside….
Erykah Badu opened up a can of worms on Twitter last night when she started tweeting about how female high school students should dress.
In a series of tweets, the soulful songstress said she agreed with an article that reported a school in New Zealand forced female students to wear skirt pass the knee as to not distract the male teachers and students. She said she's aware that we're living in a sex-driven society and that it's natural for a man to become aroused when he sees an attractive young lady in a revealing skirt.
On the flip side, she said she believes women (her daughters included) should be allowed to wear whatever they want, but to be aware of their differences from men.
Read her tweets below (from the bottom up):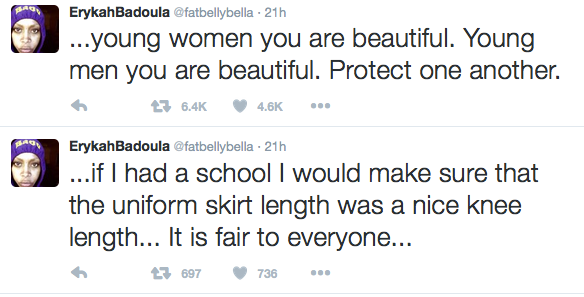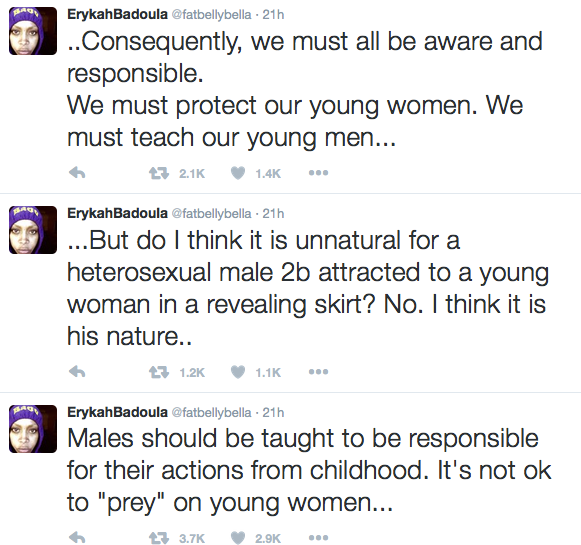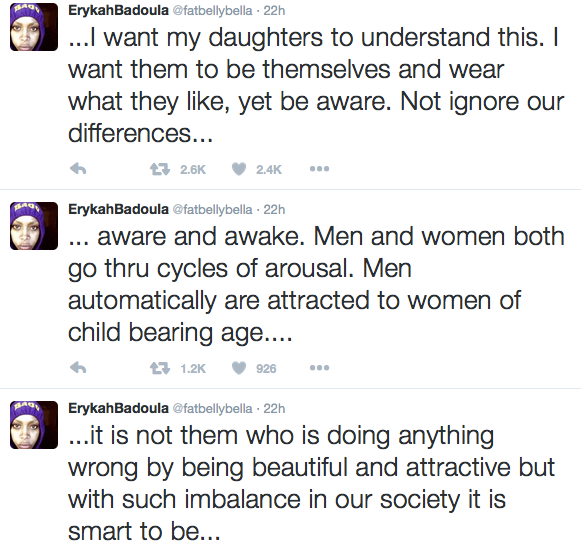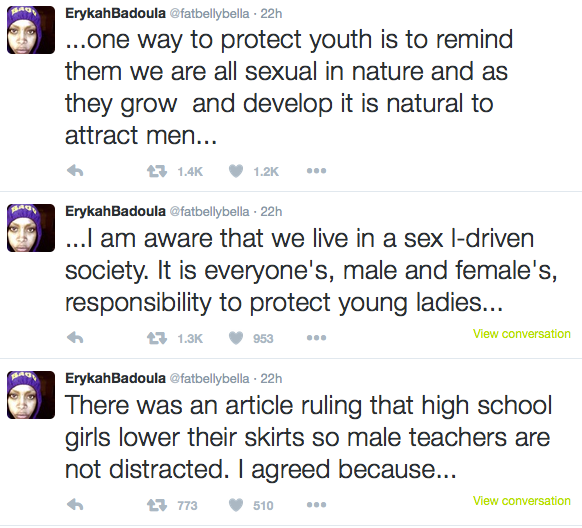 Since sparking the discussion, tweets have been pouring in where many have interpreted her comments as perpetuating rape culture. She has been actively tweeting her fans who all share different views on the scenario. Below are a few tweets from the on-going discussion on her timeline:
I love erykah badu as much as the next person but what was said is definitely the type of mindset that perpetuates rape culture

— Jarred (@Jaysmitty7) April 12, 2016
@fatbellybella This is the same ideology that causes rape victims to remain silent, because the blame is put on them. We have to stop it.

— Avito Baby (@AvyGaga) April 12, 2016
@fatbellybella@Nuchole don't pass it off as just their nature wtf they're not animals

— amanda pls (@sailorpandaxo) April 12, 2016
@fatbellybella but you also said that you would conform to the societal rule that requires girl's to dress a certain way. We're confused.

— Ty (@_InLivingColour) April 12, 2016
@fatbellybella why should girls be subjected to wear longer skirts, when boys should be subjected to keep their eyes to themselves??

— morgan (@Yeahmorgs) April 12, 2016
Thoughts?
In other Badu news….
Erykah Badu made a surprise visit at Malcolm X Shabazz High School in Newark, N.J. for a lunch of a lifetime.
The "Bag Lady" singer dropped in on the high schoolers during lunch where she gave an impromptu performance. Ms. Badu walked in and randomly walked up to students greeting them. They they started playing music. Erykah danced around on tables and took bites of food from some of the students' lunches as she sang her 1997 single "On & On".
She actually made the visit back in 2014, but the footage from the pop up has just been released. Check it above.
Photos: Erykah's IG