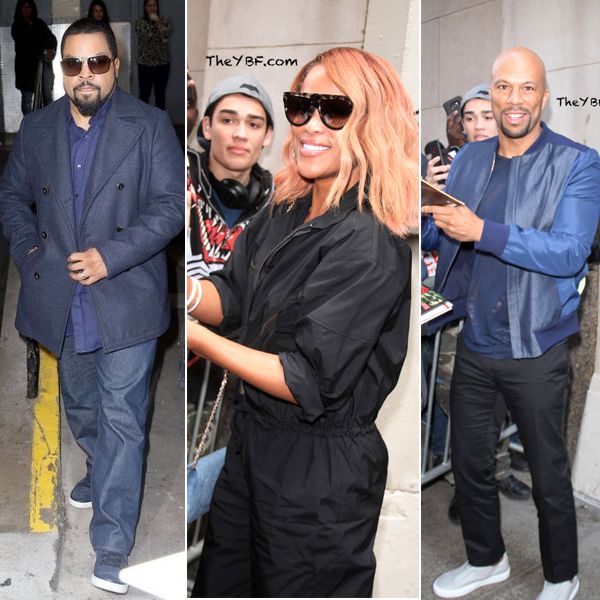 The Barbershop 3 cast is steady on the promo trail before the premiere of their new comedy this Friday. Come inside to peep pics of Ice Cube, Eve, Common and the rest of the cast trekking it to the AOL Build panel discussion…..
With just days before Barbershop 3 hit theaters, the cast is continuing on their press rounds to promote the upcoming comedy.
The cast has been making moves all over the nation on the Barbershop bus. Yesterday, they hit up "Good Morning America" before trekking it to AOL Build in New York for an open panel discussion about the flick.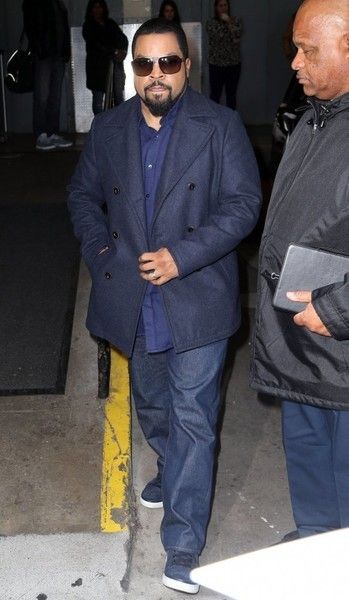 Newly inducted Rock & Roll Hall of Famer Ice Cube, who stars and produces the film, was spotted making his way inside the studio. Fans were lined up outside of the building and Cube took a moment to sign a few autographs for a few lucky fans.
Speaking of the Rock & Roll Hall of Fame, Cube has been going back-and-forth on Twitter with Gene Simmons defending N.W.A's spot in the prestigious museum. Gene previously made a comment saying he was looking forward to the death of rap and that didn't sit well with N.W.A.
During N.W.A.'s Rock and Roll Hall of Fame induction ceremony, M.C. Ren called Gene out saying,"I want to say to Mr. Gene Simmons, hip-hop is here forever. Get used to it!"
Cube then explained why Hip Hop has a place in the Rock & Roll Hall of Fame saying:
"You g**damn right we rock and roll. Rock and roll is not an instrument; rock and roll is not even a style of music. Rock and roll is a spirit. It's a spirit. It's been going since the blues, jazz, bebop, soul, R&B, rock and roll, heavy metal, punk rock, and yes, hip-hop. And what connects us all is that spirit. That's what connects us all, that spirit. Rock and roll is not conforming to the people who came before you, but creating your own path in music and in life."
Soon after, Gene hopped on Twitter to call Cube out and the two have been going back-and-forth on Twitter. Peep the tweets:
Respectfully-- let me know when @JimiHendrix gets into the hip hop hall of fame. Then youll have a point. @icecubehttps://t.co/BRuU8t5vYe

— Gene Simmons (@genesimmons) April 9, 2016
@genesimmons Who stole the soul? Chuck Berry, Little Richard and Chubby Checkers help invent Rock 'n' Roll. We invent it. Y'all reprint it.

— Ice Cube (@icecube) April 11, 2016
@genesimmons I repeat. And say this with a Kiss. pic.twitter.com/ILKaRWrvxX

— Ice Cube (@icecube) April 11, 2016
Cube - I stand by my words. Respect NWA, but when Led Zep gets into Rap Hall of Fame, I will agree with your point. https://t.co/CQUoJwhZJb

— Gene Simmons (@genesimmons) April 11, 2016
Very good points Cube.
Back at the event....
Hey Eve!
Cutting a stylish look, the rapper-turned-actress, who hit the The Breakfast Club this morning, tip toed inside the studio in a pair of leopard print booties styled with a black jumpsuit and a blue mini bag. Her textured pink bob topped off her flirty look.
Eve showed mad love to the fans who were lined up outside.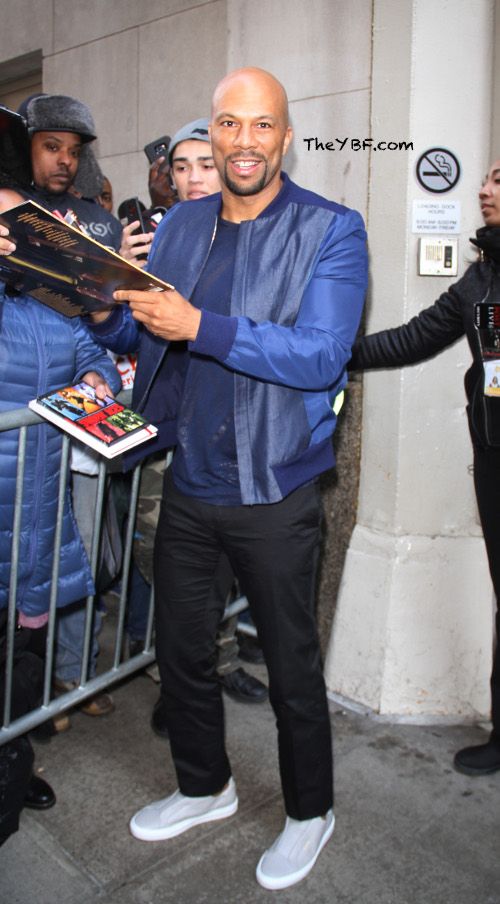 Chi-town native Common was also on the scene to join the discussion about the new film. He's new to the franchise where he plays the husband to Eve's character.
The Oscar winner was all smiles as he stopped to chop it up with fans and sign autographs. Last night, Common and Ice Cube hit the stage on "The Tonight Show Starring Jimmy Fallon" where they performed their joint track "Real People," a cut from the movie's soundtrack.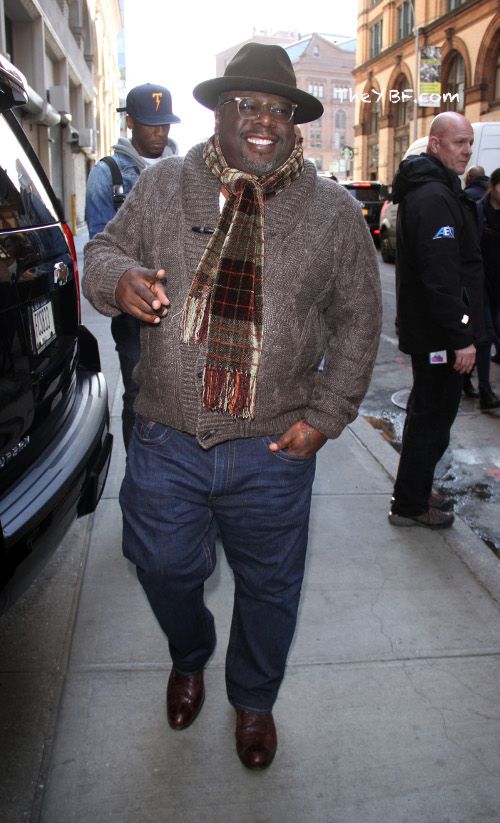 Funnyman Cedric the Entertainer looked to be in good spirits as he made his way inside the building.
Inside...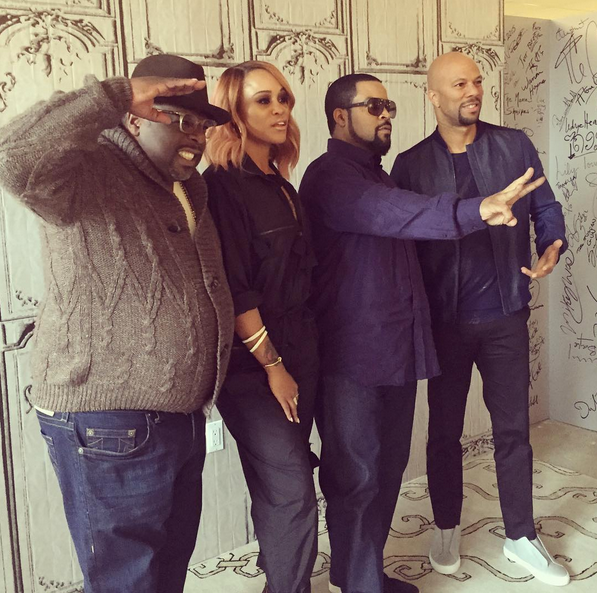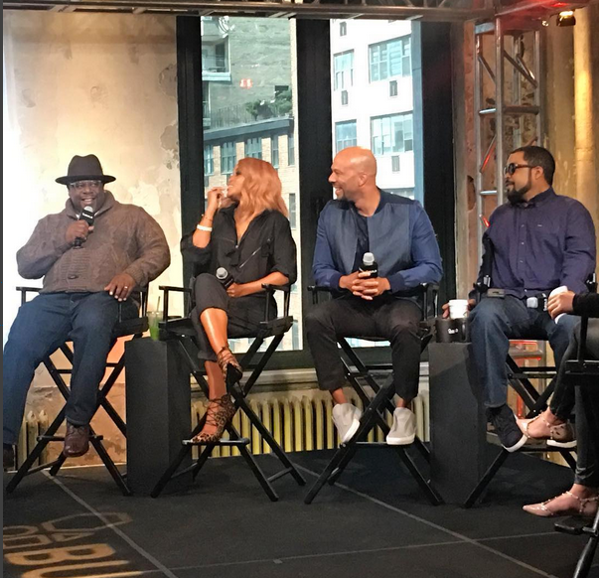 The cast talked about reuniting for the franchise, how they incorporated Chicago's gun violence into the film, getting new writers to put the script together (i.e. "black•ish" creator Kenya Barris) and more. Check out their discussion below:
Peep a few clips of the cast having fun outside of the studio below:
Barbershop 3 hits theaters Friday, April 15th.
Photos: FameFlynet/INF/@barbershopmovie/@aol.build