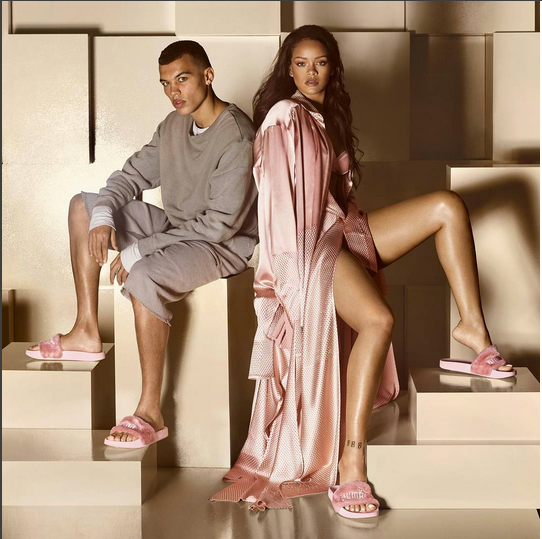 Rihanna's still breaking records and selling furry shoe slides.  And it's all working for her.  Deets inside on her latest accomplishment, plus Kanye West may not have much more to complain about after his newest accomplishment.... 
RiRi's FentyxPuma fur slides are ready to be sold!  She's showing off the pink furry shoes in a new ad, and revealed that they go on sale April 22nd at 10am.
But that's not all:
The bad gal, who is currently on her Anti World Tour, just tied the Beatles for the record of 59 weeks at number 1.  "Work" just landed its 8th #1 on the Billboard Hot 100, and she's now neck and neck with the legendary rock band for overall weeks at #1.
Congrats!
Speaking of #1's:
Kanye, Yeezus, Pablo, whatever he wants to be called today, he just copped the #1 spot on Billboard 200.
The Life of Pablo'living' album debuted at #1 on the Billboard 200, making history as the first ever #1 album to accumulate over seventy percent of its units from streaming. Seven weeks and a reported 400 million streams after its exclusive release on TIDAL, The Life Of Pablo becomes Kanye West's seventh consecutive #1 album for Def Jam.
Now, let's see if he stops complaining on Twitter about folks not respecting his genius...or will he find something new to be 'real mad' about?
Photos: Splash/Instagram