Ummm Hillary Clinton and Mayor Bill De Blasio have folks pissed today.  And it's all over "C.P. Time."  Check out the foolishness that was caught on video inside, plus Nick Young might get his penis cut off by his fiance if he acts up again....
Not sure why Hill & Bill (not her Bill, the NYC mayor) thought this joke would go over well, but apparently, they did.
The Presidential hopeful has been all over New York state for the last week or so campaigning before the big primary on the 19th.  Over the weekend, she trekked it to the Inner Circle Dinner and caused an ish storm of controversy that had folks cringing once video surfaced today.
Hill took the stage with De Blasio at the annual black-tie event that brings together the city's press corps, lobbyists and lawmakers.  Once she joked that it took him long enough to endorse her, his response was, "Sorry Hillary, I was running on C.P. time."
Say what now?
"Hamilton" actor Leslie Odom Jr., who was also on stage, chimed in as planned saying, "That's not — I don't like jokes like that, Bill."
Hillary then chimed in saying, "Cautious politician time. I've been there."
The joke had everybody cringing since we ALL know C.P. time is also short for Colored People's Time, a saying that references when black folks are stereotypically late for events.
Check it below:
Speaking of crazy ish people just said: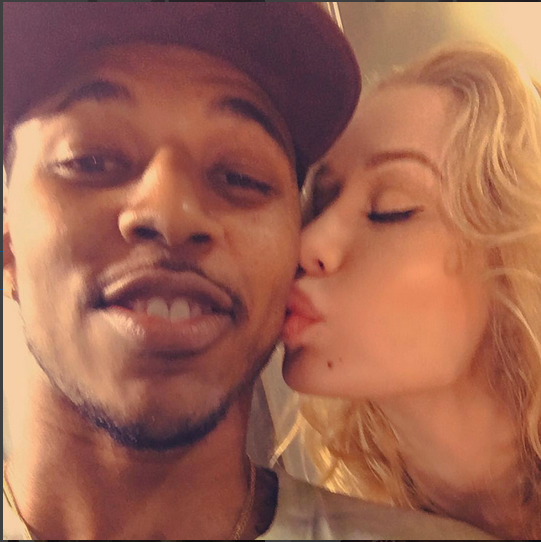 Laker baller Nick young better guard his jewels every night, because his fiancé has not qualms about cutting up.  Literally.  Check went all O.T. Genasis (that "Cut It" song) while talking to Tampa Bay's Wild 94.1 radio station today.
She said:
"I already told him, one more video or one more thing, you WILL lose a quarter of your meat."
Damn! 
Check it below:
As for now, the couple's engagement still seems to be on. 
Iggy was rocking her ring (on the other hand?) -- and a 'fit from Wet Seal circa 1996 -- this past weekend at the Miami Beach Gay Pride parade.
But folks are lighting up Nick's IG comment section with scissors, knives, and eggplants:
Gotta love the innanets...
EXTRAS:
1. Tessa Thompson Joins The Marvel Universe In 'Thor: Ragnarok'.  STORY
2.  Diddy added a second show at Barclays for the Bad Boy Reunion Tour.  It's going down Saturday May 21st.
Photos: Instagram