Right after hosting the 2016 MTV Awards, Kevin Hart and his family put in work for his "Move With Hart" event in L.A. Meanwhile, the Golden State Warriors are busy tackling new records. More inside...
Fresh from hosting the 2016 MTV Movie Awards Saturday night, host Kevin Hart wasted no time to jump right back into his fitness routine.
Kicking off his Sunday Funday, the upcoming Central Intelligence star hosted his "Move With Hart" training program at Grand Park in L.A. in collaboration with Nike. As you know, Kev and Nike have been traveling all across the country hosting fitness events in an effort to inspire his fans to become more physically fit.  He's also got his own sneaker in two different colorways, red and blue for his kids' favorite colors!
The fitness fanatic brought his kiddies Heaven and Hendrix along with his fiancé Eniko Parrish along for the training session. And they were right by his side as he put in some work.
Peep a few clips of Kev, his kids and fans burning calories below:
To be fair, @KevinHart4real is very tired from hosting the #MTVMovieAwards#MoveWithHartpic.twitter.com/O5tzqLqbpb

— Carly Mallenbaum (@ThatGirlCarly) April 10, 2016
Andddd stretch time with @KevinHart4real#MoveWithHartpic.twitter.com/r9exYw62J3

— Carly Mallenbaum (@ThatGirlCarly) April 10, 2016
Nice!
And here's how the Harts got pumped up for the fitness fun:
Cute!
In NBA news....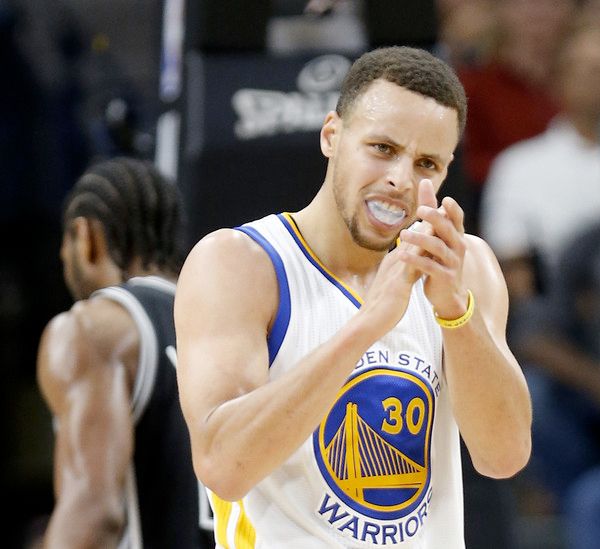 Golden State Warriors are riding high right now!
Steph Curry and the Warriors just made history after last night's game against the San Antonio Spurs at the AT&T Center.
The 2015 NBA champs tied the NBA record for the most wins in a season with last night's 72nd win! They're holding court with the 95-96 Chicago Bulls for record wins in a season. The Warriors beat the Spurs with a final score of 92-86, making their regular season record 72-9. Get it!
Steph, who's the 2015 MVP, put up a cool 37 points -- the most points he has scored on the road against the Spurs in the regular season. The Baby Face Assassin continues to prove why he's the reigning MVP.
The Warriors also set a new NBA record with 34 road wins and they also ended the Spurs 48-game regular season home winning streak. Who's going to check them?!
Peep a few highlights from the historic win below:
If you're not following us on Snap, you're missing out on like this.

warriors pic.twitter.com/4MafhG9swg

— GoldenStateWarriors (@warriors) April 11, 2016
There's one game left for the Warriors to set a new NBA record. They will go head-to-head against the Memphis Grizzlies Wednesday, April 13th at home at the Oracle Arena. 
EXTRAS:
1.  Good news for comedian-radio host Rickey Smiley!  Following its first season as the #2 Program on Cable in its time slot among Blacks ages 25-54, TV One announced today a second season renewal of the "Rickey Smiley For Real" docuseries.
2.  As part of her Reach Higher initiative, First Lady Michelle Obama will be celebrating her signature, third annual College Signing Day at New York City's Harlem Armory. More than 4,000 students from across New York high schools will be in attendance.
 
Photo: Getty/Eniko's Snap/Kevin's IG