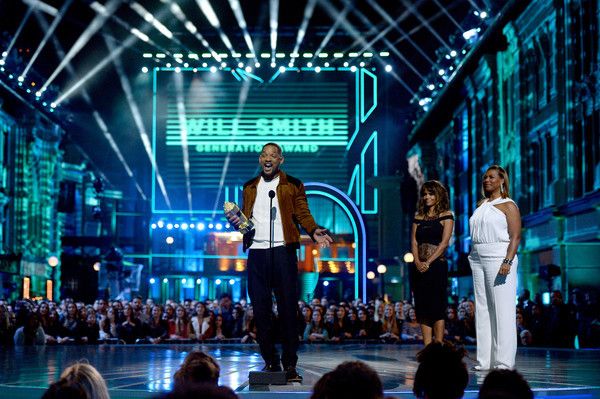 We've got flicks from inside the 2016 MTV Movie Awards where Will Smith received the highest honor of the night and the Straight Outta Compton cast was awarded the Best True Story Award. Get it all inside…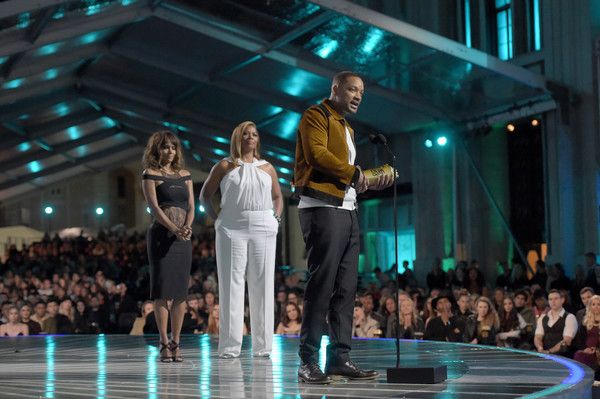 While he was snubbed at this year's Oscars awards, Hollywood actor Will Smith received the highest honor of the night during the 2016 MTV Movie Awards. The awards show was extra special this year as it marked it's 25th anniversary.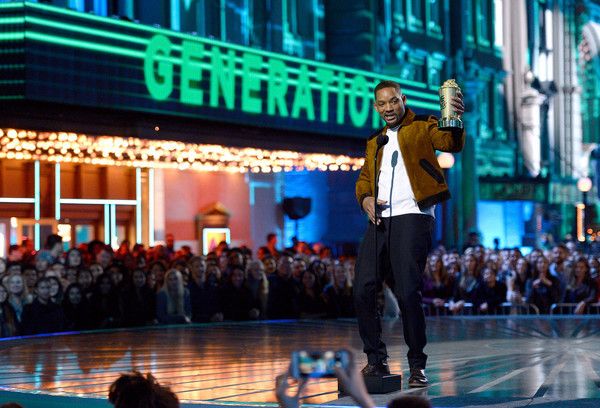 Hitting the stage at the Warner Bros. Studios, the Concussion star received the Generation Award to celebrate his illustrious career in the entertainment business.
"When MTV first gave me this Generation Award, I thought it was code for the 'old-ass dude award,'" Will jokingly said. "I released my first record when I was 17, and this June marks 30 years in this business for me."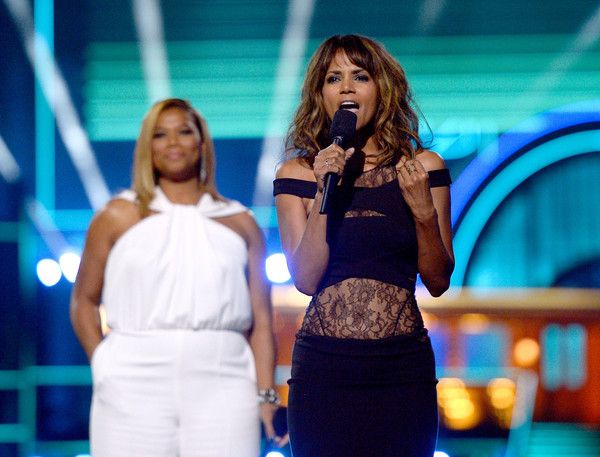 Queen Latifah and Halle Berry were tapped to present the Golden Popcorn trophy to their longtime friend. Queen said, "He is the first rapper to break into movies and become an international superstar and the king of huge blockbuster movies, and we all have to thank him for opening up that door."
After Queen's introduction, Halle presented a highlight reel of Will's most famous acting roles saying, "With every performance, you see his soul."
Check out Will's acceptance speech below:
Before Will accepted his award, The Lonely Island paid tribute to the international superstar with a medley of his biggest hits, including "Parents Just Don't Understand," Summertime" "Men In Black" and "Getting' Jiggy Wit It."
Another big win of the night....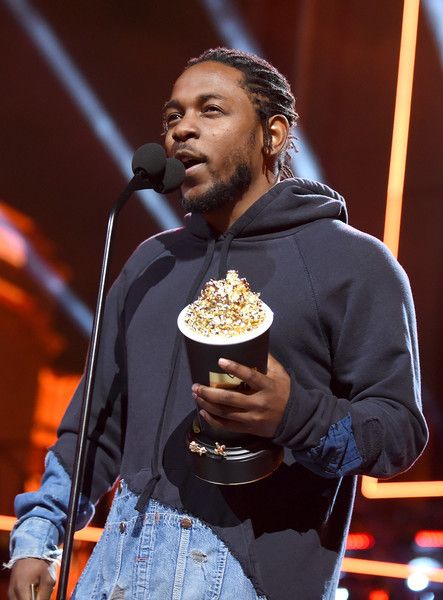 The Straight Outta Compton cast was presented the Best True Story award by rapper Kendrick Lamar for their critically acclaimed biopic about legendary rap group N.W.A. after being snubbed by the Oscars.
N.W.A. member DJ Yella joined actors Corey Hawkins, O'Shea Jackson Jr., Jason Mitchell, Neil Brown Jr., and Aldis Hodge to accept the award, where he gave a shoutout to his "Rock & Roll Hall Of Fame" buddies. If you missed, N.W.A. was recently inducted into the Rock & Roll Hall of Fame.
Jason Mitchell, who plays Eazy-E in the film, stepped up to the mic where he said,"I'd just like to take a moment to like thank the Academy." O'Shea then whispers in his ear and Jason then said, "I mean MTV. I'm sorry. I'm sorry. I'm sorry I'm sorry. My bad. My bad. My bad. My bad. My bad."
Bloop!
Peep their acceptance speech below:
As for the hosts of the evening....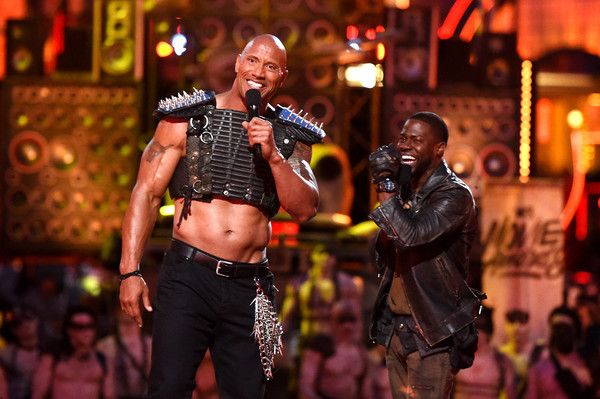 Central Intelligence stars Dwayne "The Rock" Johnson and Kevin Hart brought plenty of laughs as they hosted the show, starting with their Mad Max: Fury Road inspired opening.
The guys put together another funny skit dressed up as Superman and Batman. The guys called out all of the "Marvel b*tches" throwing shade at some of the Marvel actors in the audience, including Samuel L. Jackson, Chris Hemsworth, Chris Pratt and Chris Evans.
We see you Dwayne. Mmmhmm....
Check it: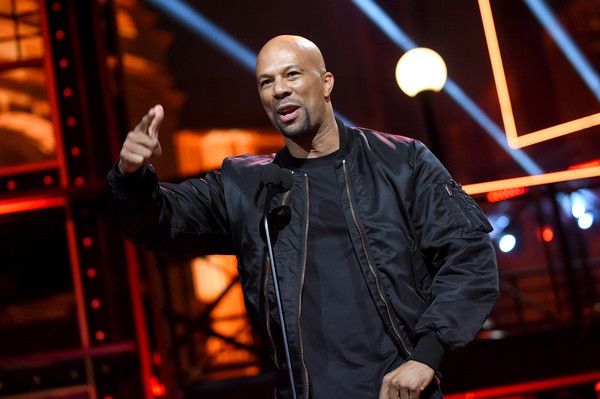 Common was tapped to introduce a crazy performance by The Rock and Kevin where they performed a song called "Leo Got F*cked By A Bear."
Check it:
Ha!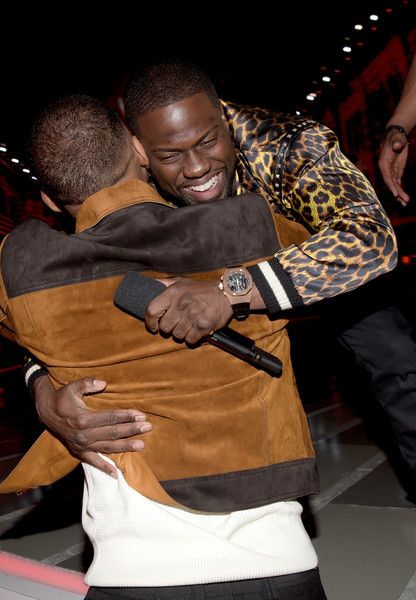 After their performance, Kev was shown some love by Will Smith.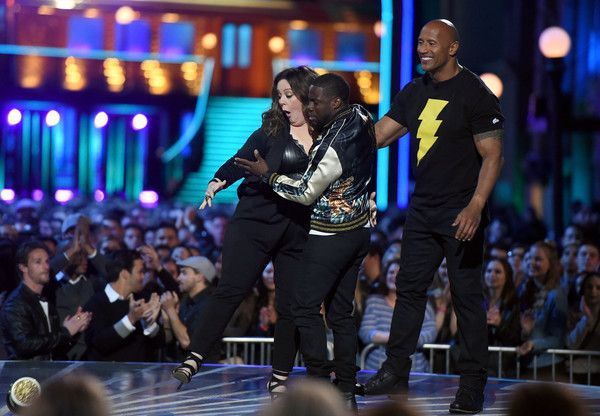 Comedienne Melissa McCarthy crowd surfed to the stage to receive the Comedic Genius Award.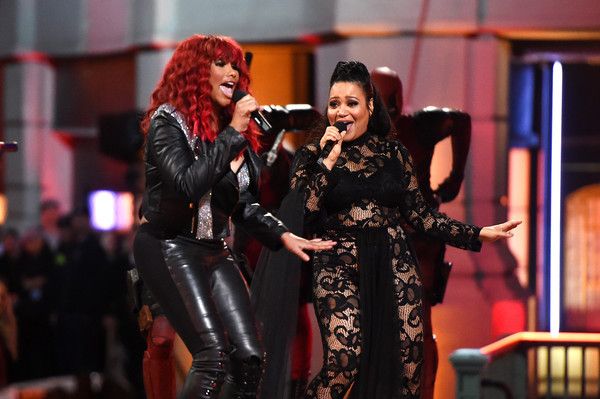 Legendary female rap group Salt N Pepa rocked the stage with a performance of their classic hit "Shoop" (to honor Ryan Reynold's Deadpool character).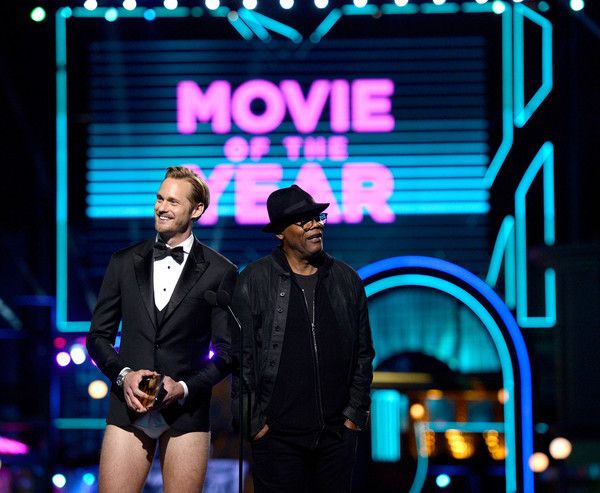 Hollywood actor Samuel L. Jackson and actor Alexander Skarsgard concluded the night presenting the Movie of the Year award to Star Wars: The Force Awakens.

Fun times!  The stars, including Jaden Smith and Keegan Michael-Key, had some fun backstage:
On the carpet...
Halle Berry popped up at the awards show in a black lace off-the-shoulder Noam Hanoch dress. Are we feelin' it?
Get lots more red carpet pics HERE.
Photos: Getty