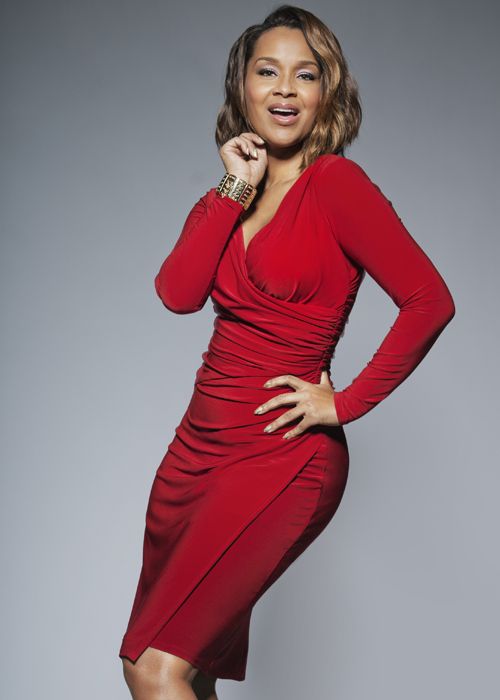 LisaRaye McCoy has never been one to mince words.  And please believe she's heard y'all talking about the horrible acting skills and story lines and writing on her show "Single Ladies."  But the actress says she deals with it by saying "F*ck the critics" and keeping it moving.  Check out her latest interview with HuffPost as she dishes on haters, Stacey Dash, and more about Duane Martin...
"Single Ladies 2" cast Denise Vasi, Eve & LisaRaye McCoy
In a recent interview with HuffPost Black Voices, LisaRaye says not only is her hard-shelled character, Keisha, becoming more vulnerable for the upcoming second season, but the real LisaRaye is still her old self.  She's got words for the critics, "friend" Stacey Dash who left the show and enemy Duane Martin who messed her over & turned his back on her (peep her recent JET interview for a refresher):
With success, of course, comes critics. What are your thoughts on media outlets who dubbed season one [of Single Ladies], "embarrassing."

F**k'em! Let them write a show and come up with what they want to see. Until then, the people who love it, tune in.

While shooting this season, was there anything that you missed about Stacey Dash being involved with the show?

I miss my friend, because Stacey and I are friends as well, before we came to the show and after. So as a fellow actor, as an artist, of course I miss the chemistry that she and I have. But again, this is a job and this is my profession so I have been hired to do my job and I'm committed to doing that. And I believe that I do it well. I'm excited that the season is taking off the way that it is, I'm excited that Denise has joined the cast and I'm excited about the chemistry that all three of us have now. Everybody wants to be here. So that's half the battle won right there, is when you want to be here then you get a better product. It's not as heavy as it was last year, by no means. The synergy is there and we're making a good product.

Have you reached out to Stacey since she parted ways with the show?

I did. We said Happy New Years to each other during New Years. And then I believe after that, I reached out to her one other time, but I want to say that I think she changed her number. But the last time that we actually communicated was New Years … One argument doesn't break up a friendship unless it was something that was so personal, and it wasn't personal, it was work related. We were tired, it was what it was and we moved past that. So I think that if either one of us held out against each other, we both would be fools, it's not that serious.

Your JET magazine interview has everyone talking right now. Some were even surprised by your comments about Duane Martin.

If you know anything about me you know that I've been a very honest person and a very real person. And I feel when someone asks me a question it gives me the opportunity to straighten out the rumor or to straighten out the story that I do. That's not to say that every time some gossip comes out I say, "Ah, let me go straighten it out," no, not that. But something that directly affects my life that's like, "oh, you've been friends with this person…" I'm like, "nah, nah, nah, I'm not friends with that person. I have very few friends. I'm an associate of everybody and friend of none." And I wanted to make that clear.

Are you expecting a phone call from him in response to what you said?

Hell, nah! [Laughs] I don't talk to him, he don't pay any of my bills, he doesn't do absolutely nothing for me. And what he did do for me was cause nothing but problems. So if I don't ever see him again in life that would be cool with me. I don't have no animosity or revenge in my heart, I actually pray about it every day. I know revenge is for God, and that's the truth. Was it a hard pill to swallow to see and have one of your friends that you worked with for years that you've called a brother, be so back stabbing? Yes, it's hurtful, but I done got over other things too, meaning my divorce. He ain't the first friend that turned his back on me, and I'm sure it won't be the last. I appreciate the time that he has given me, but I don't appreciate his attitude and I don't see the "man" in him. So for that reason alone, I'm here doing what I do. I don't even know what he's doing right now, I don't even care to know what he's doing. To him and his family I wish nothing but luck and love, it won't be coming from me though.
Check out the full interview over at HuffPost Black Voices.  And the show's new supertrailer is below:
"Single Ladies 2"--executive produced by Queen Latifah & Flava Unit--kicks off Monday, May 28th 9/8c on VH1.
 The Randomness:
1.  Bad week for Young Buck.  First the rapper is evicted from his home, now he's just been sentenced to 18 months in prison for gun possession charge after a 2010 raid on his home.  STORY
2.  Ray-J was hospitalized after the Billboard Awards on Sunday for supposed stress/exhaustion.  Whitney tribute too overwhelming?  STORY