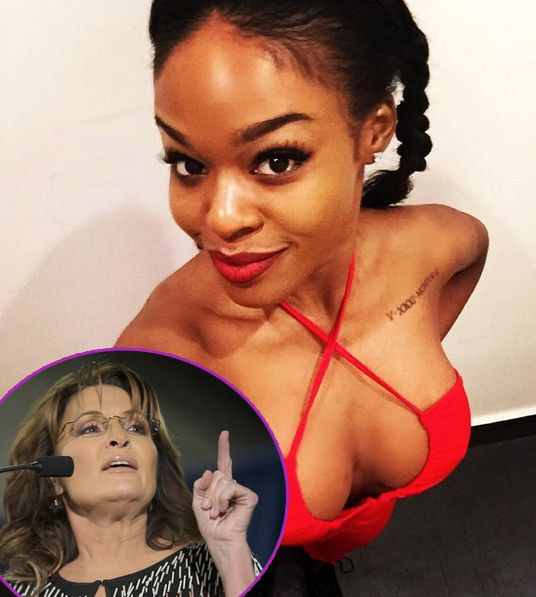 Azealia Banks just dodged a bullet. Twitter has come forth and said they will not suspend her account despite wishing "gang rape" threats at former Alaska governor Sarah Palin. Deets inside….
That Azealia Banks just loves to stir ish up on social media. And her latest rant against former Alaska governor Sarah Palin almost got her Twitter account suspended.
The Harlem raptress went on a Twitter tirade (after taking a social media "hiatus") against Sarah Palin saying she should get gang raped by the "blackest n*ggas" and "get headf*cked by a big, veiny, ashy black d**k." Sighs….
Peep the tweets (that she has since deleted):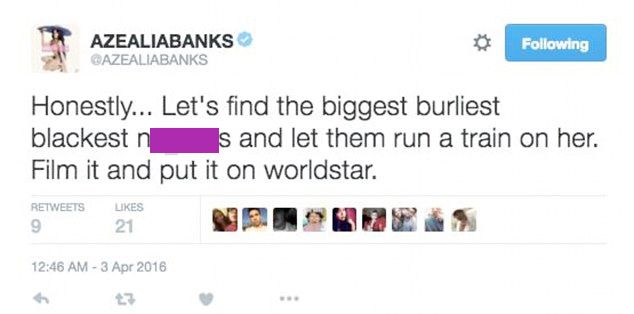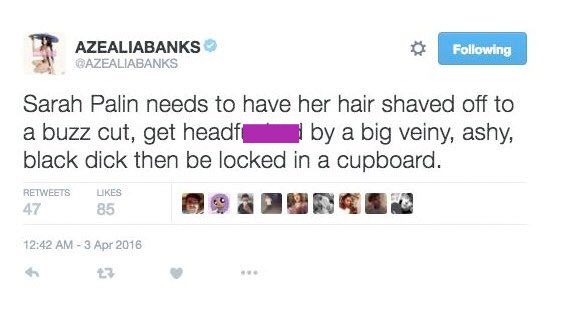 Sheesh!
Apparently, a Twitter user (or many users) submitted a complaint about Azealia's tweets and now Twitter is responding. In a statement (via Breitbart) Twitter said Azealia didn't violate any of the company's rules, so they will not be suspending her account.
They said, "We reviewed the content and determined that it was not in violation of the Twitter Rules."
Well that's that.
So did how did this whole thing start? Banks apparently stumbled across a satirical site that posted a fake interview with Sarah Palin. In the fake story, Sarah was accused of saying slavery wasn't forced on black people and that blacks were willing to be enslaved. Azealia launched off a myriad of tweets in response.  The Broke With Expensive Taste rapper later issued an apology for her error, but has since deleted it.
Not backing down, Sarah shadefully responded to Azealia's Twitter tirade on her Facebook account where she said:
We hear Sarah may be planning to sue Azealia for her comments, but Banks doesn't seem bothered:
Chile...
Photos: Getty/Azealia's IG