Kerry Washington has finally spoken out about her photoshopped AdWEEK cover.  And she's not happy about it.  Deets inside (including the Editorial Director's response), plus Nev Schulman from "Catfish" just made the a huge mistake by coming for black women....
When we posted the latest cover of AdWeek featuring the fabulous Kerry Washington, there was an overwhelming response about how...different...she looked on the cover.  The photoshop job was subpar at best.  It wasn't even needed, to be honest. 
The "Scandal" star herself wasn't happy about the image either.  She took to her Instagram account to express her issues about it, without burning bridges.  She made a point, though, to say it was odd looking at a picture of herself, that looked nothing like herself.
Kerry said:
So...You know me. I'm not one to be quiet about a magazine cover. I always celebrate it when a respected publication invites me to grace their pages. It's an honor. And a privilege. And ADWEEK is no exception. I love ADWEEK. It's a publication I appreciate. And learn from. I've long followed them on Twitter. And when they invited me to do a cover, I was excited and thrilled. And the truth is, I'm still excited. I'm proud of the article. And I like some of the inside images a great deal. But, I have to be honest...I was taken aback by the cover. Look, I'm no stranger to Photoshopping. It happens a lot. In a way, we have become a society of picture adjusters - who doesn't love a filter?!? And I don't always take these adjustments to task but I have had the opportunity to address the impact of my altered image in the past and I think it's a valuable conversation.
She transparently continued:
Yesterday, however, I just felt weary. It felt strange to look at a picture of myself that is so different from what I look like when I look in the mirror. It's an unfortunate feeling. That being said. You all have been very kind and supportive. Also, as I've said, I'm very proud of the article. There are a few things we discussed in the interview that were left out. Things that are important to me (like: the importance of strong professional support and my awesome professional team) and I've been thinking about how to discuss those things with anyone who is interested, in an alternate forum. But until then...Grab this week's ADWEEK. Read it. I hope you enjoy it. And thank you for being patient with me while I figured out how to post this in a way that felt both celebratory and honest. XOXOXOX
So there you have it.
Editorial Director Jim Cooper did respond, saying they only added volume to her hair.  Nah bruh.
UPDATE: Kerry's hairstylist Takisha posted the below unretouched photo in response: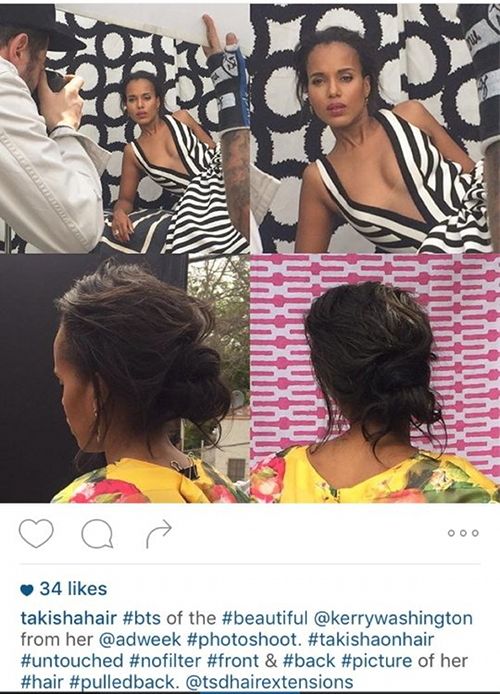 In other news, while #BlackGirlsRock was trending last night due to the show airing on BET, white guilt foolishness was also present.
Nev, who created and stars in MTV's "Catfish," fixed his mouth to slight black women.  He tweeted: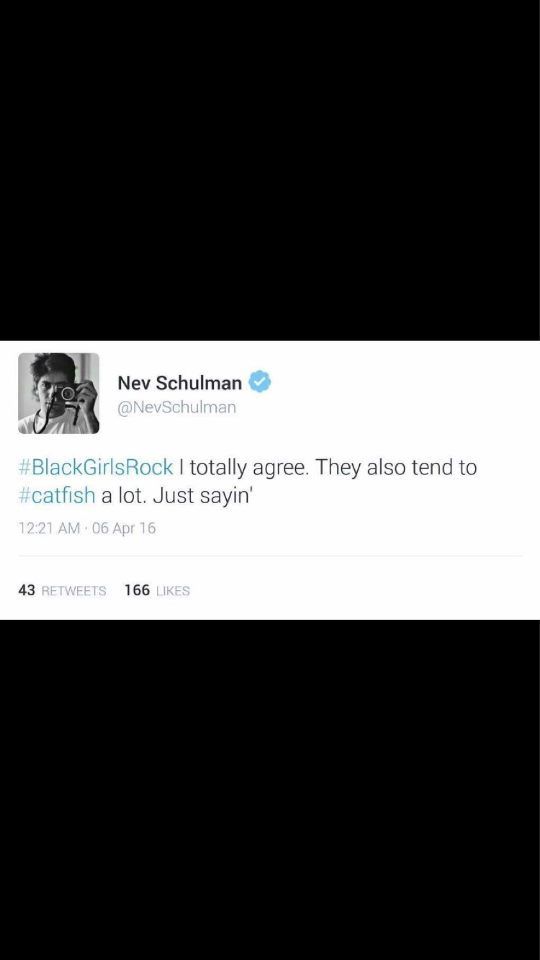 Sir...
While we would read him for filth, it would be in vain.  The fact he thought this comment, whether he was attempting to make a joke or not, was A-OK to make speaks volumes.  Especially while such a positive program like #BlackGirlsRock was underway.  What was the purpose of his statement?  And why do black women constantly have to be the butt of jokes, especially when we're in the midst of uplifting ourselves because no one else does?
The twitterverse dragged him for filth, and he deleted and apologized.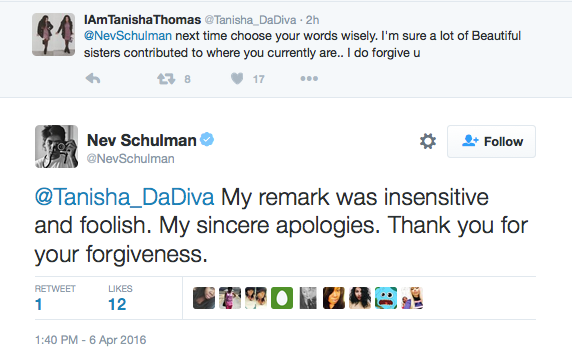 He responded directly to tv personality Tanisha Thomas and a few others: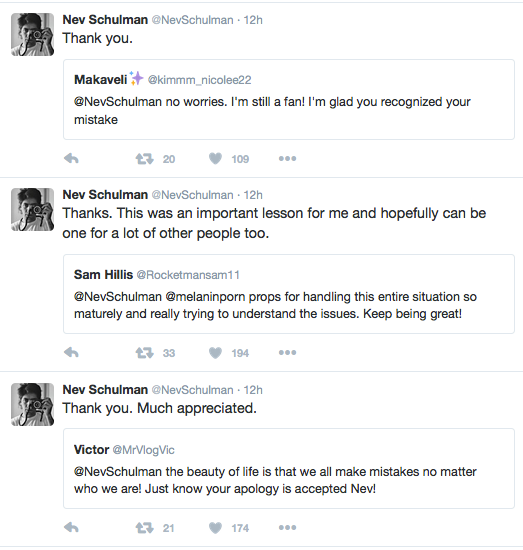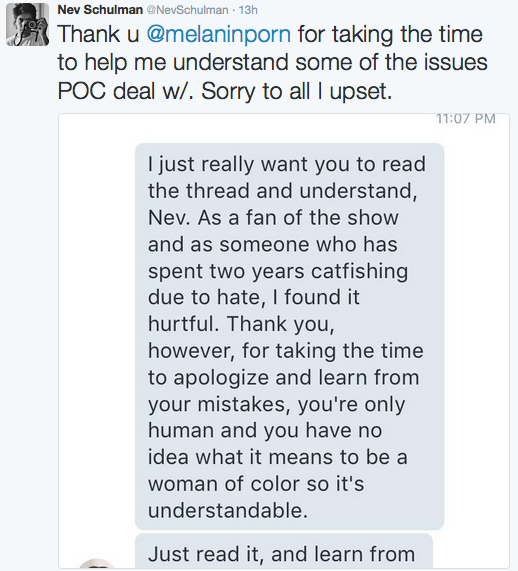 We all know why MTV and Viacom properties use black women disproportionately to further their agenda, and not in the most positive of ways.  So why he made the over-generalization about black women catfishing is beyond us.  Especially when the entire reason he started this show was because he was catfished...by an older white woman.
No need to apologize.
Good luck with your ratings, as many black women WATCH catfish too.