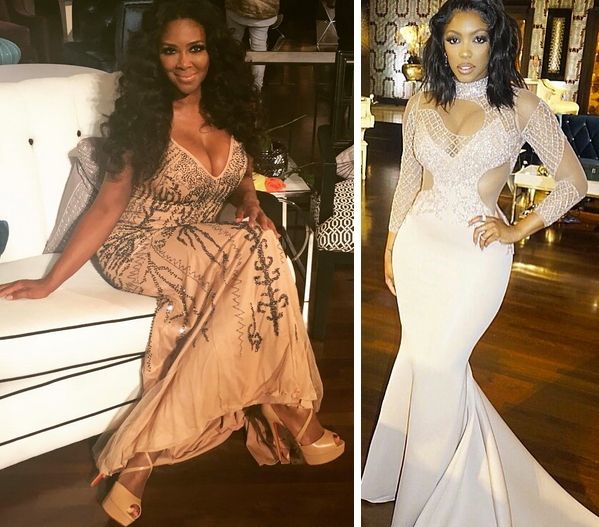 Chile, the drama doesn't stop when it comes to those "Real Housewives of Atlanta."   Now that we've seen the un-aired footage of Porsha Williams fighting her own friend in an alley, is she more of a THOT than we thought?  Plus, actor Michael Rapaport comes for Kenya Moore, but the internets aint feeling him and his whiteness attacking a black woman.
Get it all inside...
Porsha Williams opens up about what really happened the night of the Christmas party.  On Sunday night's last reunion show, we saw Porsha fighting her friend and woman who works for her Go Naked company.  It's still unclear what they were fighting over, but this is a mess:
Porsha says she's going to anger management classes.  But this is all Kenya needed to see to prove her point that Porsha is a violent THOT from the 2000's who simply had a momentary stint at being a pulpit evangelist.
Does Kenya have a point?  Or is this simply three isolated incidents that don't really speak to her character?
Michael Rapaport seems to be on Team Porsha.  The actor came out of the woodworks supporting her and bashing Kenya saying:
Krazy @KenyaMoore was bullying @Porsha4real went she got the wig snatched,she should have no regrets about that wig snatch #RHOA@Andy

— MichaelRapaport (@MichaelRapaport) April 4, 2016
Then Kenya responded with:
@MichaelRapaport u are pathetic & ignorant 4promoting violence on any level. Please get a job 2 keep ur cable 2 watch me every week #RHOA

— KENYA MOORE (@KenyaMoore) April 4, 2016
Then Michael again:
Hahahahahahahahhahahaha oh shit!!!!!
Wigga Please & when I say Wigga I mean Your "Wig" Please https://t.co/qRPBh9Kogp

— MichaelRapaport (@MichaelRapaport) April 4, 2016
@Andy@Bravotv, by keeping Porsha on after 1st fight, created current enviro where grown men cheer workplace violence @MichaelRapaport#rhoa

— Carole's Ghostwriter (@CarolesGwriter) April 4, 2016
Krazy @KenyaMoore is lucky Kim Fields didnt go Rambo on that ass for physically touchin her.You see she dont mess with @Porsha4real no more

— MichaelRapaport (@MichaelRapaport) April 4, 2016
The folks over at Clutch aint feeling this ish though.  Why?  Because he's a white man who they don't feel is coming from a place of wokeness.  The site said:
Actor Michael Rapaport apparently isn't a fan of Moore, but the fact that he tweeted her and basically said she deserved to get beat up is suspect, especially coming from a white man....
 

Seriously, I don't care how many times Rapaport has claimed to be "down" or how many times he's said he's a fan of hip-hop music, last night clearly showed how much of a f-ckboy he is.
Well damn.
Thoughts?
Photos: Instagram