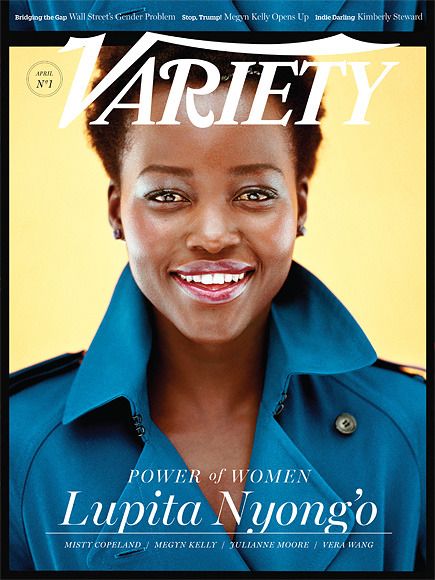 Two YBF women with two completely different shows of power in beauty, their work, and more, are the new faves of Variety magazine's Power of Women issue.  Deets on Lupita Nyong'o and Misty Copeland inside....
Lupita Nyong'o is booked from Eclipsed on Broadway to The Jungle Book to Queen Katwe.  She's slowly but surely becoming a face of Disney without even trying, and when she speaks, people listen.  That gorgeous accent of hers isn't the while reason, either.
The Yale School of Drama grad and Oscar winner, who also covers the most recent issue of Parade magazine with her Jungle Book co-stars, speaks up on behalf of the charity she's passionate about.  Now wonder she's been chosen as a Powerful Woman of Variety.  People.com reports:
The Oscar-winning Twelve Years a Slave breakout, 33, works with Mother Health International, a nonprofit working to improve reproductive healthcare and reduce perinatal mortality in areas of disaster, war and extreme economic poverty.
Also, prima ballerina Misty Copeland has been named as a face of the Power of Women issue of Variety: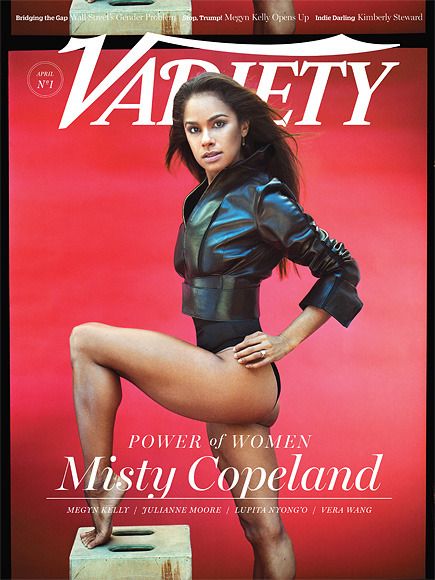 That body and that poise: Flawless.
Misty has had an epic year breaking down barriers, solidifying her place in the book of "Firsts" and consciously being that role model all women can look up to.  Chick even nabbed herself a fiancé in the mix of her rise to the top.
She also gives back in a fabulous way:
Record-breaking dancer Copeland, 33, became the first African American female principal dancer in the 75-year history of the American Ballet Theatre. She advocates for the American Ballet Theatre's Project Plié, an initiative launched in 2013 to increase diversity in ballet companies and schools across the country.
Not only is she pushing the envelope forward just by BEING the black Principal dancer, but she's reaching back to help others plie through the door as well.
Congrats to the ladies, including Megyn Kelly, Vera Wang and Julianne Moore who also nabbed covers of their own!