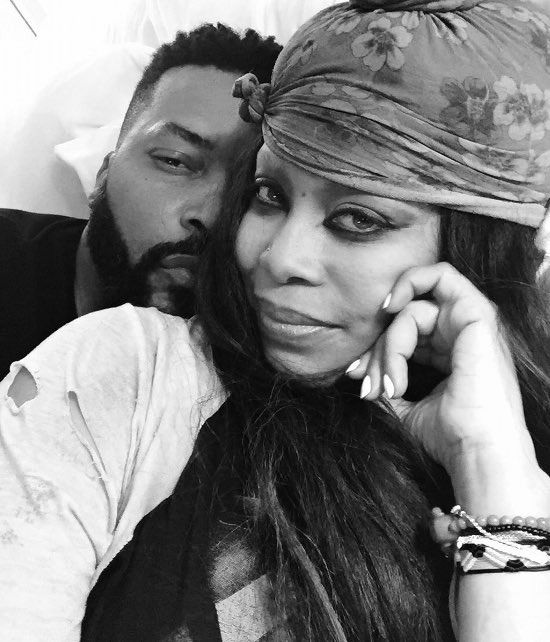 Erykah Badu keeps her one in the pocket doesn't she?  Deets on who appears to be Erykah's new man inside...
Well what's this we see here?  Carl Jones, former executive producer of Boondocks and producer of Adult Swim's Black Dynamite, posted the above pic while professing his love for Erykah Badu.  He must have done what a few good men before him have done - stared into her eyes and fell hard.
Carl took to his twitter page to share the boo'd up black and white photo of the twosome saying:
When she's your love, your best friend, your creative partner, your nigga, your... @fatbellybella
Oh?!
Erykah responded: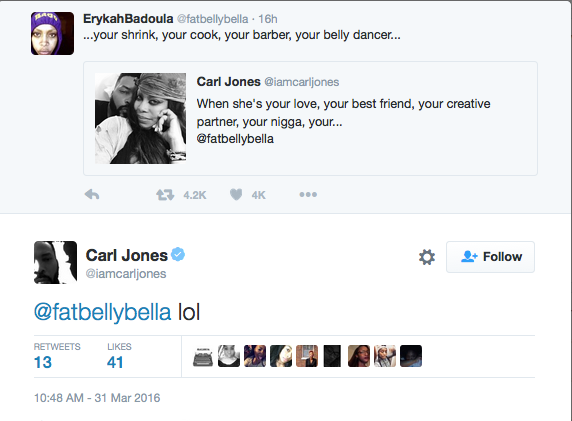 Meow.
We should have seen it coming when the two exchanged niceties a few times last month:
@fatbellybella appreciate you love

— Carl Jones (@iamcarljones) March 24, 2016
On The Fourth Date With @fatbellybella I Was Like... https://t.co/5xx0sjqoWG

— Carl Jones (@iamcarljones) March 16, 2016
The Fader recently called Carl"one of the loudest voices in animation." The Boondocks creator Aaron McGruder tapped him to help executive produce the Adult Swim cartoon before they both walked away from the series after three seasons.
As for how they met, we're guessing it was through his other Adult Swim show Black Dynamite.  Last year, he did an hour-long Black Dynamite musical "The Wizard of Watts," which featured a guest appearances from Ms. Badu herself.
We're keeping our eye on these two...
Photo: Twitter