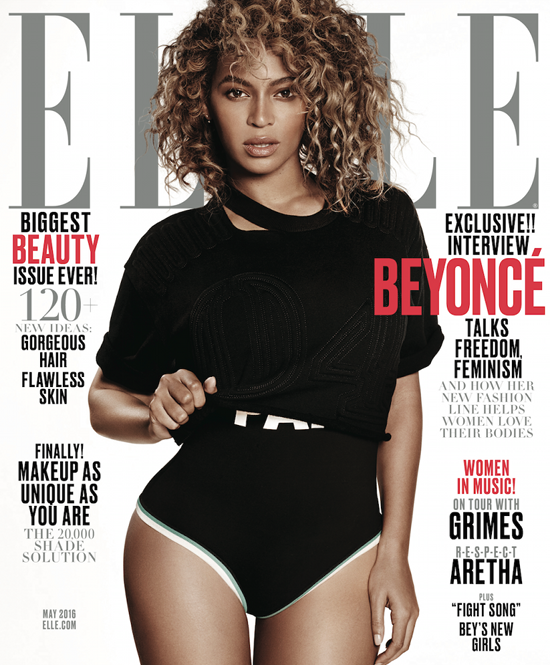 We weren't readyyyyyy.  BeyoncéKnowles is here to play (and slay) in her brand new athleisure collection by the name of Ivy Park.  Get her multi-country double cover for Elle, where she's draped in her own threads, inside...
Get your a$$ in Formation, because Beyoncé is stinging on this last day of March!
Elle magazine hit us with not one, but two Yoncé-filled Elle magazine covers for the May 2016 issue. 
For both America and the UK.  Get.It.
The "Run the World" boss donned a bodysuit, sweatshirt, and mesh jacket, all from her Ivy Park collection, that probably only look as sexy as they do because Bey slipped her fleeky body into them.  By the way, rocking solely your own threads for a major magazine cover, ahem covers, is a BOSS move.  Everybody aint able, but Bey has the power to make that demand.
The name Ivy Park, as described by Beyoncé herself, is an ode to her finding her peace by going to the park daily while pregnant with 4-year-old Blue Ivy.  Even after her baby girl was born she continued to go.  There's nothing like running behind a tiny tot to help whip your post baby body into shape.
She's giving a rare interview in the issue which will be out with the digital edition on April 5th and on newsstands April 6th.  But we'll be getting a sneak peek of the cover story and photos coming on Monday.
For now, check out the video Beyoncé shot documenting the journey to her Ivy Park collection, which is also her new comapny in partnership with TopShop, below: 
Photographed by Paola Kudacki/Styled by Samira Nasr