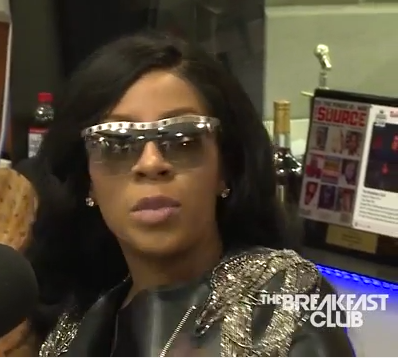 The K.Michelle vs. Angela Yee drama reached level petty, as some commenters called it, last night.  Get caught up on why the two ladies are beefing and Angela's late night response....
K. Michelle hit The Breakfast Club yesterday to discusses her new More Issues Than Vogue album.  She ended up, though, talking about the recent comments that rappers Maino & Uncle Murda had to say about her previously on the show.
Charlamagne asked what her thoughts were about the rappers saying her vagina "stinks."
She said, "Everybody's not going to be able to hit or be able to smell. I honestly didn't even know who Uncle Murda was until someone told me...He's never met me....I do know Maino."
As for there being any truth to the accusation, she said, "I know when I play with myself, I'm happy with how my fingers smell."
Ha!
K. continued,"You got these two old ass men up here promoting a mixtape. That's the first problem. Up here giggling like Mary Kate and Ashley. You're a "gangster." Aren't you supposed to be in streets and things like that?"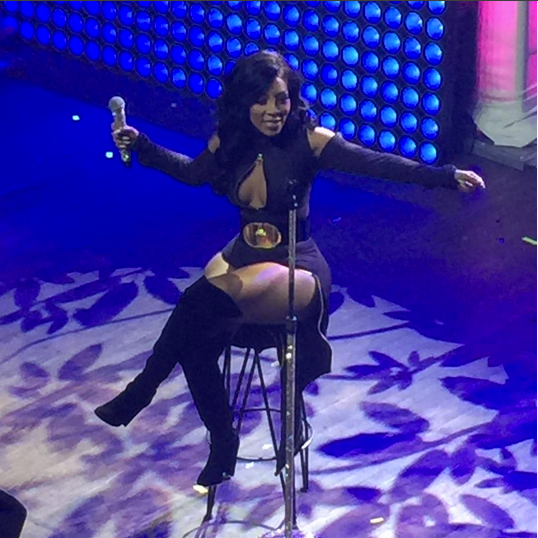 Then K., pictured above at her sold out show at Webster Hall last night, turned to Angela Yee and said:
"What I am gonna say to you Angela is that, You're a woman. I think I've been very cool and very supportive of you. The interview was over and the credits were rolling. You brought that back up. I know you want ratings but you are a woman. No woman wants a body or nothing like that on them. They wasn't even talking about that and You brought that up."
They went back and forth about who ACTUALLY brought it back up. K. insisted:
"You're close to Atlantic. You knew my album came out the next day. You didn't knows what of legs that bullshit was gonna take. But thank God people actually know me. She told Angela she never gets to enjoy any of her album releases because there's always some bullsh*t that happens."
But this time, she says she could enjoy it because the words of Maino and Uncle Murda didn't affect her or her pockets. She also told Angela she should pay attention to the timing of when she chooses to "instigate" (K's word) situations like these.
"You aint gone be Oprah doing things like that," K. told her.  Damn!
Aslo, K. talked about that "interview" where she said Beyoncé's album was coming out over Easter weekend saying it was all misinterpreted and she was just fanning out and piecing things together like everyone else. She also talked about all the surgery she's had, the creation of her More Issues Than Vogue album and more.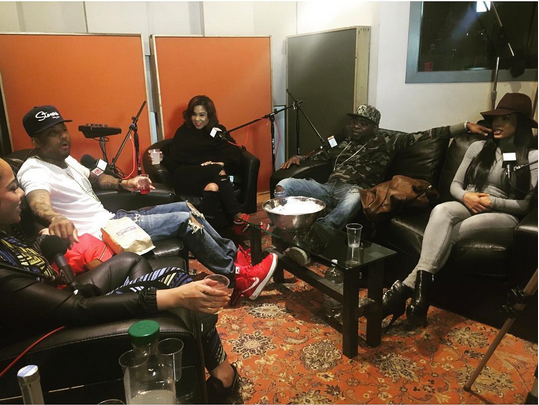 Last night after the interview, Angela Yee recorded her LipService podcast. And who did she have on? Yep. Her bestie Maino and UncleMurda. Lordt.
Angela also tweeted:

Fans of both ladies have been sounding off about the back-and-forth. Check it: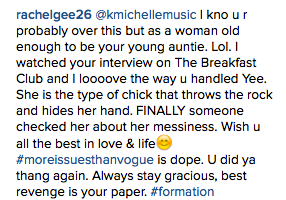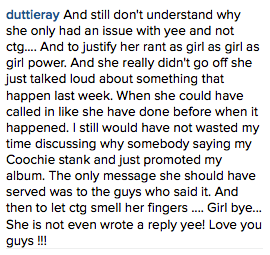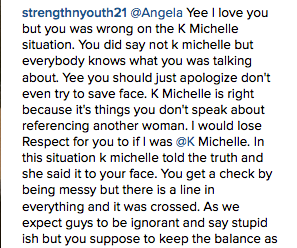 Thoughts?
Photos: Instagram