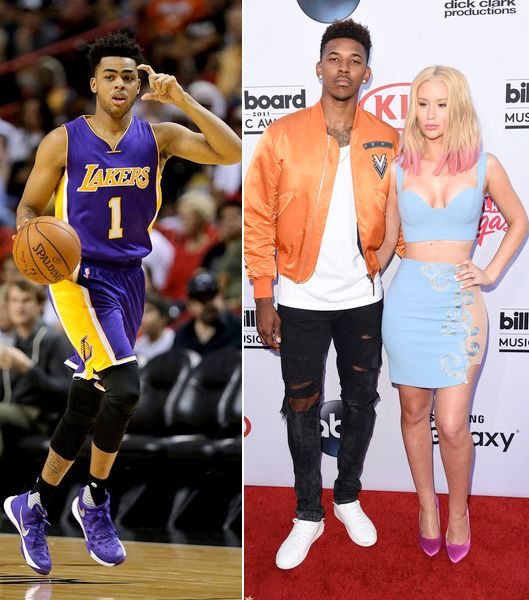 There is drama brewing between Lakers teammates D'Angelo Russell and Nick Young. Apparently, D'Angelo filmed Nick (unbeknownst to him) admitting to his scandalous cheating antics and that video somehow made it's way to the Internet. Now, Nick's fiancée Iggy Azalea is speaking out. More inside….
Man, where is the loyalty bih?!
One would assume teammates would have each other's backs.  Even when they're wrong.  But with "friends" like these, who needs enemies?
L.A. Laker rookie D'Angelo is stirring up some drama in the Laker locker room with his latest antics. Apparently, the 20-year-old baller filmed a private conversation between him and his teammate Nick where Nick admits that he cheated on his fiancée Iggy Azalea with a 19-year-old chick. And Nick had no idea D'Angelo was filming him at the time.
D'Angelo also asked Nick if he ever "scored" Amber Rose, in which, Nick responded saying, "No, she knows my girl."
Somehow said video got into the hands of a gossip site and has since gone viral. Peep the clip:
NBA star Nick Young Caught on Video Admitting To Cheating On Iggy With A 19-Year-Old Girl After The Club! pic.twitter.com/9ny9tDG0Mb

— Fameolous (@Fameolous) March 24, 2016
Was this a prank that went too far? Some would say YES! But D'Angelo's other teammates don't find it funny.
Sources tell ESPN that the Lakers are NOT feeling rookie D'Angelo and that they have isolated him during team activities.  Supposedly, during a recent breakfast meeting, no other Lakers player sat at the table where D'Angelo was sitting. In another instance, Russell came into the locker room and sat next to guard Lou Williams, who reportedly got up and walked away. Well damn.
This won't fare well when Kobe leaves as D'Angelo is being touted as the next team leader.
Well, Iggy finally logged into Twitter and noticed D'Angelo was trending. So, of course, she responded.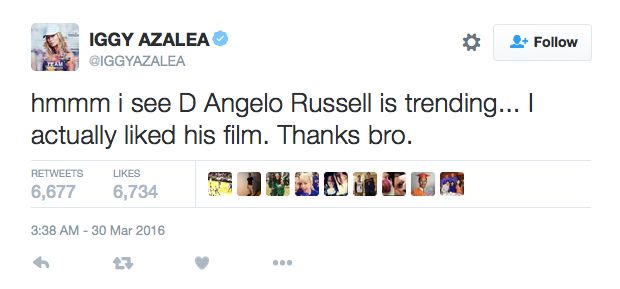 Sounds like Iggy is making light of it, again.  Remember when those pics of Nick driving some chick to his home in the car Iggy bought him came out?  She brushed those off too.
A few days before Iggy sent out her tweet, Nick also took to Twitter to send out a subliminal: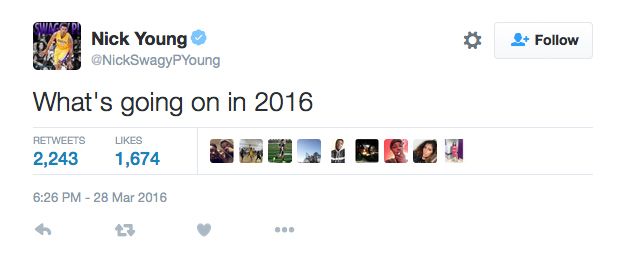 Same thing we're trying to figure out Nick.
We doubt Iggy is going anywhere anytime soon, but it's likely she and Nick are at odds (if she has any type of standards), at least for the time being.
Photos: Getty