We love a good Kerry Washington magazine cover around these parts. Come inside to see her newest cover for WWD and get the tea on the newly formed pop duo Big Sean& Jhene Aiko dishing on their dating past in FLAUNT magazine inside….
For the follow up to her ELLE magazinecover, Kerry Washington is serving that flawless face on another magazine cover.
The "Scandal" actress, who's gearing up to play Anita Hill in the HBO film Confirmation, is gracing the cover of WWD magazine's latest issue. The full cover story has yet to be released, but the fab mom-of-one will open up about power, politics and polish, three important topics she can relate to, in the cover story.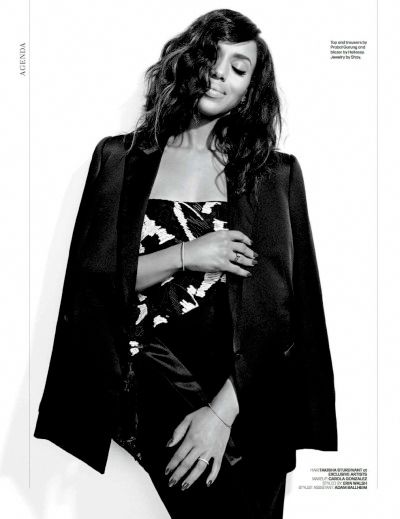 Kerry definitely knows a thing or two about power as she has been building her own brand since she stepped foot in the game.
The Golden Globe nominated actress has stretched her wings joining forces with Neutrogena as their creative consultant and she's also a celebrity ambassador for luxury watch brand Movado. When it comes to politics, not only does she play a powerful crisis manager on the hit ABC series "Scandal," she's also pretty involved in politics in her personal life.
As for the polish. Kerry was recently named creative ambassador for nail polish giant OPI and will be releasing her own line of nail polishes. Yes, chick STAYS booked and is all about her coin.
The cover story has yet to be released, but once it does, we'll keep you posted. 
By the way, Confirmation will premiere April 11th on HBO.
On another magazine front....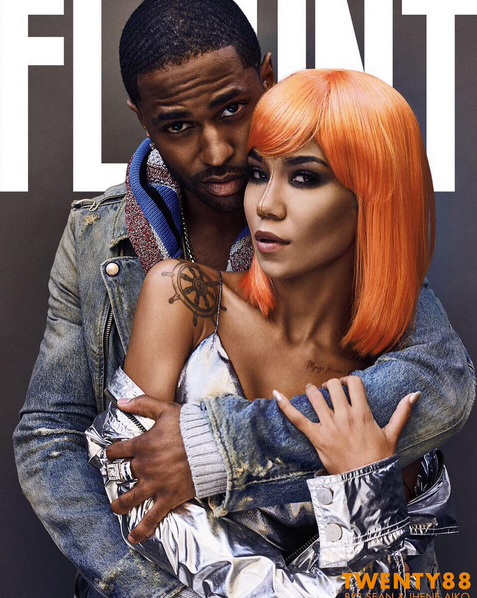 Rapper Big Sean and soulful songstress Jhene Aiko are ready to make a splash on the music scene as a newly formed pop duo with their LP, TWENTY88. To celebrate, the rapper and singer grace the cover of FLAUNT magazine's newest issue.
With tracks like "Beware" and "I Know" under their belt the twosome have decided to collaborate on a new album together to take their fans on a journey through a relationship.
In an interview with FLAUNT magazine via Skype from New Zealand as she treks around on tour, the soulful songstress reveals why they decided to link up for the new project.
"Music now doesn't really cater to the feelings of a real relationship," said Jhene. "It's all about trapping and bragging. I feel like this project is something that's needed right now. The whole idea of the man and woman duet, especially a whole project, is just good for people to see. That duality is a perfect combination."
We're actually here for this collaboration.
While they make hot music together, the two also previously dated back in the day. News to us!
These days, Big Sean is single and we recently learned Jhene is married to producer Dot Da Genius. But before Jhene headed down the aisle, she once went out on a date with the Detroit native.
Both Jhene and Sean about their dating history in the article:
"We went on a date," Aiko reveals. "We went to a Lakers game. It was a long time ago," (in May of 2012 to be exact). "First of all, I had a boyfriend and me and Sean had already met. We were friends. So he asked me to go out with him and even though I had a boyfriend I was like, 'Yeah, I want to go to the Lakers game! Sean had never asked me if I had a boyfriend or not."
"I didn't care," Sean inserts.
"It was pretty obvious after a while it was a date," Aiko continues. "We had never really been alone together. It was really fun. I took a picture of Kobe."
"Oh, that's why it was fun?" Sean says with a laugh.
"And then I saw Jack Black and Sean took a picture of me and Jack Black," adds Aiko, laughing,"I was really excited about that."
"She was really excited to go with me too," says Sean.
"The next day they had us up on a blog: Sean's new Spanish girlfriend or something like that. So I tweeted: 'I'm not dating Big Sean LOL.' And then Sean got mad at me like, 'You gonna play me like that?' I'm like, 'But we're friends!'"
"I'm real serious, but I'm real silly too," Sean insists. "So she said that, and I was like, 'Oh straight up.' She knew it was just from a fun place."
"So…" says Aiko, "that was our first date."
Interesting. With the chemistry they have, hopefully it will spill over and make some great music.
TWENTY88 (coverart above) is expected to drop April 1st and the duo will make their debut performance on ABC's "Jimmy Kimmel Live!" on March 31st.
Photos: WWD/Christian Anwander via FLAUNT