The drama continues...
Find out how the love triangle among Kyrie Irving, up and coming singer Kehlani, and PartyNextDoor just led to an attempted suicide...
Yesterday, we told you about the drama going down with Cleveland Cavs star Kyrie Irving and his girlfriend -- at least folks thought she was his girlfriend -- up-and-coming Atlantic Records artist Kehlani. 
The "You Should Be Here" artist has been boo'd up all over the 'gram with the basketball star for the last few months, even as Kyrie welcomed a new baby girl with his baby's mother Andrea Wilson.
When PartyNextDoor posted that messy IG post with them laying in bed yesterday talking about how she came back to him, all hell broke loose. Kehlani was dragged by commenters for getting caught cheating.
Some folks say it's Andrea who led to the demise of their relationship and caused Kehlani to run back to her ex, singer-songwriter PartyNextDoor (he's on Drake's OVO label and wrote "Work" for Rihanna).
Yet and still, it looked like Andrea and PartyNextDoor both played Kyrie, and Kyrie got dragged for filth as well for allowing it to happen.  (Those OVO boys STAY stealing chicks, don't they?)
Fast forward to this morning where Kehlani revealed she had attempted to take her own life. 
According to reports, paramedics responded to a medical emergency at Kehlani's L.A. home at 1:45 PM on Monday.  She's now been placed on a psychiatric hold.
She posted a pic from the hospital with PartyNextDoor right by her side:
Chile...
She deleted her Instagram right before posting this (which many thought made her look guilty).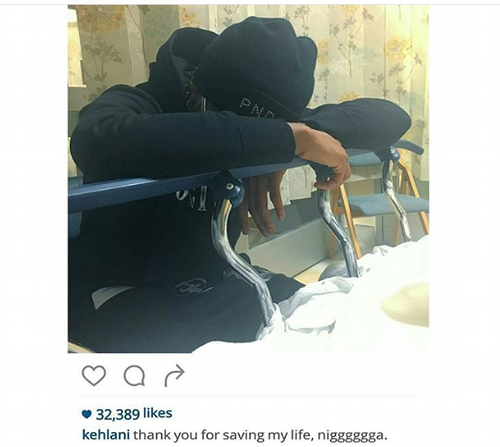 The fact she changed her caption -- while laying in a hospital with IV's in her arm -- had folks wondering about what was REALLY going on. 
The 20-year-old singer was accused of posting about hurting herself simply to get attention and to come off like she was the victim in this situation.
Kehlani popped back (and soon deleted):
As of now, everything has been deleted again from her IG.
Just last month, Kehlani was professing her love all over social media for her "best friend" turned boyfriend Kyrie:
In the words of the great poetic singer Deborah Cox, 'How did we get here?  Nobody's 'sposed to be here...'
Photos: Instagram