Kelly Rowland was on playground mommy duty as she took her son Titan Witherspoon to the park today.  We've got the pics of the fab and fly mama inside, plus her announcement about creating her own makeup collection that's already got us waiting impatiently...
Singer Kelly Rowland is back in L.A. today after a whirlwind press trip to NY to kick off the battle with allergy season as the ambassador for Claritin.
The upcoming "Chasing Destiny" star, who also stopped in Austin, Texas last week to promote the new BET show, was spotted (along with a friend or possibly the nanny) in sweats and sneakers doing what mommies in the park do.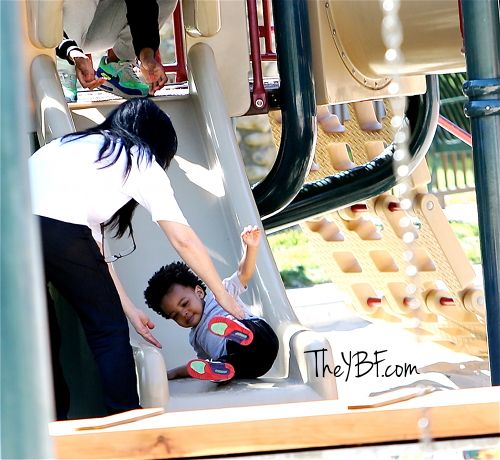 She pushed 1-and-a-half year old Titan on the swings, held him while riding on a toy horse, and watched him come down the slide.  Cute!
Kelly's got more big news.  While chatting up Essence at the Boys & Girls Club of America, she revealed she's coming out with a makeup collection to cater to a group of women often underserved: "The chocolate girls."  YASSS! 
"My makeup artist Sheika Daley and I are actually starting a makeup line we're making sure we make, well, we're starting off with lashes and then we're going to have it grow for all women," Rowland told Essence. "But definitely making sure we have our chocolate girls covered. Gotta get the chocolate girls in there! We have to have that, you know. I think Iman has done a beautiful makeup line and I want to do it too!"
Whatever this flawless chick wears, we're putting it on times two.  Our makeup brushes are prepped and ready. No word on a release date for the collection, but we'll be ready.  Much of the rest of the makeup industry is still dragging their feet on creating foundation, powder, and bronzer colors that work for skin tones deeper than olive. 
So, we're all the way here for this!
Photos: INF