Cuba Gooding Jr. dropped a bombshell on the "Steve Harvey Show" talking about portraying O.J. Simpson in the new FX crime series. Find out what he said about having a nervous breakdown after one particular scene.
Also, get the latest on Katt Williams declaring war on "black woman hating coon" Chris Rock inside….
We are obsessed (along with the rest of America) with the new crime drama "The People vs. O.J. Simpson!"  With just three more episodes left (the show airs Thursdays on FX), star Cuba Gooding Jr. stopped by the "Steve Harvey Show" to chop it up about what it was like playing the NFL star-turned-icon-turned-alleged murderer.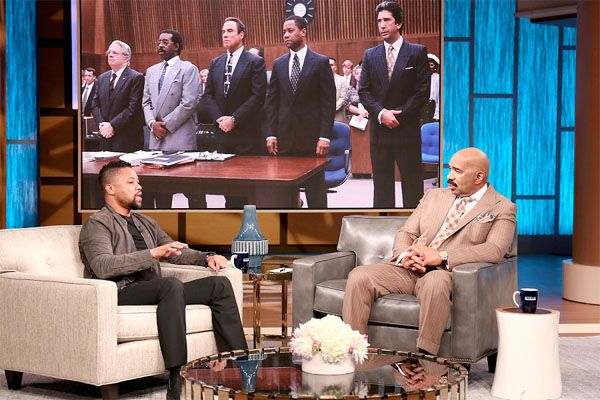 Talking to Steve about the show, Cuba revealed he had a nervous breakdown shortly after filming a particular scene.
The 48-year-old Oscar winner reflected on how he felt about the not guilty verdict being read 20 years ago.  He felt relief that a black man wasn't being put away for something he may not have done. But, those emotions changed decades later after actually filming one scene in particular.
Cuba said he literally had a nervous breakdown after shooting the scene where O.J. plants a kiss on his ex wife Nicole Brown Simpson's corpse. He explained to Steve,
"I remember when the verdict was read, and it said not guilty. I cheered because you know, I was a black entertainer in LA and I had been harassed by LAPD. I had been pulled over, I had guns put in my face, and the whole thing. So I thought if he did it, then fine. At least there's another black man that didn't get railroaded or you know, maybe it was our turn to get away with something like that. And as I did this research, and specifically one scene in particular, when we shot the scene at the funeral, when OJ kisses Nicole's corpse, I remember we broke for lunch and I went in my trailer and I couldn't stop weeping. Like I literally had a nervous breakdown and I said 'I think I finally grieved for that family.' I think it hit me that both of those families were shattered, and I just felt extreme guilt, you know?"
Wow.
Switching gears, Steve asked Cuba about getting back out on the dating scene after calling it quits with his wife of 20-years Sara Kapfer.(FYI- Cuba was spotted doing the absolute most down in Miami last week. He stays having a good time.  Check out his antics HERE.).
The Butler starseemed really chill about his pending divorce.  So much so, he said he took his wife on a movie date recently to keep their "unit" strong for their three children.
"Listen, you know how things happen," said Cuba. "Things happen, you grow up … I took my wife on a date the other day. Took her to see a movie the other day. Yeah. We got kids, man. We got to keep this together, strong, you know? That's how I see it."
Whatever works!
Peep clips from his appearance below:
Cuba's episode airs today. Check your local listings for the time.
In another explosive interview...
Troubled comedian Katt Williams, who has been arrestedumpteen times in the past month or so, is declaring war on yet another fellow comedian. After challenging Kevin Hart to a $1million comedy battle (that never went down), Katt is now ready to end Oscar host Chris Rock's career!
In an interview with The Chicago Morning Takeover radio show before he performed in the city Saturday night, the stand-up comedian called Chris Rock the KING OF COONS! Whet?
He ran down several reasons why he can't stand the Top Five 5 star. He made a strong claim that Chris doesn't like black women (despite the fact he was married to a black woman for decades and has black daughters). 
Katt also said Chris has the hands of an orangutan (Oh Kat…), he doesn't like how Chris supposedly wouldn't put his brother Tony Rock on, and how Chris denied he adopted the young girl from South Africa who had been living with the family since birth.
In Chris' defense, he has been rumored to be dating actress Megalyn Echikunwoke, who is the daughter of an Igbo African tribe leader. Although she claims she's too busy for a relationship right now, Megalyn was on Chris' arm for the Oscar afterparties last month.
Katt later opens up about his recent criminal arrests, drug use allegations and even pops off on one of the radio personalities. Check his full interview above (he starts talking about Chris Rock at the 7:00 mark).
Photos: Tegan Kinane/NBC