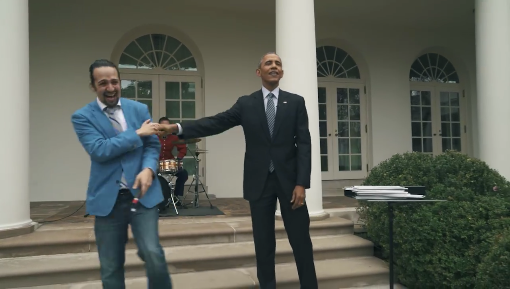 It's safe to say we may never see another President do THIS again.  The Obamas welcomed the Broadway cast of Hamilton to the White House today, and Mr. President helped the star freestyle some bars....outside the Oval Office.  Get it inside...
The Hamilton cast lead a workshop with students today at the White House and performed a selection of songs from the show via a live stream.  The show, which intertwines hip hop with American history, is sold out for the next few months.  So The Obamas and their invitees got a special treat.
After the performance, the Broadway show's star Lin-Manuel Miranda and Prez O headed to the Rose garden to freestyle a few bars  outside the Oval Office.
While the President held up cars with words, none of which Lin had seen before, Lin had to incorporate each word into his freestyle without having seen any of the words previously.
Obama started with "Drop the beat" and ended with a mic drop. 
Gotta love it.  Check it below: