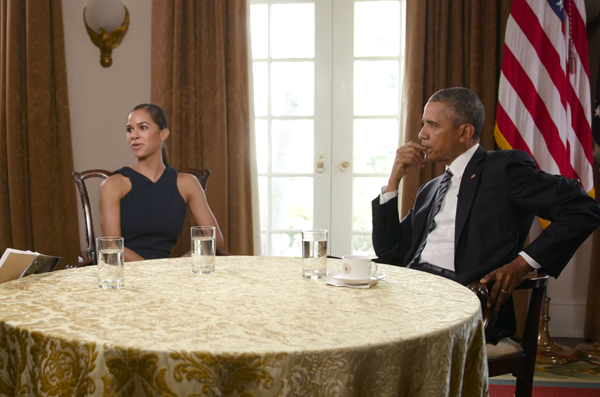 President Barack Obama and prima ballerina Misty Copeland have a roundtable discussion on the importance of movements like #BlackLivesMatter and #BlackGirlMagic. Find out what they said inside….
President Barack Obama and prima ballerina Misty Copeland sat down with TIME magazine to discuss race and the importance of grass roots movements like #BlackLivesMatter and #BlackGirlMagic. And who better to open up and give their opinions on the subjects than two African-Americans who have broken down barriers in their fields inspiring young people of color.
POTUS (the first African-American president) and Misty (the first African-American principal dancer at the American Ballet Theatre) sat down with TIME reporter Maya Rhodan at the White House last month for the three-part interview.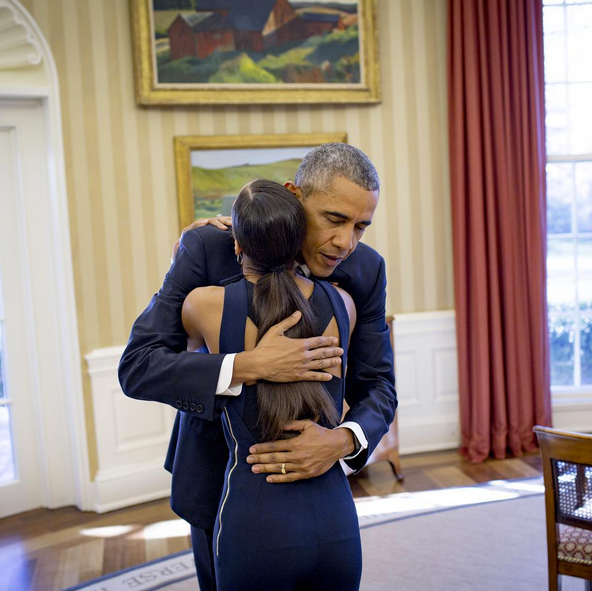 The amazing beings (who both have in common their mixed race background) spoke candidly about the trials and tribulations of rising to the top of your respective fields, how they've handle racism, their thoughts on the importance of social movements like #BlackLivesMatter & #BlackGirlMagic and more.
Definitely topics we've been anxiously waiting for our President to chime in on.  He didn't disappoint.
Below are a few highlights from their discussion:
TIME: And you both represent the African American community. As the President of the United States, as a principal dancer for the American Ballet Theater, do you ever think that – how does race come to play? Do you think that people still treat you differently because of race? Because you're African American?

COPELAND: You know, my experience has been that a lot of what I've experienced has not always been to my face, or it's been very subtle. But it's in a way that I know what's going on and I feel it deep inside of me. And I, being the only African American in almost every environment in terms of classical ballet, it weighs on you and it wears on you after a while. And I feel like a lot of it as well is what I'm kind of putting on myself. And this just trying to not get too caught up and too wrapped up and too weighed down with being black and trying to just be the best person and the best dancer that I can be. And work, and work harder than, even if I see the person next to me that things may be a little bit easier for them, I'm going to try and push myself even harder than them. But I think that being African American has definitely been a huge obstacle for me. But it's also allowed me to have this fire inside of me that I don't know if I would have or have had if I weren't in this field.

TIME: As a father of two daughters, do you see that at all? Do you see that pressure in your own life?

OBAMA: Yeah. I mean some of this is just gender issues, generally. I mean when you're a dad of two daughters you notice more. When I was a kid I didn't realize as much, or maybe it was even a part of which is the enormous pressure that young women are placed under in terms of looking a certain way.And being cute in a certain way. And are you wearing the right clothes? And is your hair done the right way. And that pressure I think is historically always been harder on African American women than just about any other women. But it's part and parcel of a broader way in which we socialize and press women to constantly doubt themselves or define themselves in terms of a certain appearance. And so Michelle and I are always guarding against that. And the fact that they've got a tall gorgeous mom who has some curves, and that their father appreciates, I think is helpful. I do think that culture's changing for the younger generation a little bit more. You see Beyonce or you see some of these pop stars and what both white, Latino, black children are seeing as representative of beauty is much broader than it was when I was a kid. You just didn't see that much representation. And that's healthy and that's encouraging. But it's still a challenge. I mean Malia'll talk about black girl's hair and will have much opinions of that. And she's pretty opinionated about the fact that it costs a lot, it takes a long time, that sometimes girls can be just as tough on each other about how they're supposed to look. And so it's, as a parent, that's a constant learning process that you're trying to hold the fort. And that's why somebody like Misty ends up being so important.

A lot of it is the power of that image, even if they're not dancers, even if they're not interested in pursuing a career in entertainment or the arts. For them to know that that's valued end up making a big difference.

TIME: And beyond the just simply being there, that obviously makes a difference. But then there's also a pressure like you mentioned to do more. And I'm curious also what you make of social movements like Black Girl Magic, when there's like these grassroots level reinforcement of these ideas that black is beautiful, in a sense?

OBAMA: Well social media obviously is the way in which young people are receiving information in general. So the power of young activists to help shape color and politics through things like Black Lives Matter, which I think is hugely important. And when I think about the journey I've traveled, there's no doubt that young African America, Latino, Asian, LGBT youth, they have more role models. They have more folks that they can immediately identify with.

And that, in and of itself is of value. But what we also have to remember is that the barriers that exist for them to pursue their dreams are deep and structural. And so it is wonderful that the potential dancer can see Misty and say, I can do that. But if there's no dance studio at all in their neighborhood, and if their schools don't offer any extracurricular activities at all, or if their school is chronically underfunded, then it's going to be a problem.

I hope that there are young men of color who are looking at me and saying, I can aspire to be the president, or a senator, or a community organizer and make change in my neighborhoods. But if they are locked out of opportunity, and in neighborhoods where even if I'm on television, there are no men in their neighborhoods who've got jobs that are able to support a family, then you've still got problems.

So I think culture, changing attitudes is hugely important. You know we're for example trying to get more girls and women to study the stem subjects, math, science, engineering. Because they're chronically under-represented. And in researching this we found out that for example, since CSI came on, and there are women who are doing forensic investigations, that the number of women who are in this field has skyrocketed, right. So some of it is just okay, I now picture myself as doing that. But I think it's important for us to remember that it's not just a matter of providing us a strong image, it's also making sure that they've got good schools, making sure that they're getting programs that allow them to explore all their talents. Making sure that the economy is working in a way that gives everybody a chance to succeed. It's a both and rather than an either or proposition.

COPELAND: It's so important for this generation. And to use social media to have a positive impact on our generation is huge. And I know that you have a presence as well. And it's such a part – I think we have to be involved I think in order to really reach the younger generation on social media. But to have movements like Black Girl Magic, I think it couldn't be more positive for a young black girl to see that it's okay to be yourself, it's okay to not have to transform and look like what you may see on the cover of a lot of magazines. That you are beautiful, that it's possible to succeed in any field that you want to, looking the way that you do. With your hair the way it is. I think all of that is so extremely important and something that I'm constantly celebrating. That something that I fought so hard for throughout the beginning of my career is I didn't want to pancake my skin a lighter color to fit into the … ballet. I wanted to be myself. I didn't want to have to wear makeup that made my nose look thinner. There are just – it's important I think with this generation of young minorities, children especially, to feel comfortable and confident in their skin.
We agree on all fronts!  We hope that the younger generation soaks it all in and are inspired by these trailblazers.
Below are a few clips from their discussion:
Photos: ESSENCE's IG