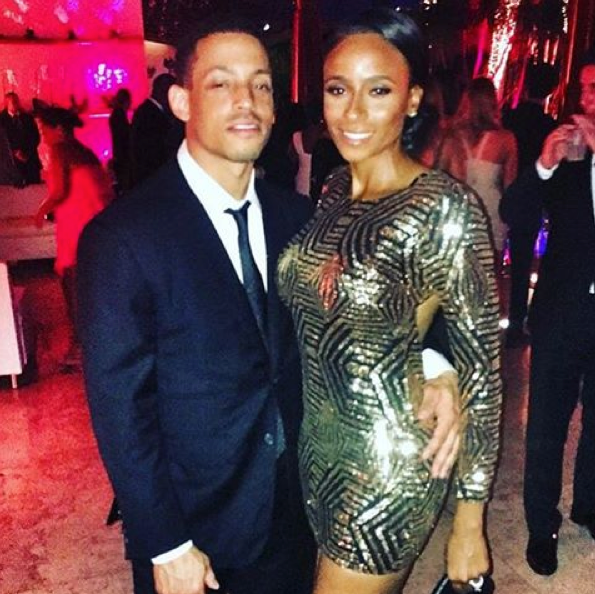 NFL baller Brent Grimes' wife Miko Grimes is always poppin' off on social media. So much so, folks were wondering if Brent would be signed to a new team due to her antics. So, she deleted her accounts and BOOM! Brent nabs a new contract. Deets inside…
Brent Grimes' wife Miko Grimes is not one to hold her tongue. The NFL wife has blasted the National Football League and her husband's former team, the Miami Dolphins, in several Twitter rants.
Not only that, she was also arrested at a Dolphins game last September after going off on police at the game. She was arrested and charged with battery on a law enforcement officer and resisting with violence. Luckily for her, a judge decided to http://www.sun-sentinel.com/local/miami-dade/fl-miko-grimes-charges-drop... ">drop those charges months later.
Now, Miko has decided to quit social media, which could be a good thing for her husband's sake. But before she did, she went on yet another Twitter tirade against Miami Herald reporter Armando Salguero where she threatened him a series of tweets.
Why was she going off on him? Well, the reporter wrote an article where he said the Dolphins were having a hard time trading Brent because of his wife. The Dolphins organization was looking to trade the NFL cornerback rather than release him, but they were having trouble finding any team who wanted to pick him up due to his wife's antics. Y'all know that set her off.
Well, someone had a heart-to-heart with Miko and chick has deleted all of her social media accounts. Thankfully. Soon after she got rid of her accounts, the 33-year-old baller signed a two-year $16.5 million contract with the Tampa Bay Buccaneers. Coincidence? We doubt it.
But get this, the Miko is still talking.  This time, she used Omar Kelly of the South Florida Sun-Sentinel to get her message out.  In an IG post the writer put up this week, Miko denies she deleted her accounts due to her husband getting passed up.
"the Bucs are a REAL organization, being ran PROPERLY, unlike that dumpster fire in the AFC East we just left! they wouldnt DARE ask me to delete my twitter! i deleted my twitter bc i didn't want the twitter gangsters and thumb thugs to have anyone to @ when they found out the Bucs (and multiple other teams) made them all look STUPID! who doesnt want a pro bowl corner thats doing s— NO OTHER CORNER IN THE LEAGUE CAN DO! men lie! women lie! stats lie! the media lies! u know whats undefeated? FILM!!! we are HAPPY and i dont feel like sharing it with anyone just yet. ill be back very soon and ill be the same supportive, dedicated, truthful b—- i was before i left!"
Oh?  That IG post was deleted, but there it is.
It's nothing to reactivate her accounts, but let's hope she stays off social media since it appears to have caused more bad than good.
Photos: @natashagrossmakeupartist