Chris Brown is still poppin' off on social media. But this time, he's airing out his frustrations on Donald Trump. Find out what he said and find out how Steve Harvey is doing his part to help with the Flint lead water crisis inside….
Chris Brown is mad (again)! But in this instance, it's for a good reason.
The "Loyal" singer went straight savage on Donald Trump and "the pigs" after watching clips of peaceful protesters (who happen to be black) being assaulted at Trump rallies across the nation.  Protesters have constantly been punched and violently attacked.  Interestingly, when the Donald is called out for inciting said violence, he points the finger elsewhere: At the protesters themselves, the cops, anyone but him.  This is despite the fact he says on video time and time and time again to his supporters to PUNCH and ATTACK any protesters.  "Shut them up and get them out of here," he often says.  He even has publicly offered to pay people's legal bills if they get into trouble for punching a protester.
In an Instagram rant and video, Breezy hurls off expletives aimed at presidential hopeful Donald Trump and law enforcement. He also encourages black people to squad up 40-50 deep and protest at these Trump rallies.
We can't even say we're mad at that at this point.
He said:
He captioned the video with a long rant writing:
"FUCK TRUMP AND FUCK THE PIGS! TO SEE THIS EVIL SHIT IS SO WRONG! GOD WILL HAVE HIS REVENGE! TRUST ME! WITHOUT OUR BLACK CULTURE, ASIAN CULTURE, LATIN CULTURE, MUSLIMS, AND ANY RACE THAT YOU DONT APPROVE OF HELP YOU TO BE WHO THE FUCK YOU ARE. NOT TO MENTION WE ARE THE MOST CREATIVE,OPPRESSED, resilient, And HARD WORKERS, without out us your just another simple minded scared little man. WHEN MAKE FASHION, WE MAKE WHITE ARTIST WANNA BE US, White girls singing R&B OLD VIBE SONGS and its the best thing since sliced bread? BRANDY AND BEYONCE SING CIRCLES AROUND YALL CLONES! until the poeple (sp?) in these power positions start showing humility and a actual love for everyone in AMERICA and the whole world. Ain't nobody stupid my nigga. People are so afraid to say shit because y'all just find a way to kill our leaders!!!! WHO THE FUCK U THINK CLEANS YOUR HOTELS AND WORKS HARD TO FEED A WHOLE FAMILY. US"! YOU A BITCH,, ALWAYS BEEN A PUSSY! I ain't running for no political offices nor don't I want to be apart of the devision of (Devil)race. FIRST THING YALL do IS BRING GOD IN it. DONT PLAY WITH POWERS U don't understand. Ok... Ok...ok... ALL JOKES ASIDE,......FUCK TRUMP! #FUCKTRUMP"
As for what got Breezy all riled up….
A white man sucker punched a black man during a Trump rally in North Carolina recently. In the clip, you see the man (along with a few others) being escorted out of the Crown Coliseum in Fayetteville when a white man punches the man in the face out of nowhere! Check it out above.
The good news is, the man who assaulted the protester, 78-year-old John Franklin McGraw has been charged with assault and disorderly conduct.
We hope he's getting his coin from Donald.  If not, he better be side eyeing "his leader" Donald and smarten the hell up.
Last week, a black woman was physically and verbally assaulted by multiple white men as she was escorted from a Super Tuesday rally in Louisville, Kentucky. Check it below:
Sick!
In do-gooder news...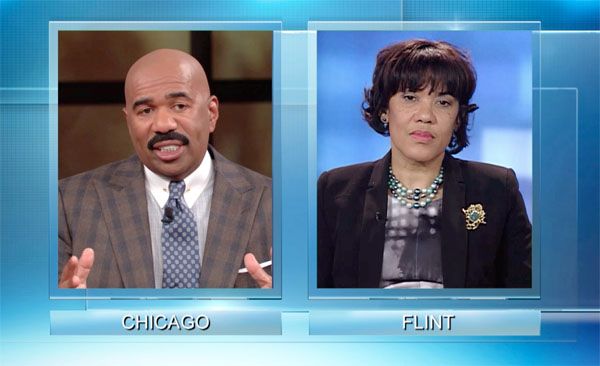 Steve Harvey is using his daytime talk show platform to shed even more light on the Flint water led crisis that has plagued the city for years.
On Monday's episode, Steve is dedicating the entire show to address the water crisis. The entire audience will be residents of Flint bussed in to attend the show. The daytime TV host will have presidential hopeful Hillary Clinton on the show for an interview, as well as Flint mayor Karen Weaver.
Mrs. Clinton will talk about her recent visit to the troubled city and what she learned from talking to the people of Flint. Mayor Weaver gives an inside look at what needs to be done to fix the problem and how much money it will cost.
Steve will also welcome Dr. Marilyn McPherson-Corder (the chair of pediatrics at United Medical Center in Washington, D.C.), Jim Ananich (a MI state senator covering the 27th District in Flint and the Senate Minority Leader), Charlie LeDuff (investigative journalist and national correspondent for FOX television stations) and Bob Bowcock (water consultant and engineer who helped to expose the crisis in Flint) for a townhall discussion with Flint residents.
Glad Steve is helping to keep this issue in the forefront, especially during this tumultuous election season where Republicans have barely even muttered Flint's name.
Check your local listings for the time the show will air on Monday. Be sure to tune in!
Photos: Chris' IG/Tegan Kinane/NBC