Lil Mama is speaking out about her arrest.  Find out what she aid about the lesson learned, plus 50 Cent is trolling the courts again, and Katt Williams has to stay in jail (for now)...
Lil Mama was locked up on Thursday morning for doing 38 in a 25 in Harlem....on a suspended licensed.  Now, she's speaking out about the lessons learned.  Aside from making sure she's got a valid license before ridin' round and gettin' it. She said in a statement late Thursday evening:
"I would like to apologize to my family, friends and fans for my actions last night.  I made a mistake and it was totally irresponsible of me to drive without a valid drivers license.  My actions do not in any way reflect who I am as a person. 

As I move forward, I have learned a valuable lesson and understand the consequences for my actions which resulted in my arrest.   I appreciate the support and the concern for my well being during this time.  I have worked very hard, and I would like to continue to be a role model for young women and men.  With that being said, I accept full responsibility for my actions and will take the necessary measures to have this quickly resolved and

corrected."
Hey, at least it wasn't a DUI...
Speaking of New York shenanigans:
50 Cent paraded his tailored suit into his bankruptcy hearing on Wednesday. But it's what he told the judges that's foolywang material.
This guy's legal team, speaking on behalf of the rapper, old the judge in court that there's a reason Fif is parading cash -- fake cash according to 50 -- all over his social media.  He basically has to portray a certain life for his fans to aspire to because they're so poor.  Yep.
"He has to keep up his image for the fans. Rap fans, they're poor and they want their idols to be rich and something to look up to."
Oh?  50's fans have enough money to buy your Effen Vodka, your music, and pay that cable bill for Starz to see "Power" every week though.
Fif's silly explanations to convince the judge
he's too "poor"
to pay back his creditors have reached a level of petty that's ridiculous even for him.  Case in point:
He posted the above pic after court saying:
"For some reason people love me. I went to court today and all I felt was love. They asked me about money I said I ain't got none,but if you want some m&m's here ya go."
He complained about people coming after his money due to him being successful saying:
"When you make money you become a target. Not only by people who feel there competitors, but by system it self. The lawyers take someone's case to go after your hard earned money pro bono. #EFFENVODKA #FRIGO"
Interestingly, he said he's "done" with IG starting Friday and someone else will now be running his accounts.  We guess his lawyers got fed up with his antics that made their jobs more difficult.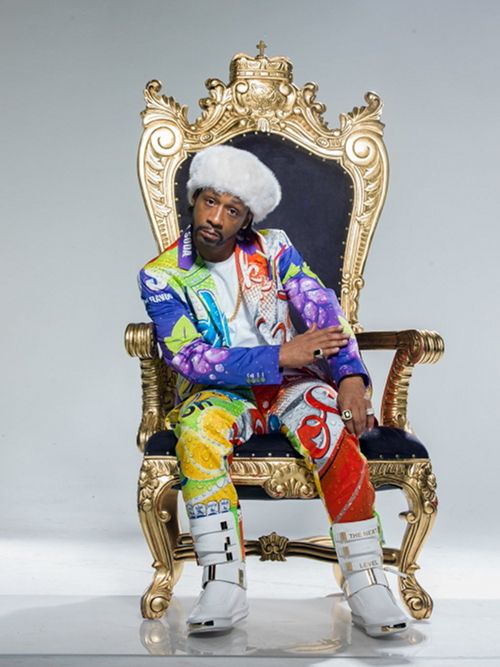 Finally, Katt Williams was issued a $60,000 bond after his latest arrest in Georgia.  But, he won't be able to break free just yet.
Channel 2 Action News says Katt violated the condition of his previous bond and won't be leaving jail anytime soon.
After his umpteenth arrest this month (and we're only 11 days in), the comedian won't be able to get out as soon as he thought.  And when he does, he's been ordered to stay away from the bodyguard he reportedly had an accomplice beat up and the man's family. 
The police also seized seven weapons and drugs from his home during his arrest.  He's been told to not be near any drugs or guns when he finally bonds out.

Photos: Twitter/Splash/Instagram/Getty