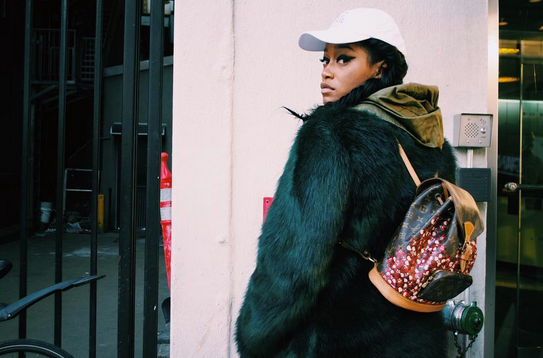 Keke Palmer opens up about her sexuality, that steamy kiss with Cassie and dealing with depression in a new interview with HOT 97. Get the highlights and take a peek at K. Michelle's colorful new video "Mindful" inside….
Keke Palmer dropped in on HOT 97 to chop it up with radio host Nessa where she lets us in on a few tidbits we may not have known about her.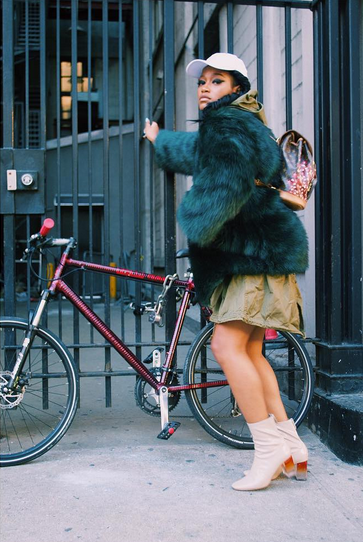 The 22-year-old actress, who will be dropping a new album in September, addresses that steamy kiss she shared with singer/model Cassie in her "I Don't Belong To You" video. The Internet went nuts when a clip of Keke and Cassie locking lips made its rounds on social media. We later learned it was promo for her video. But, folks have been wondering what was it like to get kissy with Diddy's main chick.
The Brotherly Love star told Nessa that she did not get permission from the Hip Hop mogul before she and his girlfriend locked lips. She jokingly said now when she sees Diddy she gets low-key nervous. "I be nervous girl!," said Keke. "Like did you know that we did that video? Nah, he don't care I'm sure." Ha!
The SnapChat queen then opened up on if she would ever date a girl.
"Absolutely," she said. "Where love is, that's where I'm going. That's what I'm about. It's not about all that other stuff. It's just about love. So if that's a guy, great. If that's a girl, great. It doesn't really matter to me."
Oh?
While she doesn't have her eyes on a lucky lady right now, the "Grease Live!" starlet broke down what she looks for, personality wise, in a man.
If a guy wants to get at Keke, she requires a sense of humor ("I'm so goofy and corky!"), ambition, drive, honesty and loyalty.
She revealed her love life right now is pretty much non-existent, but she does go out on dates. She said she's just having fun because she's super focused on her career right now.
Later, Keke touched on dealing with depression and anxiety and how being a child actor played a role in that. She said,
"As a child actor, you experience a lot of depression and anxiety. I'm actually getting ready to write my first book right now and it touches on those things. It's not a pity party. It's a 'this is what I've gone through and this is what I found out afterwards.' Yes, I went through depression and it was not comfortable. Yes, I struggle with anxiety and feeling paranoid, trying to figure out who I am. I still go through those things today. But, all it is are thoughts. These are thoughts that come into your head and they go. You don't have to cling to them. You can decide how to want to move forward. These aren't real limitations. At the end of the day, you decide who you want to be."
Good advice Keke!
Peep her full interview below:
In a new video....
After releasing her new track "Mindful" featuring T-Pain last month, K. Michelle brings the track to life in a colorful new video treatment.
"Mindful" is a cut from her upcoming third studio album More Issues Than Vogue, set to be released March 25th.
The song isn't one of her usual love/heartbreak records. K holds nothing back and she lets out a mouthful of expletives rapping over a catchy beat. And some of the lyrics seem to be geared toward her nemesis Toya Wright.
On the new track, K raps, "F*ck that n*gga/F*ck that b*tch that he with/I got my own money/Ain't nobdy giving me shit"
In the clip, the "Love & Hip Hop: Atlanta" star and her girls are hanging out in a trailer park when they notice a group of chicks eyeing them down from afar. The ladies meet up in the middle of street and a dance battle breaks out. Peep the clip above.
So what's next for K? She will be hitting the stage for an upcoming VH1 special "A Night With K. Michelle" that will air March 21st. If you're wondering what K will be up to on the new season of "LAHH: Atlanta," get the run down HERE.
Photos: Keke's IG