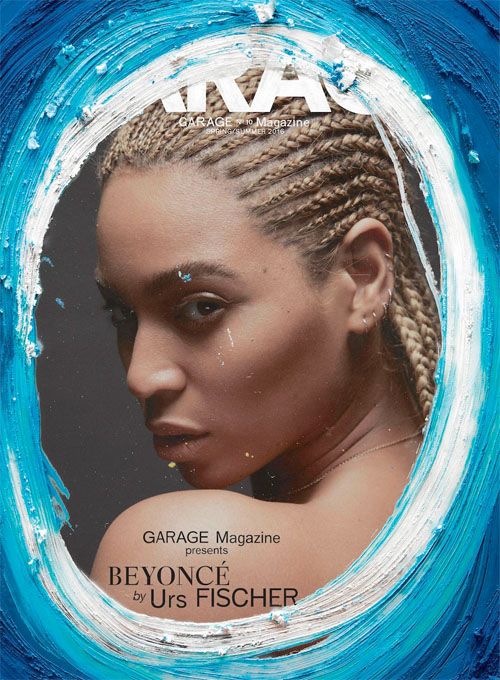 Beyonce opens up in a rare interview for the Spring/Summer 2016 issue of Garage magazine. Find out what she revealed about her proudest moment, her biggest hero, her love for art and more inside….
Landing an interview with Beyonce is a big deal these days being that Queen Bey hardly does any one-on-one interviews. Outside of a mini interview with FLAUNT magazine (which included a word chart), Bey has pretty much shunned away from personal interviews.
Hell, even VOGUE magazine couldn't squeeze an interview out of Bey when she covered their coveted September issue last year. But, Garage magazine got the chance to chop it up with the "Formation" singer.  It's unclear if it was a sit down or an email or phone interview, but it's good to hear from Bey again either way.
For the Spring/Summer 2016 issue of Garage magazine, the "Flawless" one poses it up in a few pictorials shot by photographer Robin Harper. Renowned Swiss artist Urs Fischer reimaged with photos with blue and red painted frames as Bey served face while rocking a set of fresh cornrows for the shoot.
Inside, the Grammy Award winning singer dishes on her proudest accomplishment, who she adores as her biggest hero, being in control of her career, her undying love for art and she even drops a gem for her younger fans.
Peep the highlights from her interview below:
On her proudest moment:"Out of everything I've accomplished, my proudest moment hands down was when I gave birth to my daughter Blue."
On her biggest hero:"My biggest hero is and always will be my mother. She has taught me about caring for others, working hard and working smart. Everything I know about being a mother comes from the examples she has shown. My mother has instilled confidence in my sister and me and taught us to always be grateful."
On being her own boss:"Over time, I have learned to focus on the things I want to focus on in the time frame that I set. I no longer have to work based on someone else's expectations or pressure. I put enough pressure on myself! I love being 100% involved with all my projects and now I'm fortunate enough to do that."
On her love for art and her favorite artists:"I find myself most drawn to painting and photography. There's a release and an immediacy there that helps me escape from my other projects. My mother is a huge art collector and she always encouraged me from a young age to invest in art. I travel a lot and I love going to art galleries and museums in different cities with my family and friends. I'm really into the work of Kara Walker, Tracey Emin, Aaron Young, and Donald Judd."
On advice to her younger fans:"I would love for my younger fans to read What Will It Take To Make a Woman President? by Marianne Schnall. It's a collection of interviews and essays by great women, including Maya Angelou, Gloria Steinem, and Melissa Etheridge. They will inspire you to become a better leader."
Nice!
BONUS: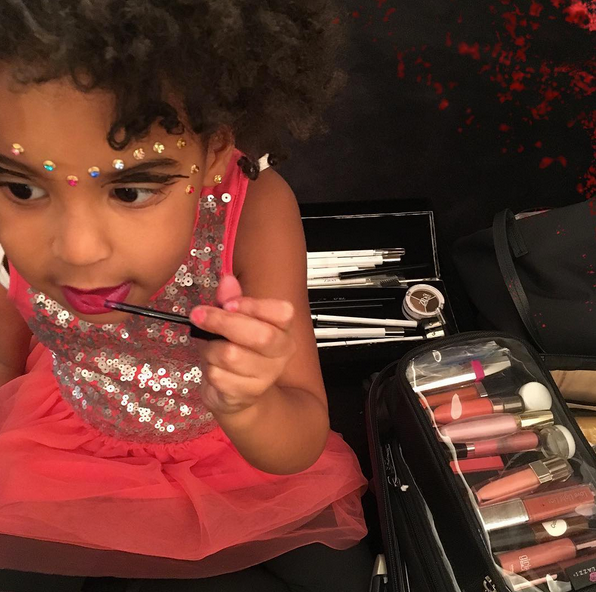 Mrs. Carter shared the cutest photo of her daughter Blue Ivy playing around in her make up. Adorbs! 
Photos: Robin Harper via Garage Magazine/Beyonce.com