Our fab First Lady Michelle Obama pulled out the spray cans to spread love on International Women's Day. Peep her pics, plus flicks of Rick Ross getting his hands dirty for charity inside….
Not only can our First Lady rap…but she can also get down with some graffiti work.
In honor of International Women's Day, First Lady Michelle Obama met up with renowned street artist Mr. Brainwash to paint a Let Girls Learn-inspired mural at Union Market in Washington, D.C.
FLOTUS grabbed a spray can and got to work adding some extra hearts to the mural. The mural of hearts represents the 62 million girls who are not currently in school. But, FLOTUS is trying to change that with her "Let Girls Learn" initiative she launched last March.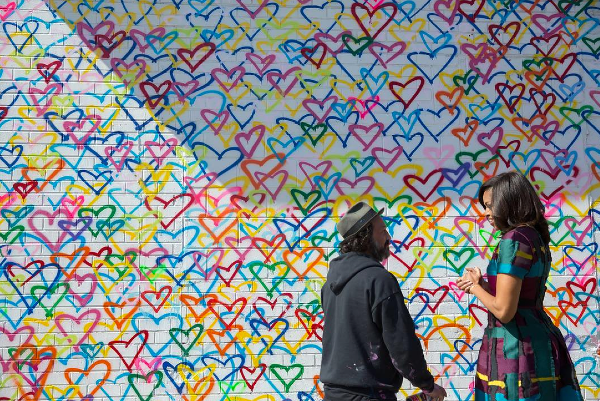 Loves it! 
Peep a clip of FLOTUS in action below:
That's not all our First Lady was up to...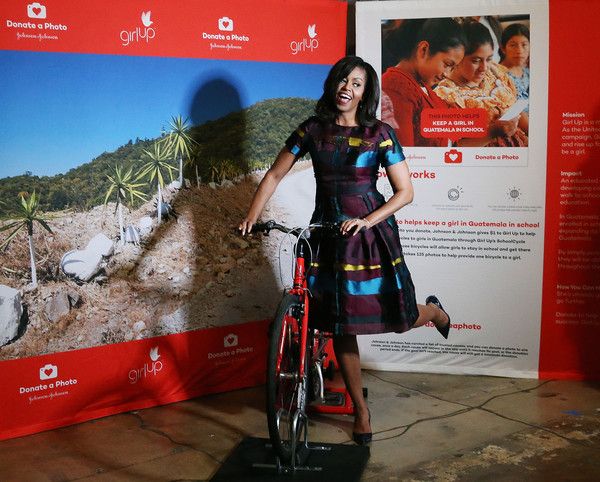 She also spoke before an audience of women to celebrate the first anniversary of the "Let Girls Learn" initiative. She stressed the importance of girls getting an education with an empowering speech on why she's so passionate about the movement.
She looked stunning!
Below is a snippet from her speech:
I've seen it time and time again –- girls in Senegal studying at rickety desks in bare concrete classrooms raising their hands so hard they're almost falling out of their chairs. Girls in Cambodia who wake up hours before dawn, ride their bikes for miles just to get to school. Bangladeshi immigrant girls in the United Kingdom who study for hours every night and proudly wear their head scarves everywhere they go, resolutely ignoring those who would demean their religion.

These girls risk everything -– the rejection of their communities, the violation of their bodies -– everything, just to go to school each day. And then here I show up with a hoard of international reporters shoving microphones in their faces -- these girls don't blink. They stand up. They look straight into those cameras and they proudly explain who they want to be –- doctors and teachers, forces for change in their countries.

You see, they know that education is their only path to self-sufficiency. It is their only chance to shape their own fate rather than having the limits of their lives dictated to them by others. And I'm passionate about this because I truly see myself in these girls -– in their hunger, in their burning determination to rise above their circumstances and reach for something more. And I know that many of you do, too.

And let's be clear, this issue isn't just personal to women. I have met countless men who learn about the plight of girls around the world, and they look into the eyes of their daughters and wives and mothers -– women they deeply respect and love -– and this issue becomes personal for them, too. So it's not surprising that over the past year since we launched Let Girls Learn, we have been overwhelmed by the response we've received.

This issue is truly resonating as folks in every sector are stepping up to take action on behalf of these girls around the world. From day one, the U.S. government has been leading the way with State, USAID, the Millennium Challenge Corporation, investing hundreds of millions of dollars. They're providing scholarships for girls in Liberia and the Democratic Republic of Congo. They're doing leadership training for girls in Afghanistan. They're building school bathrooms for girls in El Salvador. They're taking on female genital mutilation in Guinea, forced child marriage in Bangladesh.

Every single one of us has a role to play on this issue. And you can start today by going to LetGirlsLearn.gov and find out how to get involved right now. No contribution is too small, as you can see, because in the end, that's how we're going to solve this problem –- one girl, one school, one village at a time, with folks like all of you -- particularly our young people -- leading the way.

 
YAS!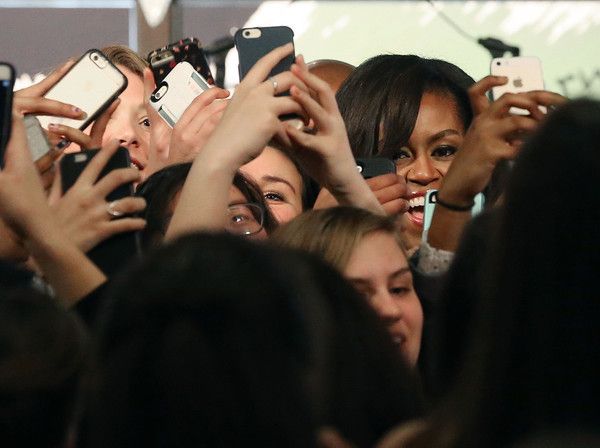 Afterwards, she joined the women in the audience for a few selfies.
Take a listen to her speech below:
In other news, FLOTUS will welcome the Broadway cast of HAMILTON to the White House to host a student workshop, student Q&A, and a performance of musical selections from the sold out production. Nice!
In rappers giving back news....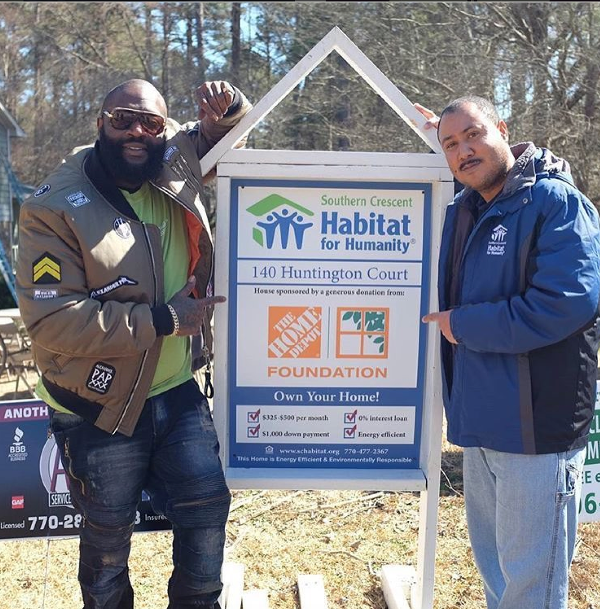 Over the weekend, rapper Rick Ross made a surprise visit to a Southern Crescent Habitat For Humanity's first Fayette County project, with interest to get more involved with the organization.
The MMG honcho met with volunteers and Habitat partner families from the South Atlanta area during his two-hour visit.
He was greeted and welcomed Kem Kimbrough (atop), CEO of Southern Crescent Habitat, Ed Johnson, Mayor of Fayetteville, David Barlow (above), Fayette County Commissioner, Ray Gibson, Fayetteville's City Manager. Kyle Hood, Tyrone Town Manager, officially welcomed Rozay into Fayette County and acknowledged his philanthropic interest for the county.
Then the Bawse got down to business: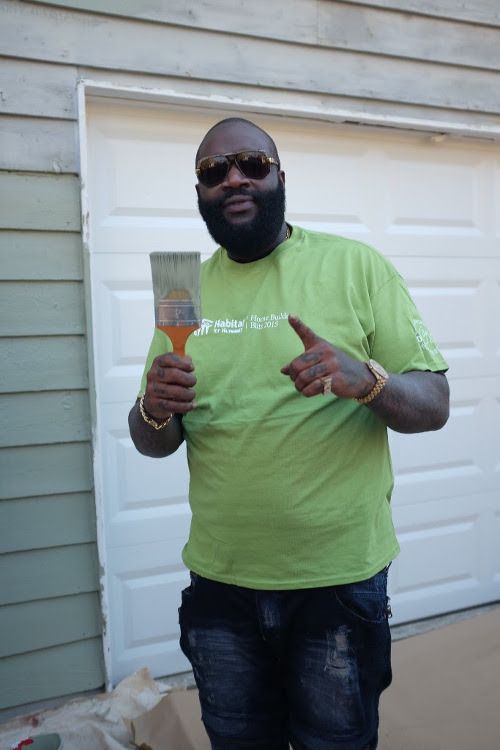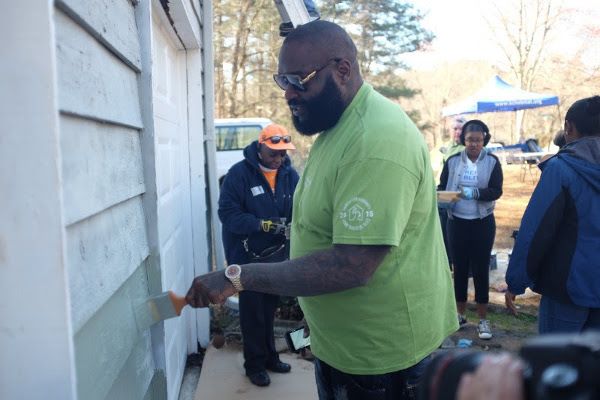 Rozay got his hands dirty helping to paint one of the homes that the organization is working on to house a new family. "Anything that I can do, I want to do it," said Ross.
Peep a clip of Rozay getting his paint on below:
Gotta love it. 
Earlier this month, the "Diced Pineapples" rapper was officially indicted for allegedly pistol whipping and kidnapping his groundskeeper. He will be facing several charges that include possession of a firearm while committing a crime, aggravated assault, aggravated batter, and kidnapping.
This community service gig will definitely be a good look when he appears in front of a judge again.  We're rooting for you Ross!
Photos: Getty/FLOTUS' IG/Kiara Jones